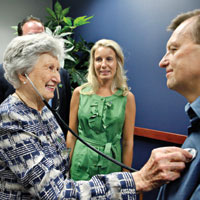 Heart transplant brings island family full circle
Last Friday – Good Friday – the phrase "circle of life" took on a special meaning for Donald and Paula Miller, and their daughter, Shelby Britt Miller, of Castaway Cove.
The Millers, whose brother and uncle Raymond Miller had benefited from a heart transplant in the 1990s, were brought to Orlando for an emotional first meeting with another man named Raymond -- Ray Short -- who in 2009 received the heart of Shannon Britt Miller, Shelby's identical twin sister.
Talk about life coming full circle.
Short was the first of five organ recipients to contact the Millers after being given a second chance at life by the family's decision to honor Shannon's wishes when she died two years ago from a brain hemorrhage following the birth of her second daughter.
Shannon's father said the opportunity to share life through organ and tissue donation from Shannon was not a difficult family decision because of his brother Raymond's receipt of a donated heart in 1995.
"Uncle Raymond Miller had rheumatic fever as a child," Shelby said, "and had a heart attack at 43." He received a heart transplant in 1995 at age 52 in Virginia, and lived 10 more years.  "He had a great life with his new heart," she said.
More than 50 people altogether have been helped by Shannon's donations -- all seven organs, as well as both eyes, bone marrow and skin. Twin sister Shelby said the "family is able to find some peace knowing that part of Shannon is able to live on and that she has been able to save so many lives."
The family met one of those lives last Friday.
The moment Raymond Short and his wife June entered the room, both families literally embraced the opportunity to say "thank you" in person.
Shelby was quick to give the first hug. Her father followed and expressed gratitude that the Short family had written the initial letter to begin the process of the families coming together.
"I really appreciate the courage you had in writing us first," Shannon's father Donald Miller said. "The more and more I read about the difficulties that recipients have in putting the right words together -- even though for us, there are no wrong words, just thank you."
The meeting took place at TransLife Organ and Tissue Donation Services in Winter Park, near Orlando. TransLife is the federally-designated organ procurement organization for central Florida including Indian River County.
Asked what he thought about his new life and the decision the Miller family made, Short said:  "It's a life I wouldn't have had. For somebody that doesn't even know you to give from their heart — it's just so emotional."
Prior to the transplant in 2009, Raymond Short said he was so ill and weak that brushing his teeth had become a challenge. Today, he said that most persons wouldn't know he's had a transplant; energy has returned and he is always on the go.
"I wanted to do this (meet Raymond) for a long time," Shelby said, pausing, and then adding that a part of her was curious about whether she might see an "inkling" of Shannon in the man who had received her twin sister's heart.
Did she see an inkling?
"Yes -- they are very much alike," Shelby smiled. "They are both creative, artistic and he likes to shop and decorate just like Shannon. They are very similar. He had such a kind, generous heart and a soft kind way about him. We are truly honored."
Following the initial embrace, Short joined the Miller family in pinning a special square on one of TransLife's donor family quilts in Shannon's honor. Shelby noted that Shannon is being nationally honored in Washington DC at the National Organ Donation Ceremony July 15-17.
"This is also an honor as we were chosen as the family to represent Translife and Florida," Shelby said. "We are truly honored and it will be an amazing honor for Shannon. Shannon's quilt square will represent Florida as well as the nation once we pin her square on the national quilt in July."
Next was the moment everyone in the room had come anticipating -- listening to the heartbeat.
Paula Miller, Shannon's mother, asked to go first. After delicately placing the stethoscope on Short's chest, she wiped away tears, saying quietly, "that really sounds familiar."
Shelby jokingly responded, "I'll tell you if it sounds familiar."
"I'm glad that Raymond and his family are embracing us, because it's like a little part of Shannon continues," added Paula.  Brother Christopher Miller also listened as did maternal grandmother Pauline Britt.
Shannon's father Donald was the last to hear the heart -- and he paused, looking at Raymond Short.
"I want to hear it [the heartbeat], but I am also cognizant that it's your heart now," he said finally, adding: "Shannon gave with an open heart."
Unable to say more than a few words, Short said simply: "We share a heart."
Following the event, Shelby said that last Friday's meeting with Shannon's heart recipient Raymond Short and his family was also very much about the growth, development and understanding of Shannon's daughters.
"Although we knew we were going to donate all of Shannon, we truly feel that it was extremely important that her two little girls, Lilly Britt (nearly five), and Illa Britt (nearly two), know that in the face of tragedy, their mommy saved so many lives and is truly a hero.
"Our meeting with the Short family and having this moment captured we can show them what an impact their amazing mother made on this world in both life and death. They can now see what a true hero Shannon honestly is."