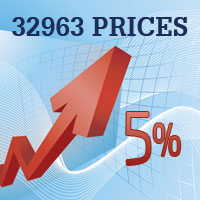 Vero beachside is rare bright spot in U.S. real estate market
STORY BY STEVEN M. THOMAS - STAFF WRITER
(Week of April 28, 2011)
Almost five years into the most devastating real estate collapse in modern American history, good news about housing is hard to come by in most markets.  But the story is a lot more encouraging on Vero's barrier island, where pending and actual sales are up dramatically and per-square-foot prices so far this year are up 5 per cent.
The latest Standard & Poor's Case-Shiller Home Price Indices, a leading measure of U.S. home values, shows price deterioration in 18 out of 20 bellwether cities in early 2011, including Miami.  South Florida home prices fell for the sixth straight month in January, the most recent period reported on by Case-Shiller, hitting a new 5-year low. Prices in Miami-Dade, Broward and Palm Beach counties were down 4.7 percent compared to January 2010.
How bad are things in most markets?
"Keeping with the trends set in late 2010, January brings us weakening home prices with no real hope in sight for the near future," David M. Blitzer, chairman of the Index Committee at Standard & Poor's, said when the report was released on March 30.  "The housing market recession is not yet over, and none of the statistics are indicating any form of sustained recovery."
But not on the barrier island.
According to data provided by Trulia, a widely used internet source of real estate information, the price per square foot of houses and condominiums in the 32963 zip code is up 5 percent in the first quarter of 2011 compared to the same quarter a year earlier.
"We've seen a big increase in demand so far this year, especially along the ocean and river," said Kay Brown, a Premier Estate Properties Realtor. "There has been a real burst of activity, with lots of showings and strong interest from highly qualified buyers, people we know can come back the next day and make an offer."
"There's been an awful lot of interest in oceanfront property in the first quarter," said Bob Gibb, owner of John's Island Real Estate. "Some very sophisticated, high-quality buyers are coming into the market. Corporate CFOs and people like that. Prices have come down. Interest rates are low. There is a better economic feeling in general. Buyers have more confidence in the market and in their own future."
An influx of foreign buyers and Baby Boomers fleeing rising taxes and cold weather in the Northeast also push up demand, according to local brokers.
The increase in price per square foot in 32963 is an important indicator of where the market is and where it may be headed, according Christine McLaughlin, owner of Shamrock Properties, who specializes in island real estate.
"I would have to say it is a key indicator," McLaughlin said. "It is what appraisers look at when they are doing comparables. It also shows what part of the market is most active. Price per square foot going up means the high end is moving."
"It is a very helpful indicator that allows people to know what they are really looking at," said Vero Beach Realtor Sally Daley.
"If you compare prices for two houses selling in the same neighborhood, it can be deceiving because they may be significantly different in size. But the per-square-foot price is much more relatable and easy to extrapolate for buyers, sellers and agents."
The first-quarter rise in per-square-foot price in zip code 32963 was unique in the Vero Beach area.
According to Trulia, price per square foot was flat or down by double digits in other Indian River County zip codes.
John Aliyetti, a David Walsh and Associates broker, said the price differential between the island and the mainland is due to diverging land values as well as high-end sales along the ocean.
"Land values on the island are rising, while land values on the mainland are falling," Aliyetti said. "They aren't making any more beachfront property, but there is a lot of vacant land west of the city where developers started and abandoned projects several years ago.
"There is inherent value in property on the island," said Daley. "It is unique and people want to be able to enjoy that lifestyle."
While the rise in property valuation on the island bucks some grim national trends – including growing malaise in many luxury markets – it is in line with a counter trend taking shape in resort cities in Florida where high-end property has begun to sell more briskly.
In March, Dan Levy of Bloomberg News reported on an uptick in sales and prices in Naples, illustrating the trend with the example of a buyer who picked up a three-bedroom luxury condominium "in December for $235,000, about one-third of the price that the seller paid near the height of the U.S. housing boom."
The article, "Naples Rises From Florida Housing Swamp as Wealthy Return," quotes Patricia Fitzgerald,  president of the trade association Florida Realtors, who said "resort towns on Florida's Atlantic coast are starting to follow the lead of Naples," with home sales up as much as 40 percent in some high-end locations.
McLaughlin said something similar is happening in 32963, with more closings occurring in past several months than in any comparable period last year.
"In the last three months of 2010 and first few weeks of this year – from Oct. 20, 2010 through Jan. 19, 2011 – there were 106 sales of condos and single family homes recorded in 32963. From Jan. 21 through April 20, 161 sales were recorded, 55 more than in the earlier period."
Gibb is equally upbeat about the market's direction.
"The first quarter of 2011 was our second best quarter in 10 years," he said. "Closings and contracts were up 70 percent compared to the previous three months. Year-to-date, we have 49 properties sold or under contract."
"We have seen a big improvement in the market and we are excited about the prospect of having a good summer," said Brown. "People have discovered Vero Beach."
Indian River County home values
The price per square foot paid for Indian River County homes in the first quarter of 2011 was down across the board compared to prices in the first quarter of 2010 – except in the barrier island zip code. On the island, which encompasses the communities of Orchid, Indian River Shores and part of Vero Beach, price per square foot was up a solid five percent.
ZIP        Price Per Sq. Ft.    Change
32963                 $231          +  5.0 %
32948                  $  76          -18.3 %
32958                  $  66         -19.5 %
32960                 $  62          -17.3 %
32962                 $  52          -14.8 %
32966                 $  64          -13.5 %
32967                 $  75          -13.8 %
32968                 $  70          -   2.8%
Source: Trulia