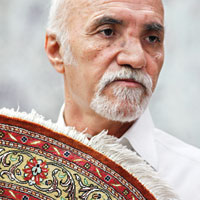 Jafar Falasiri: From man of the year to man in big jam
STORY BY A 32963 CORRESPONDENT
(Week of August 4, 2011)
Photo of Jafar Falasiri.
For a guy who's in a heap of trouble, the businessman whose philanthropy earned him the Cultural Council of Indian River County's top award last year remains painfully polite.
And upbeat, on his first weekend of court-mandated pre-trial home confinement!
"I'm so very sorry, but I have to be careful what I say," Jafar Mohammad Falasiri said July 30 on the door steps of his home. "I can't believe what happened. After all, I've been involved in philanthropy in Vero Beach for 32 years. Everybody knows me.
"But I must do what my lawyer tells me and stop talking."
At 61, the Iran-born Falasiri – the island's preferred dealer of fine, ultra-expensive rugs – is facing 20 years in federal prison.
Falasiri was formally charged with one count of importation of opium July 29. He pleaded not guilty and asked federal Magistrate Frank Lynch for a jury trial.
Then, he was released from the St. Lucie County lockup where he'd been since July 1.  Falasiri and his wife, Barbara Bannister, had to pledge $1.2 million in real estate holdings to secure his bond.
When a reporter noted shortly after his release that Falasiri looked much happier at home than he did in his prison blues, he said: "Anything's better than jail!"
So how did the high-profile owner of US 1's Falasiri Oriental Rugs, a stalwart of the Vero Beach business establishment, get into this bind?
Falasiri has been importing hand-made rugs from all parts of the Middle East since he first settled in Vero Beach in the late 1970s, at a time of turmoil in his home country.
Over the past three decades, and thanks to his use of a widespread network of helpers in Turkey, former Soviet republics and Iran, Falasiri has become a national authority on the subject of tribal carpets.
Falasiri's fundraising for the Cultural Council as well as St. Edwards Schools, from which his two children graduated, put him on the local society map.
In 2010, he was given the Laurel Award, one of local philanthropy's highest honors.
"It was given to him based on what the Cultural Council believed were his activities beneficial to the community," said Cultural Council Secretary George Paxton.
Then, on July 1, the image that neighbors of the store had of Falasiri – the image of a quiet man who spent hours hand-cleaning his rare rugs in the parking lot before participating in fundraisers for diverse non-profits – was shattered.
Acting on information from an unidentified store employee, members of a half dozen federal and local agencies, including the Drug Enforcement Agency and Homeland Security, swooped down on Falasiri Oriental Rugs at dusk.
According to the criminal complaint, Falasiri had been on the radar screens of several law-enforcement agencies since January. An employee allegedly watched him break a litany of laws when he opened a fresh shipment of carpets from Turkey.
Rolled up inside those rugs were carpets from Iran – despite the fact that the country's ultra-conservative rogue Islamic regime is under U.S. embargo.
And inside the Persian rugs was another illegal product: A black substance wrapped in clean plastic baggies that the feds say was opium.
In late June, meanwhile, U.S. Customs flagged seven bundles of rugs at Orlando International Airport destined to Falasiri's business. An undercover agent delivered the shipment July 1 and, minutes later, his colleagues raided the store and an adjacent warehouse.
In the warehouse, according to the arrest papers, they allegedly found 86 bar-shaped packages from the just-received shipment, then another 34 bars in a backpack. Although the stuff field-tested positive for heroin, in reality, it was opium.
Total weight: 6.5 pounds. Street value: About $350,000!
Falasiri was arrested on-the-spot.
"The drugs were for his personal use only," said Falasiri's attorney, Gregory Eisenmenger. Eisenmenger is also known for his defense of disgraced attorney and swindler Ira Hatch, sentenced to 30 years in prison last year.
"The charge of importation of drugs has the connotation of distribution. That's not the case," Eisenmenger said.
The lawyer told 32963 he expects Falasiri will change his plea and negotiate a plea bargain agreement.
Meanwhile, the rug dealer to Vero Beach's rich wears an ankle monitor that keeps authorities abreast of his whereabouts. He's only allowed to leave home for work, court and doctor appointments and religious services.
"I was very saddened to hear about the arrest," said the Cultural Council's  Chairwoman BarbaraHoffman. "Mr. Falasri is such a kind, giving person."