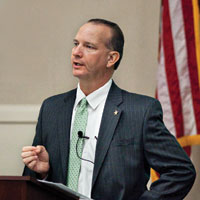 Sheriff takes big lead raising campaign cash from island
STORY BY STEVEN M. THOMAS, (Week of August 11, 2011)
Photo of Sheriff Deryl Loar.
Sheriff Deryl Loar is raising money at a record-breaking pace for his re-election campaign, and much of the cash is coming from the barrier island.
In his first quarter of fundraising, from April 1 through June 30, Loar took in $37,920 from 134 beachside businesses and individuals, which amounted to 41 percent of his total.
During the same quarter, his opponent – and employee – sheriff's Lt. William McMullen received $500 from a single supporter on the barrier island, retired FBI agent Dave Callen.
Added to three contributions McMullen recorded in the first quarter, from Jan. 1 through April 30, that upped his take from the 32963 area in the first half of 2011 to a grand total of $1,100, about 3 percent of the money he's raised.
Loar's strong first-half showing comes as a shock to many who thought he would be a one-term sheriff after his departmental reorganization efforts and budget fight with the County Commission last year stirred up a hornets' nest of political foes in his own agency and elsewhere.
McMullen says fear of the sheriff's power is behind his high fundraising total, but Loar says intimidation is not a factor in his campaign.
On the record, island residents and businesspeople who've donated to Loar cite what they see as a good record of law enforcement, budget cutting and civic involvement as reasons for their support.
"I think he has done a very good job as sheriff and has been very fiscally responsible," says Mary Beth McDonald, an island resident and former Vero Beach mayor. "He has run a tight ship and shown a lot of honesty and integrity."
"The sheriff has been very visible in participating in non-profits and civic groups such as Rotary," says Quail Valley Club co-owner Kevin Given. "As a business owner on the barrier island, I have seen him do an excellent job of educating the public about the role of the sheriff and the sheriff's department."
Other supporters say Loar, who has a background with the Florida Highway Patrol, is seen as more professional and progressive than McMullen, who has spent his entire 28-year career with the county sheriff's department.
Overall, Loar raised $91,720 in the second quarter. Since he didn't file for re-election until April, that is also his total for the first half.
McMullen took in $27,375 in the first quarter of 2011 and $15,365 in the second quarter, for a first-half total of $39,740.
Loar's take far surpasses any prior first-half fundraising in an Indian River County Sheriff's race, and shows how much larger money looms now in county politics than it did a decade ago.
In 2000, when Roy Raymond mounted a successful campaign against incumbent sheriff and current County Commissioner Gary Wheeler and a third candidate, C.E. "Cres" Stansel, the total raised in the first half by all three candidates was $44,797, less than half of Loar's current campaign chest.
In fact, the money Loar received in just three months is more than the overall totals raised by the two main candidates in the 20-month run-up to the 2000 sheriff's election.
According to county records, Raymond's winning 2000 campaign was fueled by a total of $64,251 in monetary contributions, while Wheeler funded his effort to stay in office with $61,863, about two-thirds the amount Loar has already raised more than a year before the August 2012 Republican primary where the next sheriff will likely be picked.
Loar's first-half total as an incumbent is more than twice the $41,525 he took in during the same period four years ago when he captured the office in a successful run against McMullen and five other candidates.
Meanwhile, McMullen's fund raising to date has fallen off considerably compared to the same period in 2008 election cycle. As of June 30, 2007, he had collected $67,064 in campaign funds – $27,324 more than his total this year and a record up to that time.
Former Sheriff Raymond says Loar's galloping start is "a scare tactic" intended to intimidate potential McMullen supporters and keep others from entering the race. McMullen says the intimidation goes further.
"You expect an incumbent sheriff to raise a lot of money," McMullen says. "The sheriff can affect your life every day. His deputies are out there writing tickets and making arrests. If he comes to you and tells you he needs money, you are probably going to write him a check."
Loar says the idea he or his supporters strong arm contributors is nonsense.
"We believe in getting out ahead early and positioning ourselves well," he says. "But there are absolutely no strong-arm tactics being employed. We do not believe in that.  We are running on a successful track record that has earned us strong community support."
So strong, in fact, that Loar's campaign kickoff fundraiser at Quail Valley raised approximately $30,000 in one fell swoop, according to the Sheriff.
The event was organized by island businessman Tom Corr, developer Steve Mulvey and Given, and included persistent pre- and post-event solicitation and follow-up.
From symphonies to hospitals to political campaigns, large amounts of money are raised most effectively among networks of well-to-do people and that is probably the real secret to the overwhelming advantage Loar has over his rival on the island to date.
When successful, determined people put their weight behind a cause and are willing to call on their friends and colleagues to get involved some combination of peer pressure, mutual obligation and one-upmanship comes into play and big contribution totals are racked up.
People feel more secure doing what they see friends and family doing.
McMullen, whose main support comes from sheriff's deputies unhappy about changes Loar has made at the Sherriff's Office, says he is not cowed by Loar's war chest. "It doesn't have any influence on my thinking," he says. "We are running a grassroots campaign with strong support from the deputies."
Just the same, McMullen knows what he is up against. By the time Election Day rolled around in 2008, Loar raised a record-breaking $209,787, considerably more than McMullen's own substantial total of $129,516.
"I feel Loar has done a good job," says Attorney Charles Sullivan who owns property on the beach.  "And I think a person should stay in office if they are doing a good job. It takes more than four years to get a new system up and running.  He has more varied experience than McMullen and he provides good service to the citizens of Indian River County."
The view of Loar as a competent professional extends beyond the island to other areas of the county where he has substantial support among business people, professionals, citrus growers and other members of the Vero Beach establishment. 
"He is not one of the good old boys, going around doing favors for everybody," says Zack Fulmer, owner of Fulmer Brothers, a transportation and Logistics company, and other Vero Beach businesses. "When he came to my office before the last election and asked for my support,  I asked him if he was honest and so far I think he has been. There are no favors.
"When he called me this year and asked if I would support him again, I sent him $500 and before it is over I will probably send him $500 from every corporation I own. He has been a good sheriff and he deserves to be reelected."
Five hundred dollars is the maximum amount an individual or business can contribute to a candidate in the sheriff's race.