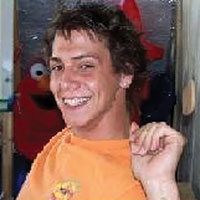 Mother upset over state not charging shooter of her son
STORY BY JOSEPH W. FENTON, (Week of August 25, 2011)
Photo of Jack "Sandy" Newstedt.
The mother of a 21-year-old man shot to death in the barrier island's Summerplace subdivision two months ago is upset the homeowner who pulled the trigger will not face charges.
The State Attorney's Office decided not charge homeowner Clairborne "Clay" Rowe, 9455 Periwinkle Drive, for killing Jack "Sandy" Newstedt, 21, of Sebastian, according to the Indian River Sheriff's Office.
The State Attorney's Office decided the shooting was a justifiable homicide.
"I'm very angry that he is the very man who killed my son and he will not pay for it in any way," said Donna Newstedt. "If he was afraid for his life, why did he walk outside? He shot him outside. If he feared for his safety, why did he go outside?"
Rowe shot Newstedt about 2:30 a.m. on Sunday, June 26 after he went to door of his home. The homeowner told deputies he feared for his safety during the middle-of-the-night intrusion when he and his wife were awakened by their dog and they heard thumping.
Rowe said he got a handgun from a lockbox from under his bed and opened the front door to find Newstedt there.
Rowe's wife, Eleanor Cummings, said her husband told her to stay at the back of the house. She said she could see Rowe standing at the door and heard someone shout at the husband about not pointing the gun at him. She said she then heard a shot.
Newstedt turned 21 just three days before he died and was celebrating his birthday that weekend with friends. His mother said he became disoriented after the friends returned to Summerplace which is marked by meandering gravel roads and hugged by dense foliage.
A toxicology report determined Newstedt's blood alcohol level that morning was .255, more than three times the state's legal limit of .08 for determining whether a person drives drunk, according to the sheriff's office. His blood also indicated traces of marijuana.
Donna Newstedt said her son typically didn't drink, but she said he turned 21 that week, went out with friends, and drank too much.
All the friends returned to a home on Sand Dollar Lane after a night of drinking in Melbourne and everyone except Newstedt went into the house, which was about six to eight houses from Rowe's.
Rowe told sheriff's investigators he opened the door, after getting a pistol from a gun safe, and that Newstedt lunged at him.
The mother said her son took a step toward Rowe and he reacted quickly. "The minute Sandy took a step toward him he shot and killed him," she said.
Steve Gosnell, an assistant state attorney in the major crimes unit, said he talked with sheriff's investigators and could not find anything to contradict Rowe's statements to investigators.
"There was no way for me to prosecute him," Gosnell said. "It is a horrible set of circumstances," he said, adding that under Florida law Rowe feared for his safety when Newstedt tried to enter his home and was protecting himself.
"Mr. Rowe shot him, he fell on the porch, Mr. Rowe put the gun down and called police," Gosnell said.  He said Rowe believed he was at risk. "I don't think the decedent was doing that."
Gosnell said Rowe is 62 and Newstedt was a lot younger. "I don't believe that was the decedent's goal," he said about Newstedt trying to hurt Rowe.
Donna Newstedt wondered why Rowe didn't stay inside his home and call authorities. "Why not call the police," she asked. "The prosecutor even said it was something that could have been avoided.
"But the gun gave him power and made him feel safe," she said.
Rowe's wife, who answered the door at the couple's home Sunday morning,  said he would not talk about the shooting. She also declined comment.
"We are trying to put this behind us," she said.
Nearly two months after the shooting, Donna Newstedt remains distraught and had trouble discussing without crying her reaction to the State Attorney's decision not to prosecute Rowe.
"I hope he can't sleep at night," Donna Newstedt said. "I will never hold my child again. He was a good kid.
 "He gets to go on with his life," she said. "I hope to God he remembers this for the rest of his life."
She said Rowe told police he thought Newstedt was coming into his house and feared for his safety. "It's his word against a dead person's word. My son has no chance to defend himself.
"I'm never going to know what he was going to be when he grew up," she said. "I'm never going to see him smile again or hold him again."