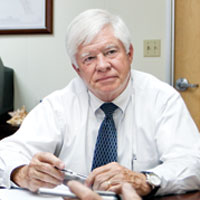 Emily served as dry run for Vero's new city manager
STORY BY LISA ZAHNER, (Week of August 11, 2011)
Photo of Vero Beach City Manager Jim O'Connor.
New Vero Beach City Manager Jim O'Connor got a quick welcome back to the tropics when Tropical Storm Emily popped up on the radar.
"Thanks, I am glad to be back in Florida," O'Connor said last week.
If the storm hadn't fizzled out, O'Connor said Vero staff would have been prepared to hold down the fort, maintain essential services and to clean up any post-storm mess.
"Monte (Falls) and I met with our contractors who handle the debris monitoring and debris removal so we are prepared if the event turns toward Vero, said O'Connor, who most recently worked in Virginia after many years in Florida.
County public safety officials and Vero law enforcement were brought into the loop to make sure there would be inter-agency cooperation.
"We also had a staff meeting for a briefing for me as well as I met with the Police Chief and went to the EOC (Emergency Operations Center) to make sure I understood the process and procedures to be followed," O'Connor said.
Through a series of meetings, a strategy was devised based upon current conditions and disaster plans on the books.
"Departments have identified who and how many personnel should be on standby.  I believe preparations are being made not only for this current situation but to address the season," O'Connor said.
Should a storm skirt or hit Vero, the city will be under a microscope in terms of storm recovery – especially in regard to the electric, water and sewer utilities – considering claims made about both the Florida Power and Light electric system and the Indian River County water-sewer system regarding Vero's supposed superior reliability.
Citizens also would be watching closely to make sure that what appeared to be abuses of public resources last time did not recur.
In 2004, members of the public were incensed about the use of city employees to work on the homes of private individuals and elected officials, as well as expensive meals and "parties" for city employees paid for by the city.
Last time around, the city's paperwork to the Federal Emergency Management Agency didn't hold up well under the scrutiny of an audit. The point person on the FEMA paperwork, Assistant Finance Director Jackie Mitts, is no longer on staff and retired Finance Director Steve Maillet is on his way out the door.
When asked whether the new guard would have a better handle on disaster expenses, O'Connor pointed to the expertise of the newly hired staff without condemning past practices.
"(Finance Director) Cindy (Lawson) is familiar with the FEMA process and has handled submittals of project worksheets and capital project worksheet," O'Connor said. "On the past application discussion with FEMA it is my understanding that the primary question is should the reimbursable be paid by insurance or by FEMA and that all filings were reviewed and approved by FEMA before reimbursement."
Vice Mayor Pilar Turner, who had been critical of top city staffers for being reactionary and for lacking in communication, said she was pleased with how last week's events rolled out.
Turner said she would have felt "comfortable" having O'Connor in charge if Vero experienced a tropical storm. "He addressed staff and he asked staff what they would need to get ready for or recover from a storm. He met with Monte (Falls) and with public works about what would need to be done," she said.
She said that, under O'Connor's leadership, she saw proactive planning going on and top staffers actually reading policies and disaster plans. That heartened her, she said. "I'm already seeing a vast improvement," Turner said. "I definitely feel like I'm getting more support from staff."