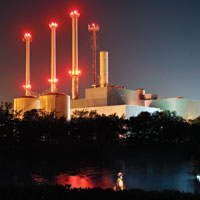 Vero electric staffers stone-faced at FP&L briefing
STORY BY LISA ZAHNER, (Week of August 4, 2011)
Vero must be getting dangerously close to striking a deal to sell the electric utility to Florida Power & Light. The natives are getting restless.
Among the 100 or so people who came out to The Club at Pointe West Saturday morning to hear what FPL had to say about its proposed purchase of Vero Beach electric were about a dozen Vero Beach electric employees.
They sat clustered in pockets of three or four around the hall -- stone faced, arms folded, defiant, partially shielded under baseball caps. A couple of them tried to ask zingers when FP&L fielded questions from the floor.
They played upon one misguided woman's irrational fear that a second, "secret" transmitter in FP&L's "smart meters" is beaming out signals?  To what?  The mother ship? The federal government?
The event, hosted by Indian River Tea Party leader Toby Hill and sponsored by FP&L, was the first of its kind where a seemingly organized group of blue-collar power plant and line workers put themselves in the fray.
Occasionally, a lone city employee rises to the podium at a City Council meeting, but there's been no group presence, no movement to protest the sale -- yet.
A few of the Vero electric employees chatted to media as the event broke up, but most would not give their names. The fear of retribution is twofold:  they didn't want their current bosses – or their potential FP&L future bosses – to read what they said in the paper.
Basically, the employees are not happy that they only have guarantees of a job for about the next three -- one year preceding the sale and then two years with FP&L.
But, isn't that three years' more job security than just about anybody else in Vero Beach has these days?
Well, yes, employees say, but it's not long enough for those planning to be "lifers" with the city, to retire with hefty pensions and payouts of all that banked sick and vacation time.
And don't you get the opportunity to compete for a higher-paying job with a financially sound, Fortune 500 company on the cutting edge of green technology?
Well, yes, they concede. But it's not a sure thing like a city job. And that new, better job might require relocation within FP&L territory.
Workers have spouses and families and sometimes are involved with a small business. Moving away from Vero would be a major life change.
One long-time Vero Beach Electric Transmission and Distribution employee, Charlie Myers, did speak on the record.
He's got his 30 years in with the city and he says he'll retire if and when a sale happens.
"I'm biased, I'm a city employee for T & D," Myers said. "I love the job and I love working for the City of Vero Beach."
What does Myers think will ultimately happen to electric employees after a sale?
"At this point in my life, for me, I really don't care, but I'm worried about the younger guys," he said.
Myers said he worked for FP&L early on in his career and, based upon that experience -- which had to be in the late 1970s or early 1980s -- he's dead-set against selling out to the investor-owned utility.
"You won't get the same service as you will with the city," he said. "It's like the difference between a hometown grocery store and Publix."
Groceries are usually more expensive at the hometown store because it can't take advantage of the economies of scale like the big boys, so Myers' analogy is a good one. And how many hometown grocery stores are left in Vero? And how many stores does Publix have? Consumers have voted with their pocketbooks.
As the current, nebulous "due diligence" phase morphs into actual negotiations and a bona fide offer and contract emerge, it seems likely that city employees will become more visible, more vocal and more organized.
Students of history might remember that city employees actually banded together and sued Vero Beach to stop the 1976 attempted sale of the utility to Florida Power & Light. They formed a Political Action Committee, ran advertisements in the newspaper and were part of the effort to crush the deal that former City Manager John Little and Mayor David Gregg had worked out with FP&L.
What was the employees' beef with the 1976 sale, which passed at the ballot box by an overwhelming majority -- more than 2 to 1 on the barrier island. In short, turf and the entitlement to government jobs.
It's been shown unequivocally that a sale to FP&L will be a boon for the ratepayers now on Vero Beach electric, especially the 61 percent who don't live in the Vero city limits. But in order to make the sale to FP&L work financially for the taxpayers of the City of Vero Beach, government must get smaller -- much smaller.
That's what has city employees, not just the ones who work for the electric utility, up in arms.
Vero Beach siphons money from the electric, water and sewer utilities in two different ways. The budgeted sum of all those transfers is $9.3 million for the coming year, compared to $4.1 million in property taxes.
The first way, called "direct transfers," are the wads of cash whisked away in regular payments to pad the general fund.
Just from the electric utility, that will amount to $5.7 million in the 2012 fiscal year – an increase of $168,000 over this year's budget cycle.
The second way Vero milks the cash cows is by what it calls "general and administrative transfers." These are fees charged as a percentage of payroll of the utilities to supposedly pay for all the support services the denizens of City Hall provide to the utilities.
This includes the City Manager and his staff, City Attorney and his staff, City Clerk and her staff, Finance Director, Assistant Finance Director and the Finance Department Staff, Risk Management Director, Human Resources Director, Information Technology, etc.
The amount the general fund gets in these so-called administrative "fees" is $1.7 million from the electric utility alone. The water-sewer utility pays another $728,000 into the kitty for administrative services on top of the water-sewer direct transfer of $1.1 million in direct transfers.
On top of that, departments such as the Vero Beach Airport, public works and solid waste all have contracts or leases with the utilities, nickel-and-diming them for various services or use agreements. Somebody has to cut the grass, pick up the trash, maintain the buildings.
Even the utilities suck about $2 million from the utilities every year because it takes electric to run Big Blue and it takes lots of electric to treat and deliver water and wastewater.
As one very wise and plain-spoken citizen asked from the podium at the last Vero Beach City Council meeting, "You can't do away with half-people, can you?"
And that's the rub?
There are only two choices -- lay off city workers or seriously cut salaries to bring them into line with reduced job responsibilities. Neither of those options is palatable to the nearly 430 people who will work for the City of Vero Beach after the proposed budget cuts eliminating 22 jobs kick in on October 1.
The Tea Party movement has been touted as a crusade for smaller government, so it was either extremely appropriate or extremely ironic that the city employees chose the Tea Party event to come out in force.
Organizer Hill reminded those in the audience that their votes in November will most likely determine whether or not any deal to sell the electric utility ever sees the light of day before the Vero Beach City Council.
"I think we can all figure out probably what the issue of the day will be," Hill said.
To that end, the Indian River Tea Party will host a candidate forum on Sept. 27 at the Vero Beach High School Performing Arts Center.