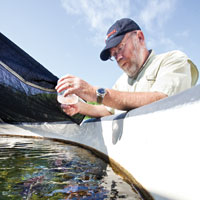 Vero lab a player in battle with lionfish
STORY BY LISA ZAHNER, (Week of August 18, 2011)
Photo of Florida Institute of Technology professor Jonathan Shenker.
In a few cobbled-together buildings behind the 7-Eleven store in Indian River Shores, scientific experiments are taking place that could put our island on the map as part of Florida's burgeoning Research Coast.
There, researchers at the Florida Institute of Technology Vero Marine Lab are among a handful of U.S. scientists studying the beautiful but venomous lionfish, a predatory Asian reef fish which threatens to damage Florida's $11 billion saltwater fishing industry.
Florida Tech makes the most of this oceanfront location, with commercial partnerships and cutting-edge experiments.  But the Vero Marine Lab needs community and alumni support for a campaign to ramp up research with a new facility if its potential is to be realized.
The current lab, located at the Tracking Station beach off North A1A in the Shores, is a converted military outpost that serves as the hub of activity for professors, students, graduate candidates working on master's degrees and doctoral theses as well as commercial aquaculture companies breeding expensive tropical fish for hobbyists.
Most of what's kept in the massive tanks and numerous aquariums are harmless – sea horses, pompano and cobia. But one tank holds the lab's 10 celebrities – the exotic and dangerous lionfish to be used as this fall's guinea pigs by marine biology students in Dr. Jonathan Shenker's class.
They're pretty to look at with colorful, flowing fins, and adventurous diners in the Florida Keys say they're quite tasty on the plate.  But don't be deceived. Lionfish can and do kill other fish, and each one of the fish's fins can deliver a dose of venom akin to a very bad bee sting.
"They're incredible predators on the reef," Shenker said. "They eat massive numbers of baby groupers and snappers."
There's a great deal of debate about how lionfish got from Asia to the Atlantic and Caribbean waters.
Some say they stowed away in the baffles of ships. Others blame it on irresponsible aquarium owners who flushed or possibly freed lionfish into local waters after realizing that they were eating all the other fish.
Whatever the explanation, lionfish have made themselves at home, according to Shenker. They not only survived, but thrive in local waters. Lionfish seem to have no natural predators here. They also reproduce exceptionally well with astronomical survival rates of eggs and larvae. How, exactly, is what Shenker and his students hope to figure out.
There is so little known about the 10 adult, foot-long lionfish subjects caught in waters off Indian River County that Shenker does not even know how many males and how many females he has in his tank. There are no pictures, no descriptions of markings or behaviors that would give a clue as to gender.
"The goal is to get them to spawn in captivity," Shenker said, "and to study the egg development and the larval development in captivity."
Students will begin class Monday and their first job will be to learn how to feed the lionfish and how to clean the tanks. Shenker said these natural killers have become so docile in captivity that they come up to beg for food like a hungry dog at supper.
Once the marine biology students get their feet wet at the lab, so to speak, they will be tackling the first of many experiments. Shenker said they will dip the lionfish in a solution which will temporarily knock them out long enough for students to examine them – with leather gloves on – weigh them and inject them with a fertility cocktail intended to ramp up the spawning process.
One of the few things Shenker and his students do know is that the lionfish lay eggs encased "in two jelly-like egg masses the size of tennis balls," according to a rare report from scientists in the Red Sea who observed this back in 1975. If and when they see these ball-like objects in the water, they'll know they have achieved the goal of getting them to spawn.
Once the eggs are laid, Shenker said the students will analyze the egg, its chemical composition and its coating to determine what gives the lionfish such a great shot at survival compared to other species of fish.
They'll also get to sample the fish roe to determine if a bad taste might keep other fish from eating it, Shenker said.
A lot of different people are interested in the lionfish for good reason. Not only do federal agencies estimate the economic impact of the combined recreational and commercial fishing industries in Florida to be about $11 billion, but fishing directly or indirectly employs roughly 160,000 people.
While Shenker and his students try to determine what could possibly be done to halt the lionfish's takeover of area waters, other Florida Tech students working with private partner Trout Lodge are tending a huge fish nursery and giving popular eating fish a better chance at survival.
In the wild, about one cobia egg out of one million makes it to maturity. In the lab, scientists can not only get the fish to spawn more often, but they can shelter and nourish the eggs.  The result:  about 20 percent make it to the fingerling size at which they can be released in the wild and probably survive.
"It's based on market demand," said Dr. Junda Lin, who explained that science can manipulate the light and temperature to create near-perfect conditions. "If there's the market demand, they can produce a lot."
Many students who work hands-on at the Vero Marine Lab go on to work in aquaculture or for the agencies charged with protecting the fisheries and the marine environment.
South barrier island resident Fritz Spitzmiller was so impressed with not only the Vero Marine Lab, but with all the programs at Florida Tech, that he became their man in Vero, working on special projects for university President Anthony Catanese.
Spitzmiller brings not only local knowledge but a significant amount of street credibility in Vero's education community as he headed up development at St. Edward's School for 23 years.
The plan, says Spitzmiller, is to raise enough money to construct a new facility on the Indian River Shores site that would serve to expand programs like Shenker's lionfish research while opening up the possibilities for more commercial partnerships and community involvement.
He said Florida Tech envisions having a classroom and offering some courses, summer programs and seminars at the site for local adults and even for advanced high school students interested in marine biology .
Florida Tech's enhanced vision for the Vero Marine Lab is part of a $50 million capital campaign the school is pursuing and one of the avenues it uses to reach potential donors is through alumni participation.
Spitzmiller said there are more than 400 Florida Tech alumni in Indian River County and the school will host its second get-together for them and for community and business leaders at Costa d'Este on Aug. 30.
The first alumni and community reception held in the summer of 2009 was a great success, he said, and he hopes to build on that. Invitations to the event began arriving in mailboxes last week.