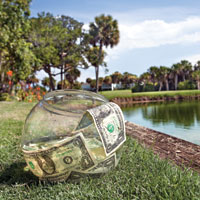 Water wars: Beachside communities hit with big hikes in irrigation costs
STORY BY LISA ZAHNER, (Week of August 4, 2011)
Photo: The cost of filling the reuse water retention ponds at The Moorings golf course soars.
Reuse water – the gray, recycled stuff that comes out of sprinklers and keeps many barrier island lawns and golf courses green – is fast becoming the Wild Wild West of the utility business, leaving beachside customers increasingly feeling they have just had an encounter with Jesse James.
Unlike drinking water, where rates tend to rise 5 or 10 percent at a time, reuse water rates the past couple of years have been hiked 200 or 300 percent, seemingly on a whim.
John's Island, Riomar and the Moorings, which two decades ago signed contracts to accept the City of Vero Beach's flow of treated, non-potable wastewater, will see prices of what's called  "non-pressurized" reuse water for their golf courses go from 29 cents per 1,000 gallons to 93 cents per 1,000 gallons next April 1.
Vero's pressurized reuse rate has also gone up over the past two years from 52 cents per 1,000 gallons to the current $1.92 per 1,000 gallons, with another five-cent hike kicking in October 1, putting the squeeze on communities like Bermuda Bay and others that use pressurized water for homeowners' lawns.
And the County is getting in on the reuse bonanza as well.  After 15 years of charging a stable rate of 15 cents per 1,000 gallons for non-pressurized reuse water, the Board of County Commissioners voted in February 2010 to quadruple rates to the current 60 cents per 1,000 gallons.
Now, communities throughout the island are struggling to deal with budget hits running into the tens of thousands of dollars.
"It's huge," said Moorings Golf Club General Manager Craig Lopes, who estimated that his annual bill of $15,000 will soar to near $50,000.
While potable water and sewer services are regulated by territories and franchise agreements, reuse water has not been covered by franchise agreements, so communities up and down the island are left to strike the best deal they can get from either Vero or Indian River County, whichever happens to have pipes running to the neighborhood.
For the most part, the reuse water business has been a monopoly, putting island customers are pretty much at the mercy of the supplier, since doing without isn't a viable option for communities selling country-club living "where the tropics begin."
But now, Indian River County is beginning to sell reuse water in the town of Indian River Shores.  "Within the town of Indian River Shores, all bets are off with regard to reuse," said Indian River County Utilities Director Erik Olson. "But other than that, we're not going into the city territory."
John's Island gets reuse water from the county for its golf courses and from Vero to water lawns and common areas, and there's still a need for more. During the summer when less wastewater is being produced, less is available to tide beachside communities over between the good, soaking rains that water grass and fill retention ponds and lakes.
"All I can say say is that we suck up a lot of reuse water," said Indian River Shores Mayor Tom Cadden last week.
Millions of gallons per day, to be exact.
Reuse customers in the South beaches and the Shores are anxiously waiting to figure out whether or not Vero and the County can work out a deal to merge the systems. Together, the two utilities could provide the most efficient treatment and delivery system for reuse irrigation water. Independently, both sides struggle to get enough wastewater from where it's created and treated to where the consumers are.
Vero even has a plan to pump up to 1.5 million gallons of water per day out of the main relief canal, which would be filtered, treated and dumped into its reuse system.
"This project has been around for a long time. The City has performed studies with the Saint John's River Water Management District about removing water from the main relief canal," said Vero Beach Water-Sewer Director Rob Bolton.
"This project has been in our five-year plan but has been moved up because of the need for additional reuse water," Bolton said.
Meanwhile, Indian River County Utilities is not waiting around to be able to sink pipes under the river to serve customers from the south. According to Utility Director Erik Olson, the county is finishing up pipelines to the North Barrier Island and will soon be marketing the flow to Orchid, Windsor, Disney's Vero Beach Resort, Sea Oaks and the eastern part of John's Island.
During very dry times, The Moorings' Lopes said he only waters the greens and putting surfaces, letting the vast rough get crunchy brown at times.
"In this economy, we're doing everything we can not to raise our dues, but we're up against a lot of pressure," Lopes said. Another option, he said, would be to raise the cost of summer memberships.
At John's Island – the largest user of reuse water by far – the John's Island Water Management Company actually receives the reuse water in a lake and then pumps it through a pipe system to water individual lawns.
At least as a reseller of the reuse water, the company can pass on the added cost to John's Island homeowners.
"They (Vero Beach) said they weren't renewing our contract, but that we could keep purchasing the water at the prevailing rate," said John's Island Water Management Director of Utilities Jim Moller.
"We've discussed this in the past with the Board of Governors, we knew this was coming," Moller said. "There's not a lot we can do."
One thing John's Island is doing, confirmed separately by Indian River Shores Councilman Jerry Weick and Councilwoman Fran Atchison, is sinking a 1,500-foot well to process its own irrigation water via reverse osmosis. This would reduce either utility provider's stranglehold on John's Island.
Reportedly, the John's Island Water Company would have some brine waste material dispose of, and presumably would need to strike a deal to send it to Vero's deep injection well or to the county's Spoonbill Marsh brownfield.  But rumors that a deal with Vero has already been struck are false, according to City Manager Jim O'Connor.
"There have been no agreements reached," O'Connor said Monday in an email.
Moller said he's leery about entering into a long-term reuse contract with either the county or Vero at this point, while Indian River Shores debates whether to renew its contract for potable water with the City or switch to a contract with the county.
Should the Shores sign a potable water franchise agreement with Indian River County, access to less-expensive reuse water could be made part of the deal. If Vero wants to keep the Shores in its system, entering into a new bulk reuse water contract with John's Island could help sweeten that deal.
"I would hope that the Town of Indian River Shores would make a deal soon so we can also make a deal with someone," Moller said.