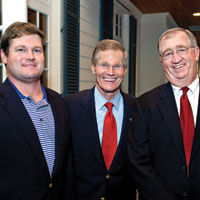 2012 campaign maneuvering well underway
STORY BY LISA ZAHNER, (Week of December 1, 2011)
Photo of Bill Nelson Jr., Senator Bill Nelson and George Hamner
The 2012 election season has officially kicked into full swing with Republican presidential primary debates so numerous they've become background noise and big-ticket political fundraisers filling island residents' social calendars.
In a tight-knit place like Vero Beach, where nearly everyone seems connected by blood, marriage, money or friendship, politics can be pure theater. Rivalries often split business partners, golf partners and even husbands and wives – at least until the local primaries are over next Aug. 14.
Barrier island residents are courted by candidates up and down the ballot because campaign contributions from 32963 routinely make or break a hopeful's ability to run a viable campaign with enough signs, advertising, mailers and events to surge on to victory.
Island homes are opened up for everything from casual "meet and greets" to important sit-downs with small but powerful circles of major givers who bring thousands of dollars in friends and family with them to a candidate's bank account.
It's said that every Indian River County election is decided by island residents.
Presidential elections bring more people out to vote every four years – starting this year with the Jan. 31 presidential primary.  In addition to voting for a president, Indian River County voters will help decide whether long-time Sen. Bill Nelson keeps his seat as well as the re-election fortunes of U.S. Rep. Bill Posey, Florida House Reps. Debbie Mayfield and Tom Goodson, and state Senator Mike Haridopolos.
In the 19th Circuit, State Attorney Bruce Colton and Public Defender Diamond Litty are up for re-election.  Vero Beach judges Paul Kanarek, Robert Hawley, Robert Pegg, David Morgan and Joe Wild all end their current terms in 2012.
Indian River County Commissioners Wesley Davis, Gary Wheeler and Bob Solari are all up for re-election. Davis and Solari have already begun campaigning, while Wheeler is waiting until January to officially announce. No challengers have emerged for these seats – yet – and different people may now be eligible to serve different districts thanks to this year's redrawing of the boundaries.
All of the so-called "constitutional offices" are up for grabs this year – tax collector, clerk of the court, sheriff and supervisor of elections.
Sheriff Deryl Loar is already in a hotly contested race – a rematch of sorts – with Republican challenger Bill McMullen.
Supervisor of Elections Leslie Swan is defending her record against challenger Sandi Harpring.  Tax Collector Carole Jean Jordan also faces an opponent in former County Commissioner Tom Lowther and both candidates are steadily raising money. 
No one has come out to oppose Clerk of the Court Jeff Smith or Property Appraiser David Nolte as of press time, but both have filed papers to run. Nolte reports a token $1,500 in the bank, but Smith has already raised more than $35,000.
Indian River County School Board members Matt McCain and Claudia Jimenez are going into their last 11 months in office unless they are re-elected. McCain recently declared his candidacy and Jimenez has not yet announced her intentions.
Three seats on the Indian River Hospital District and seats on various other boards will also be on what promises to be crowded ballots in August and on Nov. 6.
Sebastian, Fellsmere, Orchid and, of course, the City of Vero Beach will also host municipal contests. Indian River Shores does not have an election until March 2013.