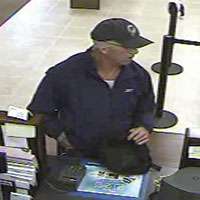 Beachside bank robber turns out to be legendary 'Scruffy Bandit'
STORY BY EILEEN KELLEY, (Week of December 22, 2011)
Photo: Security camera footage of robbery of Chase Bank on Beachland Boulevard
The 64-year-old bank robber who knocked over the Chase Bank on Beachland Boulevard a week ago Thursday turns out to be something of a South Florida legend with at least 29 bank robberies to his credit.
His nickname is the Scruffy Bandit, and during a six-month period in 1980,  Harvey William Ward made off with $60,000 from 18 Broward County banks until his arrest at the Hollywood-Fort Lauderdale International Airport in 1980.
At the time, Ward was described as scruffy and rag-tag, yet he was congenial and never showed a weapon, but rather implied he had one when robbing banks.
That's the approach police say he took here Thursday at the Chase Bank on Beachland Boulevard, walking in and telling a teller he had a weapon, police said.
Ward raced from the bank in a gold Ford Escape that he rented a day earlier out of Pompano Beach and he eluded authorities for almost 24 hours until he was caught  about 10 minutes after robbing a TD Bank in Indiatlantic at 10 a.m. Friday.
After his arrest in Brevard County, authorities there and in Vero Beach learned Ward is something of a legend in bank robbing world.
"He's the Scruffy Bandit – we got him," said Lt. Matt Harrelson of the Vero Beach Police Department.
After his arrest in 1980, Ward was sentenced to 21 years. But within 11 years, Ward was out of prison and again robbing banks, also in South Florida.
Police in 1992 linked Ward to nine new bank robberies in the Fort Lauderdale and Deerfield Beach area over a four-month period and this time he was sentenced to 25 years in federal prison.
He was incarcerated until last December, and was still on probation when he was arrested again last Friday.
Add last week's two robberies that police say he immediately confessed to and that is at least 29 bank robberies for the 64-year-old from Dania Beach.
"So I'm in the company of a legend?" Indiatlantic police Sgt. Mike Conner asked Ward after he began to unravel the suspect's long criminal past.
 "I wouldn't say that," Ward reportedly replied.
But police do call him a legend for the sheer number of bank robberies he committed.
"He'll probably die in prison," said Harrelson of Vero Beach Police Department.