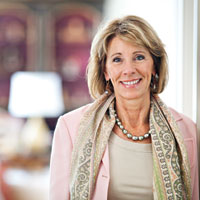 Betsy DeVos: 'I did not want a place in Florida, but we fell in love with Windsor'
STORY BY LINDA MARX, (Week of December 29, 2011)
Photo of Betsy DeVos
When Betsy DeVos visited her billionaire fatherin-law, Amway co-founder Richard DeVos, Sr., at his waterfront home in Manalapan near Palm Beach in 1996, she was deadset against living even part-time in Florida.
But the weather that winter was horrible, she said, so "I tore out an article from Town & Country about Windsor and Vero Beach, and we drove up to take a look."
After several hours of touring the development site and talking to people involved with Windsor, Betsy and husband Dick DeVos, Jr. returned to Manalapan with plans for creating their own Windsor home.
They liked the low-rise buildings, the timeless architecture and feeling of small town America. The unblemished palmetto dunes, miles of pristine waterways and great golf courses were also appealing.
Both unpretentious and practical, the DeVos' saw Windsor as a perfect winter home for their family.
 "I told Dick three times that I did not want a place in Florida," says Betsy, 53, a creative and enterprising woman who loves her work and feared the south Florida lifestyle would be too confining. "But Dick loves looking at real estate and making good investments, so I agreed to be open minded.
"We fell in love with the vision that Hilary and Galen Weston had for Windsor," says Betsy. "We saw that Windsor was different from other areas of Florida, and we became like ducks to water. We immediately planned to build."
Today, the DeVos family, which includes Betsy, Dick, their four grown children – Rick, Elissa, Andrea and Ryan – Daisy Dog Bailey, 11, and grandchild Clara, eight months, has a virtual compound at Windsor.
In addition to their art-filled, traditional home with seven bedrooms, courtyard, swimming pool, fireplaces and expansive golf views, Betsy has created a second more modern house across the street for Rick and his family, which includes little Clara, who is already showing a big personality.
With gray, white and orange colored interiors, four bedrooms, a chalet roof indoor-outdoor area with fireplace and kitchen, and lots of modern lighting, Betsy is proud to say she "worked hard" with the design team to make it zing.
In addition, Betsy and her family also own a Windsor row house.
"We have made Windsor a gathering place for our families, and we now have room for everyone," laughs Betsy, who entertained the senior De-Vos for Thanksgiving week-end at her home. "We normally spend about three months of the winter here and we love it."
Yet keeping up with Betsy, 53, who owns homes in Grand Rapids and Ada, Michigan, plus a new 22,000  - squarefoot shingle-style mansion with eyebrow windows and turrets on Lake Macatawa in Holland, Michigan, can be exhausting.
Although she raised more than $150,000 for the 2004 President George W. Bush reelection campaign and hosted a successful Republican fundraiser four years later headlined by President Bush, her main passion is now school choice for low-income children. This issue takes a great deal of her time because
she wants to change public policy to help kids get into schools.
"Social justice and economics are both issues to me," she explains from the sofa in her elegant, window filled living room which overlooks the terrace on one side and golf course on the other. "I spend a lot of time on this, and I travel. But I mostly do strategy and fundraising. Although I have been active for years in Republican politics, school choice issues are at the top of my list now."
Working in 10 states, Betsy has made sure school choice has bipartisan support in Florida and other areas of the country. She works a great deal behind the scenes fundraising and heading political action committees. In fact, she and Dick's All Children Matter committee has provided millions of dollars in funding to groups that support school vouchers. It has also promoted tax credits to businesses that give private school scholarships and candidates who support those causes.
In addition, Betsy excels in her efforts as an ambassador for governors with interest in this subject, like New Jersey's Chris Christie.
"Betsy has been a leader in education reform seeking increased opportunities for disadvantaged kids, and governors respect her political acumen and experience," says Greg Brock, executive director of American Federation For Children, who travels between Washington, D.C., and Grand Rapids. "She brings a mix of policy and politics to make school choice effective around the U.S. Her political experience in Michigan has been a great boost to her educational reform work."
Brock, who worked under Betsy during her 15 years in Michigan politics, including when she was Michigan Republican party chairwoman from 1996-2000, and again from 2003-2005, is especially impressed with the success of her bipartisan efforts in school reform.
"Betsy has built coalitions across party lines emphasizing her belief that school choice and educational reform should transcend politics," says Brock.
Betsy, who entertains for these causes at her home in Windsor, is also a gung-ho arts advocate. In 2004, President Bush appointed her to the board of Washington, D.C.'s Kennedy Center for the Performing Arts where she served until 2010.
While there, she and Dick (who ran the most expensive gubernatorial campaign in the history of Michigan – spending $41 million – before losing in 2006 to Democratic incumbent Jennifer Granholm) created a center to teach arts managers and boards of directors how to raise money and manage their
cultural institutions. Last year, the couple donated $22.5 million to continue this concept which was named DeVos Institute of Arts Management.
Most impressive is the DeVos family's 2009 spearheading of ArtPrize, the world's largest art competition held each fall in Grand Rapids.
Open to anyone over 18, and enjoyed by hundreds of thousands of people who congregate in downtown Grand Rapids, the prize is decided by public vote.
The genius behind this event which is run by their son Rick, who came up with the idea, is that it engages the Western Michigan area for two weeks around art.
"People who never look at art come to the event," says Betsy, who funded ArtPrize with Dick via a foundation and sponsors. "Neighborhood bars host art work and artists from around the world try to get in. It is so amazing, and the impact is wonderful because it improves people's lives."
Last Sept. 30, residents of Windsor traveled to Grand Rapids to enjoy the event which annually showcases both traditional and modern art.
Much of the year, Betsy's days are spent running The Windquest Group, a private Grand Rapids based company that manages their investments in technology, manufacturing (The Stowe Co. which makes interior organization and garage systems), and clean-tech industries, as well as their nonprofit solutions.
Through Windquest, Dick improved the community spirit of Grand Rapids with his Grand Action project, bringing the arena, convention and civic centers, plus an urban market-in-progress. And Windquest is also allowing Betsy is test her mettle in design by creating the interiors of the Reserve, a wine and food experience on the ground floor of their eight-story, red brick office building with granite and limestone details.
"I wanted to go into interior design years ago but a college professor was negative about it saying it would drive me crazy," she says. "I was only 17 and decided to pursue other interests. But through our restaurant effort in the Windquest building and our houses at Windsor and in Michigan, I have been able to fulfill my dreams by helping with the decor. I love it."
Busy Betsy comes by her ambitions honestly. The oldest of four children, she grew up in Holland, Mich., the daughter of philanthropist/financier Else Zweip Prince Broekhuizen and the late Edgar D. Prince, a self-made industrialist, who started Prince Machine Corp., an automobile supply company. Edgar later made millions on shopping malls, car parts and other ventures worth more than a billion dollars.
In the early 1970s, his company patented a sun visor that could light up, and sold 5,000 to General Motors. When the company was sold in the 1990s, it produced 20,000 visors a day.
A Republican activist, Edgar, who died in 1995 at age 63, also founded the conservative think tank Family Research Council with Gary Bauer. (Upon his death, Else, who now restores old buildings in Holland, sold her husband's company for $1.3 billion cash to Johnson Controls, according to published reports.)
Betsy's sisters live in Florida and Michigan. Her brother Erik Prince, who lives in the United Arab Emirates, is the founder and former owner of the private military company Xe Serves LLC, which started business in 1997 as Blackwater Worldwide with operations in Iraq. It became the largest of the U.S. State Department's three private security companies, providing 987 guards for embassies and bases abroad.
Prince has said he started Blackwater in response to the Rwandan genocide, and once described its relationship to the military as similar to Fed Ex's with the U.S. Post Office: "an efficient privatized
solution to sclerotic and wasteful government bureaucracy." In 2009, due to constant death threats from terrorists, Prince resigned as CEO of Blackwater before selling it.
As a young girl growing up in an activist family, Betsy was especially close to her father and remembers helping him paint the first cement wall steel blue in his business. "I worked in the factory at age eight," she recalls. "I come from a very active and entrepreneurial family. We all started young. And I do the same thing with our kids. We want them to be active, creative and innovative."
She attended Holland Christian High School and holds bachelor of arts degrees in business and political Science from Calvin College in Grand Rapids. A former boyfriend remembers Betsy not only being close to her parents and siblings, but she was "smart, independent, athletic and focused" as both a teen and college student.
"Betsy had an unshakable confidence," says the Michigan raised friend, who asked not to be named. "For one thing, she was always the best dressed, best accessorized girl...totally perfect, yet completely approachable. I know no one who does not admire Betsy."
Although Betsy loves her many projects and its daily grind of phone calls, faxes and e-mails, she does enjoy travel and insists she will eventually take a break from work to cruise on their notyet- finished 164-foot Westport yacht. It has six staterooms made of the finest cabinetry, stone and leathers, and a salon which opens to a large covered aft deck with lounge, wet bar and conversation areas for entertaining.
"I am involved in so many things which is both a blessing and a curse," she says about her desire to slow down. "But I need a break, and we love to travel to see new things and immerse in different cultures. We hope to cruise in Fiji, Tahiti and New Zealand, as well as return to the Caribbean and Mediterranean. We all love motor yachting."
But during much of the six gray Michigan months, Betsy will bring her work south and enjoy friends and family at Windsor. While Dick plays a lot of golf, Betsy entertains business and personal guests from around the country who fly down to see them.
And together, Betsy and Dick like to ride bikes, enjoy the beach, and take walks around the architecturally unique development.
"We don't really get involved in the Vero Beach social scene," she says. "We aren't here enough for that. But we have met wonderful folks at Windsor and are happy to be able to spend time with them in this magical place."