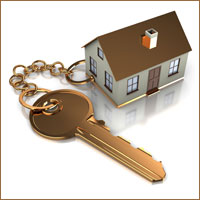 Florida home prices seen poised
to rise
STORY BY STEVEN M. THOMAS, (Week of December 8, 2011)
While the national real estate picture remains muddled with good news about sales and prices followed by bad news on a daily basis, a leading economic forecaster says Florida home prices have essentially stabilized and are set to rise between 10 and 15 percent over the next three years.
The trend will be driven by declining inventories, low prices and interest rates and the continuing bulge of baby boomers moving across the demographic spectrum to retirement age.
According to Hank Fishkind, Ph.D., Florida's rate of population growth will increase steadily over the next three years, from 110,000 new residents in 2011 to more than 200,000 in 2014, as retiree homebuyers more fully resume their recession-delayed migration to the Sunbelt.
A former associate professor of economics at the University of Florida, and director of the university's forecasting program, Fishkind heads a 26-member economic and financial consulting firm with offices in Orlando, Naples and Port St. Lucie.
The company, founded in 1987, has wide experience in economic and fiscal impact analysis, forecasting and finance with a specialty in residential real estate feasibility research.
"We are factoring in a reduction in the foreclosure inventory and an increase in jobs that will allow home prices to increase modestly," says Fishkind.
The trend Fishkind & Associates foresees is already underway according to the trade organization Florida Realtors, which reported a 13 percent increase in home sales in October, with a total of 13,755 homes sold statewide compared to 12,145 sold in October 2010.
"Statewide, both sales and prices are above where they were this time last year," noted Florida Realtors Chief Economist John Tuccillo. "The monthly median prices have ticked down slightly for the past few months, but the overall trend continues to show gains year-over-year."
October sales were even stronger in Indian River County, up more than 20 percent, from 173 units in 2010 to 210 units this year, according to the IRC Realtors Association.
With a growing pool of buyers and renters and shrinking inventories, Fishkind expects housing starts in Florida will nearly double over the next three years from approximately 45,000 in 2011 to 80,000 in 2014.
During the same period, existing single-family closings will increase from 220,000 to 260,000 annually, while new home closings will double.
Demographic pressures and the growth of jobs in tourism and medical care  will help push up the average price of an existing single-family home in the state by more than $25,000 according to Fishkind's analysis, from approximately $175,000 in 2011 to slightly over $200,000 in 2014.
New home prices will inch up about 10 percent from $235,000 to $260,000.
Fishkind predicts housing starts in Indian River County will more than double over the next three years, from approximately 400 this year to more than 800 in 2014. Closings for existing single-family homes will decline slightly but new home closings will increase from about 300 to 450.
The average price for an existing single-family home in the county is expected to jump 14 percent from approximately $220,000 this year to $250,000 in 2014, welcome news for homeowners who have endured four years of price declines.
According to data provided this week by Trulia.com, a widely used source of real estate statistics, year-over-year numbers for Indian River County as a whole were all good with sales up 13 percent, median price up 4.5 percent and price per square foot 38 percent higher.
Fishkind expects non-residential construction to increase even more than homebuilding.
In Indian River County, commercial construction, including retail, warehouse, industrial and government/institutional, will triple over the next three years, from 100,000 square feet of new space to 300,000, according to Fishkind.
Statewide, commercial construction is expected to double from 30 million square feet of space built in 2011 to 60 million in 2014.
The numbers Fishkind predicts for residential and commercial building are feeble compared to the boom years from 2003 through 2007, but they are trending in the right direction and even a partial recovery will help create new jobs and improve the state economy which is driven in significant part by construction and homebuilding.
At the low point in 2009, Florida lost 450,000 jobs. In 2011, the state added about 45,000. According to Fishkind, that number will more than double to approximately 100,000 new jobs in 2014.