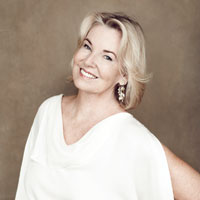 Hilary Weston's Windsor:
'Vision come true'
STORY BY LINDA MARX, (Week of December 8, 2011)
Photo of Hilary M. Weston
In the 1980s, when her children were young, Hilary M. Weston took them on school breaks to the Bahamas. Places like Eleuthera, the gated community of Lyford Cay, and a small island where they still own property, were highlights of the school year.
"We were going to build in the Bahamas but we set out to find a place in south Florida instead," Weston recalls of a change in mindset. "We found Vero Beach through my father-in-law Garfield. He discovered Vero was the first place in this part of Florida where people came seeking the sun. We just loved the undisturbed town as we saw it back then."
Hilary and her husband Galen Weston, the English-born Canadian businessman, were smitten with Vero's small bungalows, lovely tree-lined streets, unpaved roads, citrus groves, low-rise buildings, palmetto dunes, Indian River and old grovers houses.
They cheered the wonderful feeling of retaining small town integrity in the fine climate of south Florida. They wanted to make the area a part of their lives.
"We felt Vero was so unlike the other towns we saw," she continues. "We were charmed and bought lush barrier island property between the Indian River and the Atlantic Ocean to make our vision of what we imagined the best of Florida was before the high rises came in."
Hiring Miami's internationally respected town planners Andres Duany and Elizabeth Plater-Zyberk to follow their New Urbanism principles of design, Weston worked closely with them and others, making sure every detail was perfect. She wanted to offer public and community spaces framed by timeless architecture and landscape design that celebrates the tropical and pristine setting of the area.
"We took our inspiration from grovers houses, Charleston, Savannah and St. Augustine architecture and threw in some Anglo-Caribbean influence," she says. "I wanted charm. I wanted a village because we dreamed of a total community. People heard about it and told us it would never work."
But they moved forward with optimism, adhering to a strict code which was simple yet direct to protect home owners and their privacy. Today, the 416-acre exclusive community of Windsor – completed in 1989 – has 350 homesites in various settings that allow for a variety of styles, including cottages, country estates and village homes.
Weston feels very comfortable at Windsor  and still envisions children in their 30s and 40s who grew up seasonally in large Vero Beach homes on the water being able to afford a place of their own in the close-knit community.
"Our idea for Windsor was family,"  explains Weston, 69, who remains its creative director. "We always brought our kids here for holidays  – American Thanksgiving, Christmas, three weeks at Easter, and sporadic trips in between. We thought others could do the same thing. In fact, our son met his wife at Windsor."
Weston says her vision has come true as she hoped. She is thrilled that Windsor continues to grow and evolve as she does her part in continuing the dream.
One of her top priorities is new three-year collaboration between her Vero Beach Gallery at Windsor and London's Whitechapel Gallery.
Beginning on Dec. 3, to coincide with Art Basel in Miami and running through the winter season, a series of art exhibitions are open to the public by appointment. (For 12-16 people, the gallery will offer a curated tour.)
The first exhibition is by Latin American artist Beatriz Milhazes: Screen Prints 1996-2011 curated by Iwona Blazwick, director of the Whitechapel Gallery. This is one of three exhibits to be held at The Gallery at Windsor focusing on single living artists.
Previous shows have been curated from the George Weston Collection, including Christo, Jeanne Claude and Canadian artist Tony Scherman.
Weston has been working steadily with Blazwick, who is one of the most important art personalities and connoisseurs in England. The goal is to make this gallery, which was opened in 2002, even more unique and independent than it is now.
"From the beginning, Hilary has set the tone for Windsor both architecturally and culturally," says Windsor member and longtime friend Georgia Welles. "The new collaboration with Whitechapel Gallery is yet another level of her unwavering vision and dedication to the arts."
The former Hilary Freyne, who lives mainly in Toronto and London when she is not in Vero Beach, met Galen Weston in Ireland while she was a fashion model and he was establishing self-service supermarkets. They married in 1966 and moved to Toronto eight years later where he now heads George Weston Ltd., founded by his grandfather in 1882, one of North America's biggest bakers.
As the world's second largest luxury goods retailers, the Westons also own four major department store chains: Canada's Holt Renfrew, Ireland's Brown Thomas, England's Selfridges (founded by an American from Wisconsin), and the Netherlands' De Bijenkorf. Galen, a former polo player, was recently ranked by Forbes as the second wealthiest person in Canada.
Growing up around Dublin, Weston was always fascinated by the arts, especially The Bloomsbury Group of writers, artists, philosophers and intellectuals who were united by their belief in the importance of the arts and met frequently in London. 
Fortunately, Weston's excellent taste in fine art is shared by her husband and has been incorporated into their lives.
"We began collecting French and Italian Old Masters drawings which has become a passion," she says. "We continue to upgrade our collection and add on to it. Much of it is housed in our London home where we will spend Christmas this year."
The mother of Alannah, creative director of Selfridges, and Galen, who runs a public company in Canada, and grandmother of their two boys and two girls, Weston does phenomenal, below-the-radar work in art, culture and philanthropy, including co-chairing the upcoming Charity Polo Cup at Windsor, Feb. 18.
Weston, who maintains strong links to the United Kingdom, served as the 26th lieutenant governor of Ontario from January  1997 – March 2002, where she was responsible for the Crown's constitutional and representational roles in Ontario. While in office, she focused on women's issues, volunteers and youth causes.
"The position opened so many doors that I would never have had open to me," she told Canada's CBC-TV Life and Times biography series several years ago. "I was not only informed at every level, but transformed by the experience."
After leaving office, Weston has been so busy it is hard to imagine having time to relax. She spearheaded the most successful fundraising campaign in Canadian history when she raised more than $250 million to transform the Royal Ontario Museum into an architectural icon.
Weston announced in May she would sponsor the Writer's Trust Non-fiction Prize in Canada which had lost its benefactor two years ago, and was temporarily kept afloat by the trust. In October, the $60,000 prize was awarded to Charles Foran for his biography of the late Montreal writer Mordecai Richler.
"This was so exciting," says Weston, an avid reader in whatever spare time she can find. "Non-fiction is the poor beneficiary of high flying works of fiction. So I want to support it and know it is appreciated."
In Vero Beach, through her Polo Cup event which promises to resurrect the fields, she supports the Humane Society of Vero Beach & Indian River County, St. Edward's School Financial Aid Fund and the National Center for Missing & Exploited Children.
"Hilary took the bull by the horns for this novel Charity Polo Cup at Windsor,"says TV personality John Walsh, who is co-chairing the event with her and also playing polo that day. "She is philanthropic, low profile and a wonderful woman who does so much for Vero Beach behind the scenes. People have no idea..."
Although she travels to Europe every six weeks on business, Weston find plenty of time to spend at Windsor. While here, she swims, plays tennis and paddleboards to stay fit. But much of the time is devoted to charity fundraisers for causes, including politics, improving the gallery, supporting the arts, and working on the Windsor literary group which brings in speakers like Peggy Noonan to discuss the issues of the day.
 "We have many Canadian, European and North Eastern U.S. friends whom we have met and enjoyed at Windsor," Weston says with excitement in her voice, "They are doing fascinating things, like important work in the community and for the arts. We are so delighted that we can all bring our families to Windsor and continue making a difference in people's lives."