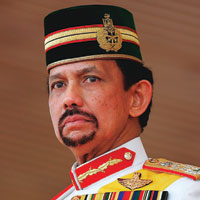 Who knew? The Sultan's stealth takeover of Piper
STORY BY MILTON R. BENJAMIN, (Week of December 15, 2011)
Photo of Sultan Hassanal Bolkiah
With no announcement or notice to anyone, control of Piper Aircraft appears to have changed hands once again – with Vero's largest private employer now directly owned by the Sultan of Brunei.
Exactly what this means to the future of Piper and its 700 remaining employees – who have not been informed of the change which apparently occurred in October, just before the Piper jet program was killed, with 205 salaried and contract workers terminated – remains unclear. 
The fact that Piper is now directly owned by one of the world's richest men – and no longer by an offshore investment company  – also will come as a surprise to Indian River County officials, who were asked by Piper just two weeks ago to forgive repayment of $10.7 million in job incentive money. 
"It's never been mentioned," said County Administrator Joe Baird.
"I just don't know," said County Commissioner Wesley Davis.
But there is no question that Imprimis – the Singapore-based company which two years ago bought Piper with capital provided by Brunei, put new management in place and oversaw its development of new products including the Piper jet – is now out of the picture, and has handed over the Vero aircraft manufacturer to the Brunei Ministry of Finance.
The first indication of this came on the Imprimis website, which contains the sole sentence:  "We divested our interests in Piper Aircraft and Piper Capital in October 2011."  Also gone from the Imprimis website is any reference to the Brunei office that it opened in 2008.
Asked about who now owns Piper by e-mail, Stephen Berger, managing partner of Imprimis, responded Monday with the terse reply:  "Piper is owned by the Government of Brunei."
Later, Imprimis sent us a statement that said it had "transferred all of its management rights and equity interests" in the Imprimis Strategic Investment Corporation, the investment company it managed, and in Piper to the Brunei Finance Ministry.
"In connection with this transfer, Stephen Berger, managing partner of Imprimis, has resigned as Chairman of Piper Aircraft Inc., and Joseph Gotuaco, director of Imprimis, has resigned as director of Piper Capital," the statement read.
"We have greatly enjoyed our work with the Brunei Ministry of Finance and Piper and wish both parties every success in the future," Stephen Berger said.
While the statement was undated, the changes appear to have taken place just before Piper on Oct. 17 announced it was "reviewing" the Piper jet program and simultaneously replacing interim Piper CEO Geoffrey Berger, who had been brought in by his brother Stephen the previous year, with Vice President of Operations Simon Caldecott.  Piper's No. 2, Executive Vice President Randy Groom, also simultaneously left the company.
In announcing the changes, Piper for the first time slipped in at the bottom of the news release the sentence, "A global force in aviation, Piper is an investment of the Ministry of Finance of the Government of Brunei."
Shortly before these surprise announcements, rumors were circulating in aviation circles that Imprimis had been seeking to sell Piper to the Chinese company AVIC International, which had purchased Teledyne Technologies' aviation piston engine business this past April.
This rumor was apparently based on talks Piper had in China aimed at achieving a licensing agreement for some of its older planes. But sometime after these talks collapsed, the Sultan of Brunei decided to no longer fund the jet project, and at that point, Imprimis and the Sultanate of Brunei decided to part company.
Asked at the time by Aero News Network what had led to the surprise executive changes at Piper, Caldecott  – who the previous week had been meeting with officials in Brunei – said:  "I'm not at liberty to go into the details of what went on or why."
Only a few days later, Caldecott announced that Piper was pulling the plug on the single-engine jet and cutting 205 salaried and contract workers, mostly engineers, some of whom had been lured to Vero to work on the jet program when all seemed to be going full-speed forward only weeks before.
Beyond the fact that Indian River County officials were never notified of the change in ownership and control of Piper, an obvious question is whether it makes any difference that a local company is now owned not by a private foreign investment firm but by a fundamentalist Moslem country ruled with a firm hand by an absolute monarch.
"I don't have any concerns about that," Baird said. "Brunei is an oil-rich nation.  I'd be more concerned if it was a country that didn't have resources."