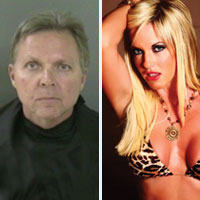 Vero lawyers gone bad
Another off to jail while wife goes free
STORY BY LISA ZAHNER, (Week of December 22, 2011)
Photo of Ronald Rider and his wife Wendy
The similarities in the case of Ronald Rider and Richard Brown are uncanny – same judge, same prosecutor, and similar alleged thefts by Vero lawyers from clients.
Both cases involve attorneys who would be in the prime of their legal careers, but who instead are charged with stealing large sums of money that clients entrusted to them to support women with expensive tastes, children and high-end lifestyles in their Vero Beach homes.
In Brown's case, his wife was an interior designer and created a posh, landed-gentry type  of existence for her family at their Summerplace home – which was featured in Good Housekeeping magazine – as well as at an upscale bed and breakfast in rural New Hampshire.
Rider's wife, on the other hand, posed nude in calendars and Playboy videos featuring sexy housewives.
Brown's former clients and his ex-wife say he stole more than $400,000 from bank accounts, lawsuit settlements and estate funds destined for charity.
Rider, 54, a former Vero Beach attorney, learned last week he is going to prison for three years and will serve 12 years of probation for bilking five clients out of $171,000 from Worker's Compensation settlements. His clients were injured, out of work and desperate for the money to merely survive.
The Rider and Brown cases come on the heels of former beachside attorney Ira Hatch being sentenced to 30 years for stealing more than $3 million from clients – money that  bankrolled his luxury lifestyle with wife Marjorie Hatch, mortgage payments on their riverfront home, leased BMWs, jewelry and college tuition for the Hatch children.
Marjorie Hatch not only escaped prosecution and, so far, any serious civil challenges, but she also sold the family Castaway Cove home and walked with a half million dollars to start a new life. Hatch's clients to this day have seen no restitution and cannot lay hands on any of Margie's money.
Normally in cases like these, victims testify to their desire to see the convicted felon receive the maximum sentence – which in the Rider case could have been decades.
The curious twist in the Rider case was that four victims showed up to ask Judge Robert Pegg to hand down a sentence of probation – not jail time – for Rider, and they penned affidavits to the judge supporting very minimal punishment.
The prosecution, needless to say, found this a bit unusual, and questioned the victims about this in court.
"Who promised you $10,000 and then $300 per month," Assistant State Attorney Lev Evans asked Oscar Cisneros of Fellsmere, who spoke through an interpreter.
Cisneros indicated that Rider's defense attorney Bobby Guttridge offered the money and asked for the affidavit requesting probation instead of jail time.
"Is it fair to say that in exchange for the $10,000 promised you, you signed this document?" Evans asked.
"Yes," Cisneros replied.
Guttridge said the document was part of a proposal sent to the State Attorney in a bid to negotiate probation for Rider.  Victims would get lump sums up front and then monthly payments from Rider's income from selling Toyotas until the money each was owed was paid off.
But Evans portrayed the document as a letter written to the court requesting leniency in the sentencing hearing.
"Does it say, 'Dear Judge Pegg?'" Evans asked Cisneros.
"Yes," Cisneros replied.
Guttridge said there were "misconceptions" about the plea proposal and that Evans mischaracterized what he and his client were trying to accomplish.
"We're not trying to buy anybody off here, just trying to get the people as much restitution as possible," Guttridge said in court. "If he could pay it all, he'd pay it all."
One victim, Kenneth Porter of Roseland, who lost $90,000, has been repaid $40,000, but none of the other victims recovered any money as of the sentencing hearing last week.
"We still stand ready to make these payments and we can do that today, provided that Mr. Rider is not incarcerated," Guttridge told Pegg.
"Why not give them the money right now, before sentencing?" asked Evans.
Rider declined to authorize the release of $35,000 being held in trust to his former clients on the spot. The exchange made it clear the restitution money was being used as a bargaining chip to get probation instead of a prison sentence.
After the sentencing, Guttridge stood in the corridor negotiating with Rider's friend, attorney Ray Christian of West Palm Beach, about how to get the money turned over to the victims.
"We hope to do that. We're trying to work that out now," Guttridge said.
Guttridge said Rider is unlikely to appeal. "He just endeavors to pay the restitution, to have a life after this and to try to live that life," he said. "His life has been ruined, essentially."
Brown has been in jail, unable to get out on bond, for about six months. It could be about another three or four months until his trial begins.
Brown, 44, is accused of stealing more than twice what Rider admitted to, plus Brown has more than one dozen felony charges on his arrest record so far.
If the Rider case is any indication of Pegg's tolerance – or lack of it – for attorneys stealing from clients, Brown could get a decade or more in jail if convicted or if he agrees to a plea deal. Brown faces up to 50 years of hard time under maximum sentencing guidelines for all of the charges leveled against him.
Evans, who worked on the Rider case as co-counsel and is the lead prosecutor in the Richard Brown theft and fraud case, said he could not ethically comment on any potential commonalities between the two cases.
In the Rider case, Evans referred to another factor that might have not fostered goodwill during the sentencing hearing. "I suspect that Rider's refusal to release the money in the account p---ed off the judge," he said after the sentence was handed down.
Victim Susan Murphy of Vero Beach, who has been trying to get the money owed to her on a Worker's Compensation claim for nearly nine years, said she's disgusted by the things Rider spent her money on.
"They had two small children at St. Helen Catholic School. They took my money and spent it on vacations and school tuition for their children. I have children, I have a life, where's my money?
"He lost his house and his kids' college fund and his boat and he complains. Who gives a crap what he lost? I don't have a boat – what about what we lost?" Murphy said. "He didn't ever even have the guts to say he was sorry to any of us."
Murphy lost $22,750 plus attorney fees for Vero Beach attorneys Anthony Amelio and Michael Horowitz, whom she had to hire to sue Rider to try to get her Worker's Compensation money back. She also lost nine years of her life being sucked into Rider's drama.
Rider had "life coach" Vincent Fazzi testify on his behalf at the sentencing hearing. During a presentation of a life-trend analysis, Fazzi said that Rider has lived an overwhelmingly good an honorable life, including military service and devotion to family. Fazzi said the acts committed by Rider were completely out of character, as he sees sometimes when highly intelligent people are subjected to stressors and pressures in their lives.
"There is no intent to hurt others, but that's exactly what happens," Fazzi said.
In this case, a stunning and adventurous wife 22 years his junior could have been that stressor.  Rider's wife, Wendy, 32, was also originally arrested and charged in March 2009 but as part of the plea deal which sent Ronald Rider to prison, charges against her were not prosecuted.
"It's a really sad situation and his wife was very much involved in this," Murphy said. "She's very high maintenance."
"People see this and they just don't understand," said Judge Pegg just before announcing the sentence. "It wasn't like you were helping a sick relative or something. Vacations, lawn service, gym memberships and spa treatments – then to hold the money out like a bargain with me."
A former Playboy model, Wendy sobbed and leaned against a wall in the courthouse hallway with her hands to her face after the father of her two sons was taken out the back door of the courtroom to the holding cells in the courthouse sub-basement.
Prior to sentencing, Wendy spoke on her estranged husband's behalf. "He's a good man and an excellent father and he's working hard to pay his restitution," she said. "I need him and his kids need him. Without him, I can't survive."
While Wendy Rider was, by day, playing the role of mom and ferrying her kids back and forth to Catholic school, at other times she moonlighted as a glamour and fetish model. She also entered and won several body-building competitions, an avocation which required copious amounts of time in the gym with expensive personal trainers.
Her stage name in the modeling business is "Muscle Barbie" and her 80-photo portfolio on the Model Mayhem website is revealing. Pictures which pop up from a Google search for "Wendy Rider" show Rider nude, topless, near-nude or – at best – clad in tiny bikini bathing suits or skimpy lingerie. Her nipples and other body parts show prominent piercings.
She introduces herself on the Model Mayhem website in a profile, "My name is Wendy Rider aka Muscle Barbie. I am a Playboy Model, internationally published fitness/glamour model, WBFF Figure Pro and a certified personal trainer."
A simple Google search turned up two short videos of Rider on Playboysexywives.com – one as a blonde, the other as a brunette.
As she strips down naked from her leopard-print dress in the three-minute video where she appears as a blonde, she says, "My name is Wendy and I live in Florida. Florida is a great state for outdoor activities. I have two young boys and they keep me very busy."  In the video where Rider is a brunette, she strips in front of an oval, full-length mirror, dancing to hip-hop music.
She is listed on Playboy's website as a housewife from Vero Beach and featured in two solo erotic videos and dozens of nude photos, plus an interview during which Rider says she was an avid gymnast as a child, likes to stay in shape and has "always been athletic."
In addition to the exposure through Playboy, Rider has appeared in Off Da Chain magazine and she was featured in an eight-page layout in the "Thong Issue" of American Curves magazine in the winter of 2010.
In January, she appeared on the cover and layout of Easyriders magazine. There is even a Wendy Rider 2011 Wall Calendar still available on the Mix Masta B website for $19.99 plus shipping and handling.
Rider won the opportunity to be in this calendar through the Miami Glamour Models contest. In the calendar, she poses as a nude geisha, a schoolgirl with no panties, a pole dancer, a mud wrestler and a topless Amazon princess.
An internet ad for the calendar states, "Count off the days with this amazing sexy wall calendar filled with the best fine art photos of Wendy Rider."
Meanwhile, Ron Rider will be counting off more than 1,000 days in prison while Richard Brown sits in his cell at the Indian River County Jail counting the days till he goes on trial in the Spring.