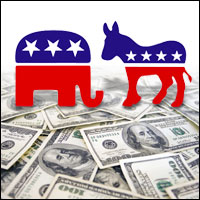 Island's big political donors pour money into 'super-PACs'
STORY BY MILTON R. BENJAMIN, (Week of December 1, 2011)
With the 2012 Florida primary only two months away, barrier island residents are pouring money into the coming campaign to determine the shape of our national government – 244 of our beachside neighbors contributing more than $700,000 so far this year – but less than one-tenth of the money is going to direct support of presidential candidates.
The big bucks this year are going to so-called "super PACs" – a new type of political action committee that can raise as much money as individuals or corporations will give, then spend unlimited sums to support or oppose candidates in key Congressional races.
Perhaps not surprisingly in the current environment, the percentage of barrier island contributions going to Republican "super PACs," political organizations and candidates this year actually increased over the 91 percent recorded during the 2010 cycle to an amazing 98 percent thus far in 2011.
The biggest island contributor to the budding 2012 campaigns is John W. Childs, a John's Island resident who this fall gave $125,000 to the Club for Growth Action.  This super PAC says the money will go for targeted campaigns aimed at defeating liberal Democrats and "Republicans in name only" in the U.S. House and Senate.
Childs, who founded a Boston-based buyout firm, this year has given a total of $195,000 to a variety of Republican causes, including $25,000 to the National Republican Congressional Campaign Committee, and $10,000 to the Cantor Victory Fund, a campaign operation put together by House Majority Leader Eric Cantor (R-Va), who has raised several million dollars, largely from top executives in the finance industry. 
While Childs' contributions may sound like a lot, his giving thus far in this campaign cycle pales compared to his political contributions in the months leading up to the 2010 Congressional elections, when he wrote checks totaling more than $800,000.
In second place among barrier island political contributors this year are Herbert W. and Anne Gullquist, also John's Island residents, who have given $64,600 to Republican causes – including $61,600 to the National Republican Congressional Campaign Committee.
Another large GOP supporter is John R. Brehmer of Orchid Island, who so far this year has spread $32,500 among 26 Republican campaign organizations and candidates.
Next on the list of contributors obtained from the Federal Election Commission is Peter Bijur, a resident of Windsor and former CEO of Texaco, who gave $30,800 to the National Republican Senatorial Committee.   He is followed by John's Island resident Henry G. Stifel, who contributed $15,000 to the Republican National Committee.
The largest beachside contributors focusing on individual candidates are Whitney and Elizabeth MacMillan of John's Island, who have given Republican organizations and candidates a total of $19,500 including $10,000 to former Minnesota Gov.Tim Pawlenty's political action committee, Freedom First.
The MacMillans are closely trailed by Moorings residents R. William "Bill" and Mary Ann Becker, who contributed $15,750 to Republican causes – including $10,000 to a political action committee controlled by Florida Sen. Marco Rubio.
The largest individual island contribution to a Democratic candidate this year came from Patrick Welsh of John's Island, who gave $2,500 to an organization called Friends of Max Baucus, the Montana Democratic senator.  But Welsh hedged his bets with a $1,000 contribution to the campaign PAC of  Florida Republican Rubio.
The second largest island contribution to a Democrat was South Beach resident George F. Hamner Jr.'s $2,000 contribution to Florida Sen. Bill Nelson's 2012 re-election campaign.  This was dwarfed by $83,800 from the 46 beachside residents who contributed $1,000 or more to Florida Republican Sen. Rubio, who is not up for re-election until 2016.
While President Obama raised more than $89 million nationally for his re-election campaign in the first nine months of this year, he has so far gotten only $3,300 from the barrier island, with Moorings resident Sheila Marshall, at $1,000, the largest of seven 32963 contributors.
Among Republican presidential candidates, the latest FEC numbers show long-time front-runner Mitt Romney raising a relatively low $40,000 for this stage of the campaign from island backers, suggesting many beachside residents are still trying to figure out whom to get behind only 60 days before the Florida primary.
Major Romney supporters from 32963 who have made $5,000 contributions include Lewis M. and Judith Eisenberg of Windsor; Dhuanne and Douglas T. Tansill, also of Windsor; and William C. and Carolyn Stutt of John's Island.
Running a distant second in island fundraising is Jon Huntsman, with total 32963 contributions of $7,250.  Most of that comes from Charles R. and Nancy L. Shoemate of John's Island, who have contributed $5,000.
Lee Archer of Indian River Shores has been by far the most enthusiastic beachside backer of Newt Gingrich to date, contributing $1,750 of the $3,250 the surging candidate had raised on the island through October.
Among candidates now seen as having little chance, Michelle Bachman got her largest island contribution of $1,000 from John Gibson of the Moorings, but he appears to have shifted his support and contributions to Romney.
Sally and Theodore W. Brickman Jr. of John's Island are Rick Santorum's lone island backers, contributing $5,000.  Steven Oswald of Indian Trails – with two contributions totaling $402 – accounts for two-thirds of Ron Paul's 32963 beachside war chest.
At the back of the pack, Herman Cain raised $250 on the island – all in a contribution from Donald Proctor – besting Rick Perry, who as of the end of October had not received a single 32963 contribution.