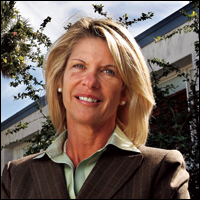 Redistricting could give Mayfield all of Indian River County
STORY BY JOHN WILLIAM JOHNSON, (Week of July 14, 2011)
Photo of State Rep. Debbie Mayfield
State Rep. Debbie Mayfield says one of the options for redrawing the boundary lines of her district – which currently puts the barrier island into a gerrymandered district extending almost to Melbourne in the north and Jensen Beach to the south – would be to simply make it comprised of all of Indian River County.
A unified District 80 would give Vero Beach and Indian River County a lawmaker whose main interest was one county and its residents, instead of separating them into two districts representing a mish-mash of other counties.
As things stand, the barrier island and the City of Vero Beach are in Mayfield's district – lumped together with a vast, sparsely populated area west of Fort Pierce -- while much of the rest of the county falls into State Rep. Tom Goodson's district, another gerrymandered entity that extends some 80 miles north to Titusville.
Mayfield suggested the "entire county" scenario at a recent Indian River County Chamber of Commerce government affairs committee meeting.
Hold on, says Mayfield's Legislative Assistant Dustin Paulson. He said Mayfield's remarks are just one of several scenarios being discussed – and in any case were part of preliminary discussions about redistricting in general and should not be taken for anything other than discussion.
When we tried to follow-up with Mayfield to find out whether she or her aide was correct about whether there is any chance of this actually occurring, our phone calls were not returned. Instead, her office sent a non-responsive statement that said:
 "Redistricting is an exciting process that will shape our political boundaries for the next 10 years. The legislature is committed to following the law and making this process as transparent as possible. Right now, members of the House and Senate are holding town hall meetings and taking public input from concerned citizens and groups around the state."
The closest to Vero Beach that such town hall meetings will be held is Thursday, July 28 in Melbourne at the Brevard County Commission Chamber and Monday, Aug. 15 at the Blake Library in Stuart.
In the meantime, the legislative timeline for input, action and implementation of new political district boundaries looks like this:
- Summer 2011: The legislature conducts the aforementioned hearings statewide.
- January 10, 2012: The legislature meets for its 60-day legislative session.
- March 9, 2012: The legislative session ends, and out of which will come a proposed redistricting plan.
- March 10, 2012: The legislature petitions the Florida Supreme Court for its required review of the proposed new districts; the court has 30 days.
- April 16, 2012: The court completes its review and the legislature sends the redistricting plan to the U.S. Department of Justice for its required review; the DOJ has 60 days
- June 18: 2012: Districts are finalized and candidates may start qualifying for the newly drawn districts.
Redistricting, as always, will be a partisan struggle.  While Florida  has more registered Democrats than Republicans, the state government is dominated by Republicans. In the Senate, there currently are 26 Republicans to 14 Democrats and in the House there are 76 Republicans to 44 Democrats.