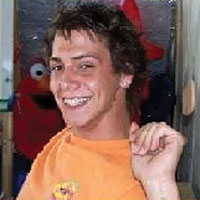 Summerplace shooting tragedy
Partying youth tries to get in wrong house at 2:30 am
STORY BY JOSEPH W. FENTON, (Week of July 7, 2011)
Photo of Jack Sandy Newstedt
Jack Sandy Newstedt's 21st birthday celebration ended nine days after it began – without cake or candles –at a Vero Beach funeral home, his ashes in a gleaming urn surrounded by a dozen floral arrangements and more than 200 family and friends.
People slowly filled one room and then a second room Saturday at the Cox Gifford Seawinds Funeral Home on 20th Street. Some brought bouquets; others shuffled in holding single, white chrysanthemums. Tears welled in the eyes of mourners, both men and women.
A flat-screen television played a gallery of photographs – many of Newstedt with his nephew Jack Newstedt skateboarding, Newstedt cutting a cake or Newstedt posing with his sister, Sheri Adams. In most of the photographs, Newstedt's bright smile sliced across his face like a white gash.
By the time the service started at 10 a.m., friends stood at the back of the main room and spilled out into the funeral home entry. Boxes of tissues, scattered among the straight-back chairs, were put to use by the young and the old, to mop up tears or muffle sobs.
Bethany Spagnuolo, a longtime friend, talked about first meeting Newstedt at a skateboard park and being captivated by his personality and spirit.  "He became the little brother I never had," she said, trying to blink back her tears.
Spagnuolo read from a letter Sheri Adams wrote her brother after his death that talked about how she wished she had been there for him more, noted how much she would miss him and recalled how he adored his nephew.
As Spagnuolo read, Adams bowed her head and sobbed quietly in the front row.
Newstedt died about 2:30 a.m. Sunday, June 26, when he went to the door of 9455 Periwinkle Drive in the Summerplace subdivision on the barrier island and a homeowner shot him. He had turned 21 three days earlier.
Co-workers say he had been celebrating his birthday that Saturday night and went to the Summerplace home of a friend. He apparently got separated from his friends in the wooded subdivision and ended up at the Periwinkle Drive home of Clairborne "Clay" Rowe.
Rowe told sheriff's deputies Newstedt banged on his door about 2:30 a.m. The man said he got a gun from his gun safe before answering it.
The Indian River Sheriff's Office said Rowe told investigators he opened the door and Newstedt lunged at him. He said he fell back, lifted the gun and shot Newstedt once in the chest.
The shooting stunned friends who said Newstedt probably just went to the wrong house. 
"Sandy was not a burglar," said Jeremy Diaz, who worked with Newstedt at Giuseppi's Pizza in Sebastian. He said Newstedt probably just became disoriented after celebrating his birthday. Summerplace is a warren of gravel roads bordered by heavy foliage trees.
Diaz insisted his friend would never lunge at someone. He suggested Newstedt might have been leaning against the homeowner's front door when the man opened it and tumbled into the doorway.
Diaz attended Sebastian High School with Newstedt and knew him about four or five years. He said he really didn't get to know Newstedt until he discovered they both shared a love of skateboarding.
 "That got me to hang out with Sandy," Diaz said. "He was a good person. He was always there for you.
"My brother heard it from another of Sandy's friends," Diaz said of Newstedt's death.
He said he went to Newstedt's parent's house in Sebastian. "Sandy's parents answered the door and there were tears running down their faces."
"I've been going over there a couple of days," he said, adding that Jack and Donna Newstedt are devastated by their son's death.
The weekend was a big one for Newstedt, who turned 21 that Thursday and bought a new car.
"He was celebrating his birthday and his new car," said Jesse Ornelas, who also worked with Newstedt at Giuseppi's. She said he brought his new Lexus by the restaurant to show his friends and co-workers that day.
 "He was great," she said. "He was so sweet. He was just an awesome kid. From what we know, he was out at a party of his friends and he knocked on the wrong door."
Ornelas said she wondered why a homeowner would open the door at that hour of the morning and not wait for police to arrive. "At first, I thought it was a joke," she said of the shooting.
"He got along with everyone," she said of Newstedt, who delivered pizzas for Giuseppi's.
Sheriff's investigators are still looking into the shooting. Rowe has not been charged in connection with the incident.
Although many gathered to mourn him Saturday, the friends and relatives took to heart the advice of the ministers – don't forget Newstedt's parents in their grief.
After the service ended just before 11 a.m., a long, slow-moving line formed at the front of the room. Mourners slowly stepped forward, clasping both of Newstedt's parents in – often bear hug-like – embraces as they rocked back and forth on their feet.  
They then turned up the aisle, eyes red and cheeks wet.
Behind them, a photograph of Newstedt, his hair blond and long, perched next to his urn – his smile bright even when viewed from the back of the room.