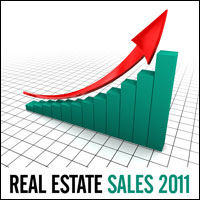 It's official: First half real estate sales up blockbuster 44.5 percent
STORY BY STEVEN M. THOMAS, (Week of July 14, 2011)
Since the first of the year, something fairly extraordinary has been happening in the barrier island real estate market as agency after agency began reporting the strongest sales in years, with pent-up demand bursting through the dam of consumer caution and skepticism to bring a welcome tsunami of transactions.
Now, a new report compiled by Terradatum.com from MLS statistics has solidified the euphoria in the form of a chart that shows the dollar value of property sales by the top 10 brokerages in Indian River County up 44.5 percent in the first seven months of 2011 compared to the same period in 2010, jumping from $345 million to $498 million.
Seven of the top 10 brokers shown on the Terradatum chart are island businesses: Dale Sorensen Real Estate Inc., Windsor Properties, Premier Estate Properties, Norris & Company Real Estate, Alex MacWilliam Inc., Treasure Coast Sotheby's International Realty and the Moorings Realty Sales Co
Another agency that would rank high up in the top 10, John's Island Real Estate, does not report its sales to the Multiple Listing Service and therefore is not included in the Terradatum.com report.
Sorensen, with 24.3 percent market share, recorded by far the largest number and highest dollar value of transactions of any broker in Indian River County according to the Terradatum chart, listing or selling $181.5 million in real estate between Jan. 1 and July 8, up from $87 million in the same period last year.
"Our business so far this year has been exceptional," says Managing Partner Dale Sorensen Jr. "As of July 8, our 75 sales associates have exceeded our entire sales volume for 2010."
Sorensen says summer, when Vero Beach's real estate activity tends to falter after winter visitors depart, has been "extremely busy."
"In the week from June 29 to July 7, we closed over 30 properties," he says. "Since May 1, we have had over 90 closings on the Barrier Island."
Coastal Signature Properties joined forces with Sorensen in late 2010, bringing eight agents to the enlarged firm. Those agents have "accounted for roughly $10 million in sales," according to Sorensen.
That is about six percent of the company's total sales, which means its 100-percent-plus sales growth has been fueled mainly by long-time Sorensen agents and a change in the market that is producing many sales.
"We have seen a dramatic increase in sales and activity in general," says Clark French, a broker who works in partnership with Kay Brown and Cindy O'Dare at Premier Estate Properties. "Premier is in five other high-end markets in Florida and Vero Beach is recovering better than almost any other place in the state."
"We are very proud to report we have 60 properties sold or placed under contract since Jan. 1," says Bob Gibb, president of John's Island Real Estate Company. "That is almost a 50 percent increase over this time last year."
"It's been pleasant to be in business this year," says Gena Grove, co-owner of Norris & Company, the fourth-largest brokerage in IRC by dollar volume with $47.7 million in transactions in 2011.
Most brokers say the rebound in island home sales has been led by oceanfront property.
Prices for high-end single-family homes and condominiums on the water have fallen to a point where they are attracting the attention of people around the country and the world. Buyers are swooping down on what they see as once-in-a-lifetime opportunities, leading to a reduction in inventory that is making remaining properties that much more compelling.
"Ocean is up dramatically," says French. "If you came to town five years ago and asked to see every $1 million-plus oceanfront home on the 23-mile barrier island, I could have showed you 90 to 100 properties. This season it is closer to 40. Inventory is down dramatically."
French says as oceanfront inventory shrinks, buyers are looking at high-end homes on the Indian River Lagoon, driving a boom in those properties.
"Waterfront is getting scarce," agrees Jane Schwiering, co-owner of Norris & Company. "Oceanfront had the first surge. Now riverfront is doing the same."
Gibb says oceanfront has been the strongest part of his business, with 36 houses, lots and condos sold or placed under contract so far this year.
As high-end inventory dwindles, lighting a fire under buyers, the other end of the market is getting tight too.
"We are seeing average prices up about 25 percent over last year," says Grove. "That is a promising sign. The lower end is beginning to sell out and buyers are moving to higher-priced properties."
"There is a lot of interest at the lower end, between $200,000 and $500,000, and in the high-end multi-million dollar homes," agrees Michael Thorpe, co-owner of Treasure Coast Sotheby's International Realty, the county's seventh-largest brokerage in dollar volume so far this year.
The sales boom on the island, while more pronounced than in most places, is part of a larger trend that may signal a turning point in the worst housing recession in modern American history.
Statewide, home sales were up 3 percent in May compared to May 2010, according to the latest figures released by the trade organization Florida Realtors. Sales of existing condos rose 17 percent compared to the previous year. May was the sixth straight month that Florida Realtors reported higher year-over-year sales of existing homes and condos.
"With low mortgage rates and a broad inventory of homes at affordable prices, qualified buyers are realizing that there may never be a better time to find the home they've been dreaming of in Florida," says Florida Realtors President Patricia Fitzgerald.
Nationwide, pending home sales are up in all regions according to the most recent report from The National Association of Realtors. The report said pending home sales are strongest in the West and the South, including Florida.
"I think buyers are finally starting to realize that this is the perfect storm for buying, with low interest rates and great affordability" says Marsha Sherry, a broker with the Moorings. "Between Jan. 1 and June 3, we sold 75 percent more houses than in the same period the year before. We are looking forward to the second half."
Despite the positive momentum, island brokers say recovery will almost certainly be slow.
"While market trends are positive, they are gradual, which to me indicates a slow, steady recovery closer to a U than a V," says Sorensen.
"It isn't going to be like a rocket taking off," says French. "It will be a gradual. There is a new frugality. Buyers have become more measured, less emotional."
And that may not be a bad thing.