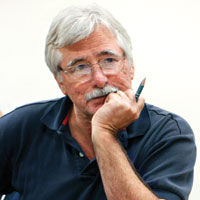 $1.1 million question: Are 600 island residents owed refunds?
STORY BY LISA ZAHNER, (Week of July 28, 2011)
Photo of Vero Beach councilman Charlie Wilson
About 600 barrier island residents are due a total of $1.1 million in old impact fees paid to Indian River County, according to former Vero Beach Councilman Charlie Wilson, who now is in the asset recovery business.
County staff, however, takes the position that no such refunds are due from the county.
Wilson has turned in 73 applications for refunds, which he said would net an average of $3,000 each for property owners in Vero's south beach and the unincorporated south barrier island.
The disposition of those requests will depend upon how the Board of County Commissioners acts, and that move could be precedent setting.
Impact fees, in theory, are paid to cover needed infrastructure – roads, utilities, fire stations, schools – that governments must build to service residential and commercial growth.
That money is supposed to be spent for a particular purpose in a set amount of time or it "sunsets," meaning that residents and builders can potentially get a refund.
The money in question was traffic impact fees collected for improvements east of the Indian River Lagoon and south of the 17th Street Bridge. County staff said it was meant to pay to widen the intersection of A1A and 17th Street.
When Wilson made his pitch to the county earlier this month, county staff said the project is "still needed" and a "still in the work program," but that the acquisition of rights-of-way from PNC Bank and Northern Trust are holding up the spending of the dollars.
"The fund has not been used in 13 years and all of a sudden we've got a plan to widen an intersection that's not even in our jurisdiction," Wilson said, noting that area is in the City of Vero Beach.
Wilson said the county has taxpayers' money squirrelled away in various funds, being used not necessarily for projects, but for inter-departmental borrowing and other nebulous government accounting functions. He formed a company, Asset Research and Recovery, headquartered near the airport in Vero Beach, to get that money back for people for a fee.
"It is very likely that average citizens could find it impossible to receive these funds on their own," Wilson said.
Wilson said "insiders" who know how to navigate the county system have received more than $3 million in impact fee refunds over the past 10 years, but that the average homeowner is at a disadvantage.
County Administrator Joe Baird clarified that people who got refunds "are not insiders, they're professionals who do this for a living."
Developer Keith Kite spoke from the podium, saying he had no preference about how the county dealt with the impact fees in question, but that he got a letter saying he was due one for his own home in Castaway Cove.
Despite extensive knowledge and experience with the county system, Kite said "I have a $1,400 refund coming and I couldn't find it."
The money south barrier island residents paid is held in something called Fund 101 which currently earns about $7,500 per year in interest. Budget Director Jason Brown said $1.65 million had been collected and $1.5 million spent. The $1.1 million remaining in the fund is $150,000 in fees plus years of interest.
"If Indian River County owes you money, we're not going to hide it," Brown said. "We're not going to run and stick it under a rock."
Baird said reports of all impact fees are published monthly and that the staff is "not hiding anything."
"I don't have the right to refund it if I wanted to," Baird said, adding that the staff has operated according to the county ordinance.
Describing the reaction he's gotten from staff about Fund 101 and to what was described during the County Commission meeting as an "overreaction" by staff about the issue, Wilson said, "of course Mr. Brown and Mr. Baird defend the county's money like a mother over their kittens."
In response to a question submitted by email on July 1, Community Development Director Bob Keating explained that there are two types of impact fee refunds. The first is to someone who abandoned development of the land for which he or she paid an impact fee.
"Besides the impact fee refund for non-commencement referenced above, there is another type of impact fee refund. As described in Section 1000.15 (2), that type of refund is available to a fee payer if the County has not spent the collected impact fees within six years of the fees being collected. Currently, there are no fees in this category," Keating said.
Wilson said some of the traffic impact fees he's researched go all the way back to the years 1985 through 1998, but he's mistaken, according to county officials.
"It is important to note that currently the only situation where a fee payer is eligible for an impact fee refund is where the fee payer paid his impact fee and never started construction of his project. If a homeowner paid his impact fee and built his house, he doesn't have an impact fee refund due," Keating said.
"The County issued refunds of impact fees totaling $205,345 in fiscal year 2009-10.  It should be noted that these were refunds for non-commencement as outlined in Bob's email," budget Director Brown responded in an email on July 1.
"The county did not issue any refunds for the situation where the impact fees had not been expended by the county six years after payment as defined in Section 1000.15 (2)," Brown said in an email. "No impact fees have reached the six-year period at this point. Therefore, no such refunds are due from the county." 
Technically, if people had known about the refund, there was a 12-month period many years ago when they could have applied. That has now expired.
Wilson asked commissioners to re-open the refund period to give the 600 residents he potentially represents a chance to get their money back.
The Board of County Commissioners voted 5-0 to direct County Attorney Alan Polackwich to look into the issue and come back with a recommendation.
The required $200 application fee on the books for certain impact fee refunds is also being re-examined. Commissioners are on a break and won't meet again until August 16.
Wilson's company would take 30 per cent of whatever refunds are issued by the county, amounting to about $900 per customer. With that money, he said he will pay the clerical, accounting and legal staff used to research and file the paperwork.
Local charities could also benefit from property owners' net proceeds if the county decides it needs to let go of the funds.
"Some have responded that they do not want the refund for themselves. Instead they have asked that their refund be given to charity," Wilson wrote in an update letter to the more than 500 beachside residents remaining who have not yet given him authorization to seek a refund.
"We think that that is a good idea so you now have the option of having any refund go in your name to a charity," he said, and included a form listing several local nonprofit groups and a blank option to designate a group.