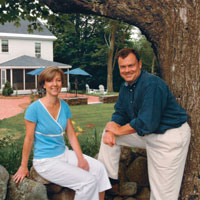 The Browns: Was their stylish storybook existence too perfect?

STORY BY LISA ZAHNER, (Week of June 9, 2011)
Photo: Natalie and Richard Brown at the Colonial Farm Inn.
COURTESY OF KEARSARGE MAGAZINE.
In 2005 Richard and Natalie Brown, bought the quaint, New Hampshire inn where they were married, and the couple's Vero Beach home was featured in Good Housekeeping magazine.
Richard's thriving law practice and Natalie's burgeoning interior design firm seemed to hold such promise.
Barely six years later, the Colonial Farm Inn and Restaurant was sold at auction, foreclosed on by the bank.
Richard Brown, now suspended from the practice of law pending a disbarment hearing, sits in jail awaiting prosecution for 18 felony charges accusing him of pilfering nearly a quarter-million dollars from clients.
The once-storybook couple is embroiled in a nasty divorce involving allegations of forgery and computer hacking. Another woman, Richard's girlfriend, Amanda Welch, is deeply enmeshed in the tale, but has been granted immunity to testify against her boyfriend.
The photographs in the many glossy, full-color articles depicting the stylish and tidy life of Richard and Natalie Brown offer few clues as to what might have gone so very, very wrong in such a short time. Was the perfect Martha Stewart-like existence too perfect – or simply too costly – to maintain?
Natalie Holtom Brown generated tremendous publicity for her businesses. Her design work, their lemon-yellow home in Summer Place, and the Country Farm Inn & Restaurant were featured in national, regional and local magazines.
The articles paint a picture of an ambitious and highly organized woman with a flair for making spaces beautiful with color, fabric and furnishings done up in cottage style.
Not shy about using her good-looking family for publicity shots, Natalie Brown poses with loving husband Richard Brown for portraits and appears in videos on New Hampshire television to help lure guests to the inn.
Even daughter Ansley, then only four, got into the act, hamming it up for an article about her elaborately apportioned playhouse. The family's twin pair of bichon frises, Buffy and Beemer, completed the movie-set picture of an upwardly mobile couple with exquisite taste.
As the Good Housekeeping article and a follow-up piece in Vero Beach Magazine describe the Brown's sunny home near the Wabasso Causeway off Jungle Trail, the family homestead would welcome generations of Browns for joyful celebrations, intimate parties and holidays that would rival a Home and Garden Television special – or perhaps even a series.
"A driveway encircling a tropical garden leads to Natalie and Richard's front porch, which is casually furnished with white rocking chairs: one for mama, one for papa and one for daughter Ansley, their adorable 4-year-old." – April 2005 Vero Beach Magazine.
Things were looking rosy as the Browns approached 10-years of marriage and embarked upon a venture as innkeepers.
Richard and Natalie Brown were married in 1996 at the Colonial Farm Inn in New London, N.H., near where Richard grew up and where his grandparents bought land in the 1940s, according to Kearsarge Magazine's fall 2006 issue.
The following year, Natalie Holtom Interiors was incorporated in Florida. Richard Brown opened an office in the Regatta Professional Suites, where he specialized in business and commercial litigation.
The couple lived mostly in New Hampshire, with Richard Brown commuting to his practice in Vero, spending four days at a time here and heading home for weekends and summer vacations.
In June 2005, Richard and Natalie Brown expanded their portfolio and bought the 1836 Country Farm Inn where they were married from Bob and Kathryn Joseph for $650,000.  Their purchase was funded in part by a $422,500 mortgage from Ledyard National Bank in New London, N.H.
"We did love the house. A lot of money and love and attention went into it," Bob Joseph told Kearsarge magazine for a feature in the fall 2006 issue.
Despite years of extensive renovations by the Josephs, the inn must have looked like a fixer upper to the uber stylish Natalie Brown. It became a veritable money pit with all the changes needed to make it perfect in every way. The Browns added a back porch with a full-service bar and an elegant bricked patio.
The kitchen was renovated to accommodate full-scale dining and a gourmet chef.  Air-conditioning was added to all six guest rooms. Natalie Brown then redecorated each room in her signature style.
The Josephs had worked full-time as innkeepers for 12 years, but Natalie Brown hired a staff to handle those day-to-day tasks as she had Natalie Holtom Interiors' northern and southern headquarters and Cottage Style by Natalie to run.
She trained a full-time innkeeper, housekeeping staff, bar staff, wait staff and a chef for the 40-seat restaurant, which served lunch, dinner, Sunday brunch, homemade desserts and boasted an impressive and exclusive wine list. Natalie Brown's impeccably high standards shone through in every detail, from the intricate napkin folding to the delicate, fresh daisies on the tables.
The Colonial Farm Inn & Restaurant Inc. now is a dissolved corporation, according to New Hampshire public records, and the last corporate report was filed in 2008.
Cottage Style by Natalie on Cardinal Drive is now closed. A once-cheery shop, brimming with gingham and floral prints, it no longer graces the Central Beach business district. 
Natalie Holtom Interiors, Natalie's studio which operated next door to Cottage Style, has moved from the barrier island to the eastbound Twin Pairs downtown. A delivery van sits in the parking lot, but the baby-blue storefront is locked tight for the summer with no lights or ceiling fans turned on.
The building is jammed with furniture, baskets, fabric, stacks of lamp shades and assorted bric-a-brac. A paper sign on the door tells any prospective customers that summer hours are "by appointment."
The Country Farm Inn and Restaurant was auctioned on behalf of Ledyard National Bank on May 13. The selling price has not yet been released, pending the closing.
According to an Internet advertisement for the mortgage, the assessed value of the real property of the inn and a detached commercial barn was $655,000 in 2010, taxes were $10,717 and "sale includes all furnishings, fixtures and equipment, business assets and personal property."
Natalie Brown's New Hampshire attorney Patrick Hayes said he was working with her to try to prevent the foreclosure of the inn and also of the house the Browns owned nearby.
"This guy is digging himself a very deep hole and he's taking a lot of people down with him," Hayes said last week of Richard Brown.
By the time the inn was auctioned, the veneer of the perfect life of this once socially and professionally sought-after couple was pockmarked by a bitter divorce and Richard Brown had been jailed for nearly two weeks.
Gone are his spiffy blue blazers and camera-ready smiles. They've been replaced by scowls and the drab uniform and shackles of a jail inmate. Booking mug shots are the only photographs Richard Brown has posed for lately.
Anyone who has ever been a party to a divorce or a custody case would most likely get ill at the thought that all their e-mail correspondence – even that back and forth to their attorney ¬– was being read by an estranged spouse and his new lover.
But that's exactly what Natalie Brown discovered was happening in November.
In June 2010, a full four months before the couple split up Oct. 10, Richard Brown is accused of adding an e-mail box to his girlfriend's Google Mail account, tapping into Natalie Brown's e-mail account and setting it up to copy every incoming and outgoing message to his address at brownemailproject@gmail.com.
State Attorney Bruce Colton's office served a search warrant on Google and got the e-mail records which led to 11 felony charges including one charge of an offence against intellectual property and 10 charges of unlawful interception of communications.
According to a complaint affidavit drafted by State Attorney's Office investigator Jeff Hamrick, a total of 14,921 of Natalie's e-mails were forwarded to Richard Brown between June 13 and Nov. 17.
In addition to routine personal e-mails and e-mails regarding business proposals and those pertaining to Natalie leasing or buying a car from Braman Motors in Palm Beach County, Richard Brown intercepted numerous e-mails between Natalie Brown and her two attorneys, Stuart-based Noel Bobko and Hayes in New Hampshire.
The e-mails included details of her finances, the attorneys' strategy for the divorce and correspondence regarding child visitation arrangements.
"Not just in a custody or divorce matter, but the integrity of the whole judicial system is dependent upon the confidentiality between a lawyer and a client," said Hayes.
The fact the e-mails were diverted by opposing client and a fellow attorney, Hayes said, makes "the level of concern that much higher."
The investigation report states that not only did Brown allegedly read unauthorized copies of Natalie Brown's e-mails to her attorneys; he couldn't keep the secreted information to himself. He taunted her with his illicit knowledge of her dealings.
On Nov. 11, according to the report, Natalie Brown corresponded with Hayes regarding the status of the two properties in New Hampshire.
On Nov. 12, the records provided by Google show that Richard Brown sent her a note deriding her for enlisting the services of an out-of-state attorney. That e-mail contained the sentence, "I thought we were not fighting about the New Hampshire properties or money."
It's unclear what, if any, money is left for the couple to fight about.
Richard Brown has now pleaded no contest to writing nearly $3,300 in bad checks to their landlord for the rental of their beachside home.
"Those were joint expenses incurred by my wife and I and at the time I thought they were going to be covered by the bank," Richard Brown said on his own behalf in court last week.
If he can show proof that restitution was made to the former landlord, Brown will not be sentenced to jail for the bad checks, but will instead serve six months probation.
"The victims need to be made whole first and foremost," said Judge David Morgan during the sentencing portion of the June 3 hearing.
Meanwhile, about a half-dozen other victims – former clients of attorney Richard Brown – anxiously wait to see if they will ever get the money back they entrusted to him.
Brown will be shipped back and forth between Indian River and St. Lucie counties over the next few months as court dates come up for the 18 felony charges he currently faces.
Just before his court appearances before Judge Morgan and Judge Joe Wild last week, Brown was served with papers from Florida Bar investigator Dave Callan giving him notice of his impending disbarment.
Brown's license was suspended on an emergency basis by the Florida Supreme Court on April 7 and the Florida Bar petitioned the court for disciplinary action on May 24, according to public records.