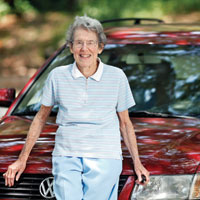 Officials cautious on new laws for senior drivers Final of a series
STORY BY JOHN WILLIAM JOHNSON
(Week of June 2, 2011), Photo of Barbara Mandell, 86
"The right to drive is in the Constitution, right?"
No, it's not.  But that wistful query from a senior facing the loss of the mobility a car and a driver's license provide captures the emotionally laden undercurrent for many older drivers.
Just don't ask Congressman Bill Posey (R-15) to help pass any federal laws to take away seniors' car keys.  Or to make "rats" out of doctors.
Before going to Washington in 2009, Posey served in the Florida Legislature for almost two decades, and "it was clear," he said, "that the greatest number of (automobile) accidents were at both ends of the age scale.
"That's when we increased the requirements for getting a learner's permit and we started (beginning in 2004) having eye tests for 80-year olds, and the accidents started going down," Posey said.
But even though aging reduces vision, slows thinking and affects movement – and prescription drugs often further exacerbate the same problems – Posey was quite clear when asked if he would support a new law requiring doctors to notify authorities "when a patient has been prescribed drugs that effectively cause the person to, and if operating a vehicle, be doing so DUI?"
The "no" was firm.  For Posey, passage of such legislation at the Federal level is a direct challenge "to state's rights."
"At the end of the day, driving laws are a state right," he said, "and acting otherwise creates serious constitutional issues -- besides the doctor/patient relationship question."
"I don't think the federal government has the right to tell the doctor to rat out a patient," Posey declared.
But Posey is not opposed to stepping up to the challenge personally.  He told the story of a 100-year-old "multi-millionaire" Indian River County woman who told her eye doctor "you will give me" a clean bill of eye health before going to renew her driver's license.
"And he did it," Posey said.
Three months later, Posey said he watched as the woman passed him and "went right through" a stop sign. 
"She didn't see it," he said.  Posey said he "personally" then made sure that the woman's license was revoked.
In a parallel vein, Posey said new U.S Department of Transportation requirements mandate that all road signs be updated by 2015 to be "more reflective" and to all have upper and lower case letters.
"That's not a bad thing," he said, "but you have to change every single sign, and that's horrible."  What's "horrible" for Posey is that states will have to fund the sign changes.  "That's an unfunded mandate," he said, "and the Federal government is not the boss of the states."
Florida in turn bosses around its older drivers with current law as follows:
• Vision test mandatory starting at age 80.
• License renewed every six years if no driving infractions; every four years otherwise.
• License can be renewed by mail, phone, or Internet – but must be done in person every third license term.
• A vision test is required at the in-person renewal.
• A written test and/or a road test may be required, based on driving history, signs of physical or mental impairment based on observations of a department clerk, a law enforcement officer, a physician, a family member, or another member of the public.
While Posey said he supports these current Florida older driver laws, the larger road safety issue is "to try and prohibit kids with learner permits from talking on their cell phones."  That, and the overall problem of persons of all ages "texting while driving," is a bigger problem than diminished abilities of seniors, Posey said.
What's Florida doing about either?
The most recent Florida legislature didn't address any senior driver legislation, and it failed to adopt a proposed law banning texting while driving.  What legislators did instead is require driver safety courses to include warnings on the risks of using phones and other devices while driving.
Vero Beach resident and State Rep. Debbie Mayfield (R-80) voted with 94 of her colleagues in approving Florida House Bill 689, implementing the new driver safety course requirements effective July 1.
But is she involved in dialogue about new state level older driver regulation? 
Mayfield said: "I would encourage and support the Department of Highway Safety and Motor Vehicles (DHSMV) to work with experts, including AARP and other stakeholders, to see whether or not we should be testing drivers before age 80.
"I also think it's critical to note that if a driver's license examiner, doctor, or law enforcement has concerns about an individual's driving ability, they can require the person to take a road test," Mayfield added.  "Additionally, a family member or anyone else who is concerned about a driver's ability can contact the DHSMV and they will determine if the person needs to pass the road test again."
A Rasmussen Reports national telephone survey last November found that 63 per cent of adults believe an age limit should be set after which older drivers are required to take annual tests before renewal is approved.
The report said that younger adults are more inclined to believe that 70 should be the required age for annual testing, while older adults favor 75 and above; half of adults 65 and older say 75 or 80.