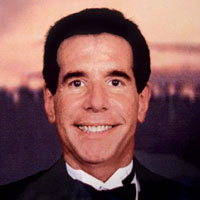 Death of Vero Beach psychiatrist leaves patients scrambling
STORY BY MICHELLE GENZ, (Week of June 16, 2011)
Dozens, possibly hundreds, of beachside residents face an unusual medical crisis – where to turn for psychiatric care or for renewal of their  daily prescription medications – following the death June 6 of Dr. Joseph Altieri (photo), a psychiatrist who for a quarter of a century played a key role in mental health care of the Vero Beach community.
Altieri died unexpectedly last week at his home at the age of 54.
From pharmacies to doctor's offices, patients, grieving and confused, are appealing for help, health practitioners say.
"A lot of people are calling saying, 'I heard he has passed away. What should I do,' " said Kris Sarkauskas, CEO of the Mental Health Association. "When people are in crisis, they need help right now."
"Reports from the pharmacists said many of the patients were very distraught not only about Dr. Altieri's untimely death but where to get their medications," said Dr. Dirk Parvus, who is working with Altieri's staff from a new location in the Kurtell Center.
Sarkauskas said most psychiatrists had waiting lists even before Altieri's death.
Practitioners say a month-long wait for an appointment is not unusual, but that emergency care is always available. The Mental Health Association has a walk-in clinic open five days a week. Off-hours emergencies can be handled at hospital emergency rooms.
"The problem is going to be for the people who are just coming up on their prescriptions (expiring) and their medications are running out," says Sarkauskas.
"Dr. Altieri had a huge practice," said Parvus. "Psychiatric patients, I believe, develop a special bond with their psychiatrist as they see them regularly and discuss highly personal matters. To replace a psychiatrist or psychologist is far more difficult than replacing a family doctor or cardiologist, and to then establish a therapeutic relationship could take some patients a long time."
"They've bonded with a person they've seen as a savior, who's kept them alive in some circumstances, and suddenly he isn't there," said Dr. Kenneth Director, a longtime Vero psychiatrist.  "Patients are dealing not only with withdrawal from medications and wondering who's going to be there in a time of need, but also grief."
Director, who has already taken calls from some of Altieri's patients, said it is imperative that there be continuous care, particularly in medication management.
 "You can't stop (medications) abruptly," said Director. Those patients whose prescriptions are expiring "need to see someone relatively quickly."
Director notified Altieri's former answering service he is available to treat any patients who call seeking care from Altieri.  Director, who says he normally has a two- to three-week waiting list, is planning to work the next two Saturdays to cover any of Altieri's patients.
Larry James, a graduate of UF's physician's assistant program who served as Altieri's key staffer for the last 11 years, has tried to contact via e-mail the 450 patients who were most recently under Altieri's care to notify them of his death. An estimated 1,000 to 2,000 more, while no longer on the office's rolls, may not learn of their doctor's death until mental health issues recur, he said.
"When I heard about this, the first thing I thought about was:  'How are we going to let the patients know?'" said James.
Parvus, who a decade ago helped Altieri supervise James in his first post-graduate position here, had similar concerns. "I encouraged Larry James, who had been working with Dr. Altieri for a long while and has built up excellent therapeutic relationships with his patients, to immediately start calling them and seeing them," he said.
James and others in Altieri's office attended Saturday's simple memorial service, held at the Calvary Chapel downtown, which was filled to capacity with friends, family, practitioners and patients.
James spent Sunday afternoon composing a letter to patients whose addresses were known, reassuring them services could still be found if they need them.
Some patients may have to drive an hour or more for treatment. Altieri was believed to be the only psychiatrist on the Treasure Coast offering TMS therapy, or transcranial magnetic stimulation, a treatment for severe depressive disorders persisting even with medication.
The therapy typically requires daily treatment for four to six weeks. James said at least two patients were currently undergoing the treatment, one of whom started just over a week ago.
James said the TMS device, mounted on a chair, remains in Altieri's office and will not be relocated to James' new office. The new office is at the Kurtell Medical Center at 777 37th St., Suite B 107, a space previously occupied by Mini Clinic.
There, James will be joined by Altieri's former staff of psychologists and social workers. The group also will be joined by Parvus, who says he has treated psychiatric illness in his office and in hospital emergency rooms for more than 25 years, and for the past eight years, has run a detox clinic in Vero. Parvus is medical director of the Sebastian River Medical Center emergency room.
As a specialist in addiction medicine, he can write prescriptions for all medications including controlled drugs like Xanax. James, as a physician's assistant, can prescribe all other medications.
"We're going to be open from 8 a.m. to 7 p.m. every day, until the patients are covered for prescriptions," James said.
Meanwhile, the Vero-based University of Florida Center for Psychiatry and Addictive Medicine has added two new psychiatrists, one of whom started Friday, a coincidence expected to absorb some of Altieri's patients.
 "We'll try to squeeze them in. We'll put in a few more hours to accommodate them and add to the waiting list those that aren't acute, so that folks don't feel they don't have anywhere to go," said Dr. Wayne Creelman, the UF center's medical director.
Creelman said he is not concerned that there are more psychiatric patients than there were appointments available locally.
"Between the Behavioral Health Center, the Mental Health Association, the UF Center and other practitioners in town, there certainly are lots of outlets where Dr. Altieri's patients can go," Creelman said.
"Obviously with any practitioner who dies in any sudden capacity, there's going to be a vacuum," he says. "Patients will sort the issue out. We definitely have the capacity at the UF Center for care for more patients -- we have two brand new psychiatrists."
In addition to the UF center, there are a number of other clinics: New Horizons, a four-county private non-profit agency, operates on a sliding scale and also accepts insurance; the Indian River Medical Center's Behavioral Health Center which offers both in- and out-patient treatment and counseling with three psychiatrists on staff; and the non-profit Mental Health Association's walk-in clinic, with a psychiatrist's care on a referral basis.
"The most important thing is that patient care doesn't fall through the cracks," said the Mental Health Association's Sarkauskas. The walk-in clinic offers sliding scale care to patients without insurance or Medicare; it operates from weekdays from 9 a.m. to 5 p.m. "We'll do whatever we can to pick up the pieces and go forward," he said.
"I don't think this is (a major crisis)," said Creelman. "I do think it's the death of a very fine psychiatrist who had a very loyal patient population."
When Altieri arrived in Vero 25 ago, Director was the only psychiatrist practicing here. Now, there are five at the UF center alone.
"He had such deep concern for all his patients, and he was told that all the time," said Gina Altieri, the doctor's widow. "He would definitely want every one of them to follow up and stay healthy."
Gina Altieri herself is concerned for the patients, having worked in the practice since it opened, until January. "I want every single one of them to continue to take care of themselves, and get the medical care they need," she said. "And I want them to know I will miss them all."