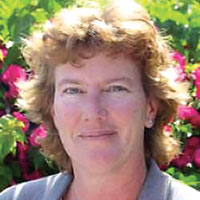 New Vero finance director leaves old job as state auditors move in

STORY BY LISA ZAHNER, (Week of June 30, 2011)
PHOTO OF CYNTHIA LAWSON
By the time Florida's Auditor General finds out whether anything is amiss with the finances of the Village of Islamorada where Cynthia Lawson has been finance director the past seven years, she will be in her new Vero Beach City Hall job.
Lawson accepted Vero's  $108,000 finance director job last week, replacing Steve Maillet, who will retire 17 months after announcing he was leaving.
Even as she was resigning her position in Islamorada, four auditors dispatched by the state Auditor General were moving in for a two-month audit of town finances.
It's hard to believe interim Vero City Manager Monte Falls would have hired Lawson if he knew the town where she worked was being audited by the state, unless he thought no one would find out or no one would have a problem with it. But Falls seems to have no concerns.
"Ms. Lawson is not being audited. The Village of Islamorada is being audited," Falls told Vero Beach 32963.
Falls also pointed out that hiring a new finance director "was a top priority for the Council." In fact, he was being pushed hard to fill the job. He told the Council that it might be best to wait and let new City Manager Jim O'Connor make the hire, but they urged Falls to fill the position, so he made sure O'Connor was involved in the decision.
"We all felt she was a good fit for the position," Falls said. "I talked to her about the audit and I still felt comfortable that she was the right person for the job."
Councilman Brian Heady said he spoke to both Falls and Vero's new City Manager Jim O'Connor about the fact that four auditors will be camping out in Lawson's office for the next two months.
"I spoke to Jim O'Connor and he said he actively participated in her hiring and that he discussed the matter with Cynthia Larson and didn't see the audit as a red flag," Heady said.
The audit was mandated when, in February, citizen activists collected signatures from 20 percent of the village's registered voters. In March, the village set up a Finance Oversight Committee and the Florida Legislature gave formal approval for the audit.
State officials began asking for documents in May, indicating the audit would focus not only on whether Lawson and her staff were doing their jobs, but also on whether the CPA firm that audits village books was chosen and hired properly.
Lawson applied for the Vero Beach finance director job in May, one week before the Auditor General staff set up shop in Islamorada.
"It was a tough decision to make. I had so many great experiences in Islamorada, but a great opportunity presented itself, and I felt the need to take it," Lawson told the local newspaper, The Reporter, last week.
Lawson sent Human Resources Director Robert Anderson her resume and application via e-mail May 31 at 1:59 p.m. from her office e-mail address, according to public records.
Auditors started work June 6 and have estimated the probe will take about two months. Their report is expected in September.
Lawson was offered the Vero finance director position June 20 by Falls, and accepted June 21 as Falls announced from the dais during the City Council meeting that a finance director had been found. Two other candidates were offered the job in early May but declined.
Despite the fact that Vero has a lower cost of living than the Florida Keys, Vero matched the $108,000 that Lawson was making.
Lawson is not licensed as a certified public accountant and does not have the government finance certification that exiting Finance Director Steve Maillet told council members was so critical to the job.
Heady said O'Connor attempted to make him more comfortable about Lawson's qualifications when he spoke with him on the phone on Monday.
"He said that what she might lack in education or in the CPA area, she more than makes up for in knowledge and experience," Heady said. "He also said that Cynthia Larson had worked for city managers he knew. When I asked him which ones, he wouldn't say specifically."
Larson did not apply for the job when it was posted in February, only when it was re-posted May 12. She was one of 56 people who applied in that round and she's the only one interviewed. She applied for the job seven days after O'Connor accepted the Vero Beach City Manager job.
But the big question is not the salary or Lawson's qualifications or even her connections to O'Connor's inner circle. It's whether the fact that she's abandoning her post in the middle of a major state audit should have raised some eyebrows or taken her out of the running entirely.
Falls said he wasn't bothered by the timing. "If you're working in a place that has serious political upheaval and turmoil and you get a job offer in another place, I don't know how you fault anybody for doing that," he said.
Councilman Heady, ever-supportive of Falls on most matters, disagreed this time.
"I just think that it's troubling because of the concerns over past contracts and how things got into them, that we would take on someone to head up our financials who is facing this kind of an audit called for by the citizens," Heady said.
Heady said that in this situation, with Falls being in almost daily contact with O'Connor to facilitate a smooth transition on July 25th, he cannot fairly place the fault with Falls for the final decision.
O'Connor has experienced firsthand, Heady said, the charged and often hostile political atmosphere surrounding Vero Beach City Hall.
"He knows there's going to be tremendous scrutiny and if you understand that, as he should, why are you going to bring someone in to head up the financials, a thing as important as the financials, who has serious questions about her past job performance."
Lawson's last day on the job in Islamorada is July 15, and that's none too soon for local resident and self-appointed government watchdog Robert Page.
"I'm hesitant to tell you much of anything because I want her (Lawson) out of town. If Vero decides they don't want her up there, they'll find a way to keep her here and she's controlling the information," Page said. "I want her out of town because I think that after she's gone, the six or seven people she's got in the finance department might actually talk and give the information to the auditors."
Page, who retired first from the Florida Department of Corrections and then from teaching, has kept a close eye on the high-paid officials in the Village of Islamorada since it was incorporated a dozen years ago.
Page once maintained a website called the "Watch List" on village staff and officials, where he issued report cards on the elected council. He worked with retired real estate brokers Sue and Jay Miller on the petition drive.
"Many people in Islamorada are concerned about the financial circumstances we face as a community. But the audit is not being done because we are facing tough economic times," Sue Miller said. "It is being done because at least 20 percent of our registered voters were brave enough to sign a petition because they were concerned that the processes used by our local government do not follow legal or logical processes to protect public funds."
Miller said the citizens want a sea change in the financial management and reporting in the village and saw the audit as the vehicle to get to the bottom of the matter. "Many of us believe the audit will help sort out what has gone wrong and will demonstrate proper procedures to fix 'our mess.' Naturally not everyone feels the same way. While some of us fault Cindy Lawson for many of the issues, there are others who think Cindy is a wonderful financial brain," she said.
They had one year to obtain the roughly 1,000 petitions needed to trigger the audit, but they did it in only two months.
Page said the secrecy the government operates under, combined with a lack of oversight with regard to expenditures, the lack of transparency in financial reporting and outrage over the handling of the village's wastewater finances prompted the petition drive.
Though monthly financial reports are posted on the village website, Page said they are provided months after an issue about an expense has already passed.
Records, Page said, take patience to get out of village staff.  "We want to see something that happened last week; don't tell me it's going to take you eight hours to research it," he said.
Islamorada appears to face many of the challenges Vero does.
Recent minutes reveal projects involving utility matters and several consulting firms on the payroll, including Wade Trim, which bid on the Indian River County water-sewer consolidation study and Public Resources Management Group, which did the 2009 Vero Beach electric and water-sewer rate studies.
Opponents of the Islamorada petition efforts claim that some of the residents were angry over an inability to obtain various permits from village officials.
"I'm sure that's why some people signed it," Page said. "There's so many hurt feelings among the taxpayers so if you added it up it would be 50 different reasons.
"I really want to wait for the audit and when the report comes out, if the things I've believe will come through are there, I'm going to scream to high heaven," he said.
Local residents provided auditors with hundreds of pages of complaints and questions about the village's financial management and reporting, information the Auditor General had in preparation for coming to the Keys. Page said it's clear from reading the list of documents the auditors asked for to get started that they took residents' concerns seriously.
Larson is not alone in leaving the Village of Islamorada.
Village Clerk Beverly Raddatz resigned in April after 11 years with the village and more than 20 years in government work. Village Manager Kenneth Fields exited last year, leaving with a controversial $160,000 payout after only two years on the job. In 2009 Fields was paid a $205,000 salary for managing the village of 6,100 people and about 100 employees.
"He left with a great big bucket full of money," Page said. "You can't do that.  You can't just give money away. You can't just give a big gift to somebody so they'll shut up."
County Commission Chair Bob Solari, who served on the Vero Beach City Council from 2005 to 2007, has probably been the toughest critic of Vero's financial management and financial reporting.
"I can only wonder, will the state auditors be following Ms. Lawson to Vero Beach, and if so, what will they find?" Solari said. "I do find it amazing that there was a voter initiated probe. I certainly hope that the City of Vero Beach fully researched this before offering Ms. Lawson the job."