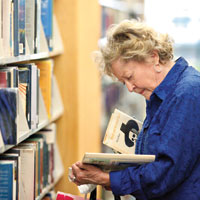 Library, in transition, facing cuts
In the faintly musty air of the Vero Beach main library's Florida History and Genealogy room, a well-dressed older patron asks a librarian for help.
Old enough to remember thumbing through the card catalogue, she is instead asking for help with a thumb drive, pulled from her purse to transfer data from her home computer.
As the contemporary glass-walled main library celebrates its 20th anniversary, the transformation from print to pixel has been startlingly pricey and pervasive. That a retiree expects tech-savvy help at her public library is not so surprising.  
A study by Florida State University and the American Library Association (ALA) shows library cardholders at a record high, as libraries sharply increase new-media offerings. With data bases and DVDs, E-books and exercise classes, libraries have retained – while redefining -- the role at the core of most communities.
In Vero, it is no different. While more and more people wait hours for computers, scan increasingly scarce job postings with Internet access not affordable at home, and check out children's books they can't afford to buy, county government has slashed funding.
Where nine copies of a best-seller might have been ordered in the past, three might be ordered today. Money for supplemental volumes from book warehouses is decreasing.
Meanwhile, the stunning Brackett branch library remains Vero's best-kept secret, nearly empty of users apart from students at Indian River State College, where it opened in late 2009.
As serene and pristine as Brackett is, the main library appears a little dog-eared, with routine care apparently not high on the county maintenance department's to-do list.
In the past five years, despite a surge in use, budgets in Indian River County's library system have been sliced 30 percent. Since 2008, the main library downtown saw its $260,000 drop $600,000. Four full-time jobs were lost.
The cuts come as an increasing number of families can't afford monthly internet access or home computers and turn to the library as their sole source of online access.
 The FSU-ALA study noted double-digit increases in library computer usage in 2008, when the survey was conducted. In that year, 73 percent of all libraries were the only source of free public access to computers and the internet in their communities.
"Indian River County has a relatively high education level, so library use has always been above the national average," says Mary Snyder, the county's long-time director of library services. "Now with the economy, usage has of course increased. People can't afford computers or internet at home, and they need them to look for jobs."
Snyder is resigned to the cuts. "We're not public safety," she says. "I'm not naïve enough to think I'm going to be treated differently. The county's always been very supportive, but now that times are hard, I've got to play ball. I'm on the team."
Some may argue whether the building that stirred such civic pride in 1991 is aging as gracefully as its computer savvy users. Critics point to a plant in need of maintenance and updating.  Yet it is forced to deal with a seismic shift in roles amidst a dire financial outlook.
Just as Snyder inferred at the library's groundbreaking ceremony, the plan she hailed as the facility's future 10 to 20 years out is today obsolete.  Snyder's job is to foresee not just the thumb drives and Kindles of the next 20 years, but the needs of library users.
Investing in new technology is tricky: $70 flash drives five years ago now go for five bucks. Machines take a pounding here, or become obsolete – seven PCs date from 2002. Students beg for wireless printers – a 1995 plug-in model is still used. The library's own software needs a very pricey upgrade. The internet bill runs more than $2,000 a month.
While librarians try to monitor time-wasters like Facebook and games, the wait for computers can be hours. On a bench outside, three out-of-work young people take a break from a morning online.
"I've been checking out snagajob.com," says Johnnie Armstrong, 20. "It helps you build your resume, and lets you match up your skills with job openings." Armstrong dropped out of Vero Beach High School and is looking for work in welding or culinary arts.
 "It's going OK," he says tentatively.
Armstrong's friend Corey Durden, 19, graduated from VBHS last year. Along with job searching, he uses the library's computers for assignments at Indian River State College.
For Gail Shorter, 18, who quit school and has no plans to finish, the library is a source of diversion, particularly James Patterson's thrillers.  "I go through three books a week," she says, earning a ribbing from her friends.
Durden is here because the main library is closer to home, even though the Brackett is on the same campus as his classes. A gleaming facility with largely empty banks of 30 state-of-the-art computers, it is startlingly silent and underutilized.
Like Durden, the public may be unwilling to drive to 58th Ave. Or people may not know Brackett exists.
Eighteen months after its grand opening, no signs exist on S.R. 60 or 58th Ave. to direct the public to the library, behind Home Depot on the college campus.
 "There's still no sign out there?" says Snyder, scribbling a note. "I've got to get the county on that."
"We need people," says Brackett's head librarian Marta Kendrick. She is the lone staffer there paid by the college.  
Kendrick says the serene, bi-level, spacious library, while primarily academic, welcomes public use, and includes a cheery children's area furnished with volunteer help and money from the Disney Resort.
Beyond the donations of developer Bob Brackett and others, the $12 million library was built with sales tax dollars, not property tax dollars and turned over to the college by the county to qualify for a matching state grant.
The library is jointly operated with the county. With a 30,000-square-foot building, 48,000 books, and 90 databases, it too faces budget cuts, and staggered its hours to offset hours cut at the main library. 
"The best evidence of the county's commitment to the library system is the addition of the Brackett Library, even at the worst of the economic downturn," said Michael Zito, assistant county administrator.
The main library, meanwhile, not only shows its age, but the abuse of increasingly desperate visitors, although "some of them actually do read, if they're not drunk," says one librarian.
"We get complaints," says County Commissioner Gary Wheeler. "It is dreary when you go in there. It's well-run. But it doesn't reflect the standards of Indian River County." 
While the volunteer efforts of the Friends of the Library's Used Book Depot and the Library Gift Shop offset some budget cuts – raising about $130,000 annually, private donations have always been hard to come by. Lately, annual bequests have averaged around $60,000 a year, according to Snyder.
"We are reaching out to the public to increase volunteer efforts in the coming year," says Zito, voicing concern future property tax declines and possible cuts in state support could further hit services.
Mary Fran Griffith knows how hard it is to raise private money for an institution that is taxpayer funded. Formerly of John's Island, now living in an island condo, she has been a driving force for the library from its nascent stages.
When Griffith first moved to Vero Beach, the first thing she looked for was the library. It was her passion in Grosse Pointe, Mich., where she worked in numerous volunteer capacities. In her 40s, she earned a master's degree in library sciences.
Vacationing here in the 1970s, she and her then-husband bought in John's Island in 1985.
Through those years, she watched as the public library, in its former location on S.R. 60 east bound, became increasingly cramped, its carpet stained by a leaky roof and often reeking of mildew. Private money was raised to build that building, moving 16,456 books there in 1961 from the tiny Woman's Club, Vero's library since 1916.  Private money also was expected to keep it running.
The S.R. 60 library was once the "busiest place in town," when kids crowded in after school to socialize and do homework, according to historian George Gross, who wrote a volume on the library history.
From the start, the library struggled with a shortage of money. Circulation increased by 30 percent with the new building and each year county commissioners were asked to kick in money to cover expenses up to $120,000 of its $200,000 annual budget.
Perceived as a public-run facility, people didn't know to donate, wrote Gross.
A library advisory board was formed in 1982, and a librarian with a degree, Snyder, was hired.
Consultants from Broward County recommended construction of a 35,000-square-foot building downtown, and a 15,000-square-foot branch in Sebastian. For that, they proposed a $6.8 million bond.
Meanwhile, Griffith watched her library in a state of embarrassing decline. At one point, shower curtains were more or less permanently draped over the stacks, she says.
"I told the county commissioners it was a little sad to watch the little old people pull back a shower curtain to look at the books."
For Griffith, the situation was painful. "I loved the library back home," she says. "And I despaired about this library. I told my husband I can't live in a town that has such a terrible library. Driven by this kind of desperation, we were able to build a group of like-minded people, some of whom were very financially savvy."
Griffith recruited Snyder to speak to agencies around town, explaining what the library could do for the community.
A great library draws a literate populace, they argued, at the same time lifting the broader community by reaching out to needy sectors.
"We knew the library was for poorer citizens, and that justified using tax dollars.  But they wanted valid reasons which meant something to business people. Mary Snyder swayed them," says Griffith.
The 1986 referendum passed overwhelmingly, and the county took over the library's operating expenses for the first time.
A Lutheran church not far from the Woman's Club was razed for construction, the giant oaks left standing "so you could read books up in the trees," says Griffith.
"I was proud of it," says Snyder of the day 20 years ago when the doors finally opened.
"I had slept with it, eaten with it, had coffee with it for a long time. I thought the community would embrace what they had built. And they have. It's got a little wear and tear, but we're still proud of it."