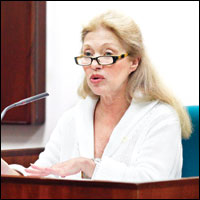 The Paula Holden Sage saga: Vero designer, ex-clients clash in court
The man and woman sat less than 30 feet apart in the courtroom, looking for all the world like a couple going through a high-end divorce. 
Paula Holden Sage, 61, a well-known Vero Beach interior designer, was dressed all in white, a vintage crocodile hide belt slung over a bulky sweater. 
Her former client, David Haynes, 58, in a dark suit and French cuffs, maintained an expression as studiously unconcerned as hers.
The hearing didn't involve divorce, but restitution in a  grand theft case that spanned three years and virtually ended Holden's 30-year Vero Beach career, with the designer pleading no contest only days before.
Another woman was in the wings -- although Haynes' wife Anita Kolleeny, 55, a retired Manhattan fund manager, didn't attend the hearing.
For a year and a half, beginning in February 2008, Kolleeny shared with Holden the peculiarly intimate relationship of client and interior designer. She allowed Holden entrée into the domestic decision-making that would transform a new house into a home.
That trust turned to treachery, the couple claimed, when Holden kept more than $100,000 for herself that was intended to fill the new home with furnishings.
Even as the grand theft case was coming to a boil, Kolleeny and Haynes rapturously wrote a  third-person piece on the joys of building their own home, published last winter in a Quail Valley newsletter.
Built in the Estuary, a neighborhood of $1 million-plus homes, the house was filled with  "top decorative materials to insure this dream home was one to be enjoyed for years to come," they wrote.  A photo with the article showed a two-story columned house, its bank of darkly stained front doors lending a handsome British Colonial air.
Just who chose that stain, and hundreds of other decorating decisions that Holden claimed went far beyond the norm, were the basis for the designer's hopes the restitution hearing would somehow go her way.
The court case made public record of the couple's most private spaces, from the alligator-textured wallpaper in the "his" of his-and-her bathrooms to whether a fireplace belonged in the master bedroom. 
For Holden, it would bring to mind housing of a very different sort:  a month in the county jail.
Her arrest on first-degree grand theft charges in February 2010 was a probation violation of a sentence for an early 2009 DUI. For that violation, she served 28 days in jail in March and April of 2010.
For the hundreds of Holden's clients and close friends over her 30 years here, it was a terrible tale to hear.
------
But Holden is speaking out now, hoping to regain her clients' trust.
Long one of Vero's most prominent designers, Holden holds a degree from the prestigious Parsons School of Design. Her taste polished the early incarnations of dozens of destinations: the Vero Beach Country Club, The Moorings Club, The Grand Harbor Beach Club, and the club at Sea Oaks. She designed both locations of Sassy Boutique, and two of the town's most elegant restaurants:  Maison Martinique and the now-closed Carmel's.
Her work for clients with multi-million-dollar Vero Beach homes spun off other projects elsewhere – a Connecticut home on Long Island Sound and a 10,000-square-foot mountain-view lodge in Montana. She has done homes on Palm Beach and in Palm Beach Gardens' Frenchman's Reserve and Mirasol.
Just as her career reached its peak, she says, the economy tanked. After signing the Kolleeny-Haynes contract, she started an 18,000-square-foot house in Orlando's exclusive Lake Nona development, when money grew tight for seemingly everyone.
 "The (Orlando) people ran out of money," she says. Another project she hoped would reach $1.6 million in West Palm was abruptly cancelled.
As Kolleeny and Haynes pursued their missing money, six more projects cancelled, Holden says.  "They bad-mouthed me all over town."   
Given Holden's no contest plea, Kolleeny seems remarkably  ambivalent in her comments about Holden today. "She's very talented. She's also very gracious. She's got a great sense of humor and she's fun to spend time with," Kolleeny told 32963 by phone from Texas, where both her parents are undergoing medical treatment. "And with her very complex billing system, you just would never expect this. We were just shocked."
Kolleeny says going to the police proved "very unpleasant and time-consuming," but that she didn't want what happened to them to happen to anyone else. "We love this town. We want to protect it," she said.
Alleging that over $100,000 worth of goods were paid for but never delivered, the first-degree theft charge against Holden carried a possible 30-year prison term and fines of up to $10,000.
On April 25, Holden pleaded guilty to a reduced charge of third-degree grand theft in a plea deal struck with prosecutors. Circuit Judge Robert Hawley withheld adjudication – "because he's a prince of a guy," crowed Holden's attorney, Stephen Fromang, another longtime Vero Beach fixture.
Hawley gave Holden five years' probation, and set aside five hours for a restitution hearing April 28.
------
Hawley no doubt presumed the restitution hearing would be to determine precisely how much money was owed to the couple.   But Fromang intended to show just the opposite -- that the couple owed Holden money.
 "I've got to deal with some New Yorkers that came down here and tried to rip off one of our locals," he announced loudly to a bystander seated outside the courthouse, the morning of the hearing.
The case took every second of the five hours.
Only minutes into the hearing, Hawley, already onto what he called Fromang's "antics," put a stop to the lawyer's two-finger jabs toward Haynes on the witness stand.
"This isn't a jury trial," Hawley told Fromang. "It's just me up here." 
Abruptly, Hawley called the attorneys to the bench. Flipping on static through the public address system, he was nevertheless overheard declaring, "I never should have accepted the plea agreement!"
The judge then took over, stripping the emotion from the proceeding like an IRS accountant. This was not a contract dispute, he declared.
Kolleeny, with an MBA from New York University, once ran an $8 billion fund for Morgan Stanley. Haynes, too, worked for the firm for 28 years, ultimately as an executive director in sales. 
But cataloguing the slew of missing items ordered from Holden apparently proved daunting. Proposals paid for by one check were mixed into piles for other checks.
In Kolleeny's absence, the roomful of otherwise dignified adults launched a sitcom-worthy frenzy of flying paper, as Hawley directed the collating of the morass of proposals, invoices and checks.
Finally, the judge calculated Holden owed Haynes and Kolleeny nearly $91,000.
The judge broke it down: Holden would need to pay back $1,513 a month for the five years he had placed her on probation.
 "Might as well take her straight to jail.  She's never going to pay it," barked Matt Sage, who is Holden's husband, in a moment he later chalked up to anger.
"I don't have a job," stammered Holden to the judge.
The investigation centered on 10 canceled checks to Holden totaling $146,000 that the clients said were written for various furniture and fabric. They said Holden failed to produce two-thirds of the goods.
For her part, Holden maintains she never worked harder for a client in all her years in business. She said Haynes and Kolleeny "hammered" her for discounts on what the designer maintains is the industry standard: a 250 percent markup on furniture and 100 percent on fabric.
Holden also claimed the couple "shopped" her proposals to other vendors, buying things for less, denying her $49,000 in profit.
 "I've worked with a lot of very wealthy people. But they appreciate me," Holden said.  "They don't run down the street to find it cheaper. They want me to do well. They want me to have a life. I mean, if everybody runs around screwing each other, what do you have? "
Holden said a typical design job involves 15 visits with the client.
For that, she billed a $5,000 design fee up front.  She claims her consultations over 18 months totaled 78 meetings. "It ran rampant,"  she told the court.
 "But you never billed them?" Hawley asked repeatedly.
"I was going to present them a bill. Instead, I got thrown in jail," Holden said.
"The fact that she didn't bill me meant she wasn't charging me,"  Kolleeny said in a deposition.
The house was nearly finished – and the couple's  furniture had not arrived – when they confronted Holden a final time.
"I just said I didn't have any money," Holden told the court.
 "She wouldn't have said, 'I'm sorry' if I owed her money," Kolleeny said in her deposition.
 In the end, the judge saw some validity in Holden's claim, crediting the hours she documented. He ignored other issues like lost profit from the couple shopping elsewhere.
------
Meanwhile, Holden no longer lives in Vero.
She went through Chapter 7 bankruptcy proceedings, giving up her Baytree condo, her 2008 convertible Cadillac and her 2007 Jaguar S-type.
A year and a half ago, she moved permanently to the West Palm Beach home of Sage, 55, her husband of 22 years. Sage describes his work as consulting to companies in need of private and public funding, in exchange for "a small equity share."
Holden collects unemployment through her former company.  Her driver's license suspension from the 2009 DUI is up, but Sage says his wife still owes the court $4,000 that has to be paid to before she can get her license back.
Holden says she can't get work because the first thing people find when they Google her is the stories from her grand theft arrest.
Sage says they are considering appealing the restitution order. "I've talked to five attorneys who have all said this should have been a civil matter from the start," he says. "I'll go along with whatever they say now. But it may be time to hang up the cleats and go home."
David Haynes, on his way out of the courtroom following the restitution hearing, said: "We live here. We're part of this community too."
"It was really a rude awakening," Kolleeny told 32963. "We thought about not doing anything about it. We didn't want to be in the news -- we're very private people. But when you work with someone for a year and a half and you develop a relationship, you just feel so violated by the whole thing."