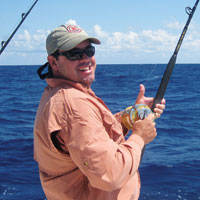 'So damn random... So damn wrong'
STORY BY EILEEN KELLEY, (Week of November 24, 2011)
PHOTO OF BRIAN SIMPSON
He showed up with a six-pack under one arm and a bag of lobsters in the other.
A smile split Brian Simpson's face. It was midnight and Simpson wore a pair of swim trunks and a tank top when he made his entrance at the tail-end of an island barbeque many years ago.
"Who in the hell is this guy?" Brian Connelly thought to himself.
In only a matter of time, Connelly would learn the answer as the two became best friends.
"Anyone who makes an entrance like that – beer and lobster – well, they are going to be a friend of mine," Connelly said Sunday.
That was 10 years ago and since then many people called Brian Simpson their best friend.
There were the 14 year olds. There were the doctors. There were the lawyers, like Connelly. Laborers Simpson knew from his job at Central Window. There was also his wife Kristen, a high-school sweetheart, who married him nearly 19 years ago.
Simpson, 41, had an uncanny ability to attract people of all walks of life and embrace them with a signature giant smile that split his face and accentuated his chubby cheeks.
"That friendship started 10 years ago and I never looked back," Connelly said.
Simpson died Thursday after he returned to his Fiddlewood Road home and apparently surprised a burglar about 6:40 p.m.  
Police said officers found Simpson who sustained gunshot wounds. Police said it appeared that Simpson came into his home as it was being robbed. 
In all likelihood, Simpson was just running into the house before catching up Thursday night with his teenage son Scotty, who was playing baseball down the street. Or perhaps he was going to meet up with wife and teenage daughter, Samantha, who were at a concert, Connelly said.
"His family was everything," said Connelly. "He was so proud. He couldn't go three sentences without taking about his kids."
When police canvassed the area and then reached out to those who knew Simpson the best – people like Connelly – one thing they wanted to know was whether Simpson had any enemies.
Connelly couldn't come up with one.
"I've got to tell you, I cannot think of a single person," Connelly said. "I cannot even think of a single instance where Brian even raised his voice. It is just surreal."
Staying strong so he could be there for the Simpson family has been a struggle for Connelly.
Connelly finally lost it the other night when he caught a glimpse of his own 14-year-old son's Facebook page.
Dalton Connelly wanted everyone in the cyber world to know this: Brian Simpson was a man who could do anything. Simpson made him feel special and like so many others, Dalton also called Simpson his best friend.
"Everyone wanted a piece of Brian – everyone did," said Connelly. "That's what makes it so surreal. It was so damn random and so damn wrong. You just cannot rationalize it."
Police in Vero also struggled with their emotions as well, said Connelly.
From interim Police Chief David Currey on down, many of the officers stepped into the Simpson home to express their sympathy as they fought back tears, Connelly said.
"They (the police) have made it absolutely clear that this isn't just a job and that they are focused to find this killer or these killers," Connelly said. "I have seen cops fighting back tears. And that is why we are here, living in Vero."
It's not clear what brought Simpson to Vero, but it is clear why he stayed.
Simpson loved the water. Sport fishing, diving, spear fishing, swimming, he couldn't get enough of it and he excelled at it, Connelly said.
"He was a consummate athlete," Connelly said.
Whenever the two got the chance, they'd while away the day on the rear of a boat with rods in hand and Simpson would talk about life and the dreams he had for his children, also stellar athletes.
"This man was. . ." said Connelly as he struggled to regain his composure. "He was. . . He was what you are supposed to be.
"He was everything you would want your friend, your husband, your father to be," Connelly continued. "There are no secrets here. There's no back story. He was a good man and it is true. For 20 years, I have loved to go fishing. I've loved it. And today was the first day that I woke up and said, 'No, I don't want to go to the water,' at least not for today."