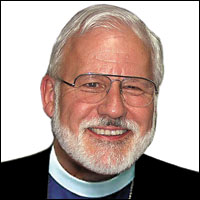 Vero delegates helping elect new Episcopal bishop
STORY BY LISA ZAHNER, (Week of November 17, 2011)
Photo of Bishop John W. Howe.
Five delegates from Vero's Trinity Episcopal Church will meet up with clergy and parishioners from across Central Florida on Saturday in Orlando to pick their first new bishop in 23 years.
To Roman Catholics, the idea of a bishop being elected in a grassroots way and not appointed from above might seem very foreign.
But even to cradle Episcopalians, the way this regional leader is being chosen breaks some new ground.
Since long-standing Bishop John W. Howe called for the election process to begin in January due to his retirement, parishioners have watched a transitional committee design and implement an open, transparent process to choose the diocese's next leader. Despite the sacred nature of the office in question, the process very much resembles a secular government election – right down to the electronic balloting that will take place Saturday.
The 38,000 baptized members at 88 parishes in 15 counties in Central Florida can participate as much or as little as they desire in the process, thanks to modern technology.
Trinity Episcopal, located on the mainland in the Vero Beach Country Club area, is but one parish in the group. Roughly half its members live on the barrier island, according to Rev. John Jacobs.
Jacobs, known simply as "Father John" to his congregation, said his flock has shown substantial interest in the process and has been instructed to discuss their opinions and concerns with him, with Deacon Lew Gwyn or with one of three lay members of the Vestry who will vote Saturday. The handful of delegates has met several times in what Jacobs calls "prayerful discernment" about the decision.
Seagrove resident James Large said he scoured the available materials on the internet in preparation to do his duty Saturday when he serves as a voting delegate as part of the Trinity contingent. Large, who has been an Episcopalian for 30 years and whose son, Rev. Alex Large is an Episcopal priest in Chevy Chase, Md., said he learned a great deal about his own church in the process.
"I was pleased, I thought the diocese did a very good job with the web page and all the information about the bishop selection," Large said. "The most interesting thing I learned is about the role of the bishop in the Episcopal Church, to be the priest to the other priests in the diocese."
The seven finalists in the running – one who will rise up to be that priest to the other priests – have all mounted low-key campaigns for the job via the internet. Each recorded a YouTube video posted next to a photo of the priest on the website of the Central Florida Diocese, so voting delegates and parishioners alike can get to know the candidates.
Six men and one woman are up for election. Though most are local, one candidate hails from New York but previously led a parish in Central Florida. Delegate and Vero Beach resident Barbara Hallam aid she's looking forward to Saturday's experience.
"I'm excited about it. I've never had the opportunity to be in on electing a bishop and seeing how the process works," she said.
Hallam said she has narrowed her selection down to a handful of "favorites," but that, depending upon how balloting goes and how many rounds of voting are necessary, she's comfortable voting for any of the finalists, which have already been screened and approved by a standing committee.
"Most of my questions have been answered. My concern is that, whoever is bishop is a good communicator with the central part of Florida," Hallam said. "That they be readily available and have a good presence in the community."
After the election, a full, national House of Bishops must approve the choice of the delegates prior to the new bishop taking his or her post.
The use of high-tech communication tools in this innovative election has gone beyond static messages posted by each hopeful. Also on the diocesan website is an interactive Q & A section where church members can post questions and get answers from as few or as many of the seven contenders who choose to respond.
The questions posted on the site are not "softballs" by any means.
The Episcopal Church has weathered some trying times in the past few years with a 2008 schism over the dilemma about whether openly homosexual clergy should be allowed to serve and hold leadership positions. Trinity's family split, with the pastor, staffers and a large number of members leaving in protest to form a spinoff church in an old Luria's department store building separated parishioners and families who had worshipped together for decades.
Trinity and the remaining churches in the Central Florida Diocese stand firm behind their tolerance of gays and lesbians in the church.
In fact, the church is set to, at its upcoming annual conference, solidify that position even further by voting to sanction performing same-sex marriage ceremonies where permitted by law and blessing gay and lesbian unions in Episcopal churches for couples who live in areas where same-sex marriage has not been legislatively allowed.
Considering this rocky and painful recent history, Rev. Jacobs, who knows all the candidates personally, said one of his main criteria for selecting a new leader is an unwavering commitment to stay in the fold of the Episcopal Church for the long haul.
Though homosexuality might be the political hot topic amongst Episcopalians recently, the most burning questions asked by the faithful on the website address many core values and life questions.
One very thoughtful discussion was prompted by a parishioner asking whether the candidates thought non-Christians go to hell when they die.
Other online conversations centered on interpretation of the Bible, attracting new members to the church, ministering to Spanish-speaking believers and to the disabled. Questions about the role of the laity, training of clergy, setting priorities and tradition vs. modernization also raised interesting points.
Ironically, in a church that was established after a split with Roman Catholics over King Henry VIII's divorce in 1534, the topic of divorce is even still being debated.
"We "allow or permit" divorce, maybe better put we recognize divorce when it happens.  However we never "bless" divorce," responded candidate Rev. Robert Jonathan Davis of the Church of the Incarnation in Orlando to a parishioner question. "We do not commend it as something favorable or good, encouraging people to do it.  Divorce is painful, wounding and destructive.  I know of no person who entered marriage thinking it would end in divorce."
In a newsletter message to parishioners, Bishop Howe commented on the lively Q & A exchange.
"We have created a whole new model for doing a search process. The 'Ask the' Candidates" section has enabled everyone to get to know the nominees and their positions far better than would be possible in any traditional 'walk about'," Howe wrote.
The "walk about," was the traditional way a candidate for bishop would travel around the diocese to meet delegates and campaign in person.  It's probable that parishioners actually got more detailed information from candidates via website posts than they would have during the personal, but casual meeting in a church hall after mass.
"It has taken a toll on the nominees themselves! One of them said it was like doing General Ordination Exams for two months! But I think it has helped them define their positions in ways that may be helpful to them for the rest of their ministries," Howe wrote.
Jacobs said the election is just a small facet of the vigorous ministry and the growth going on in his parish.
"People are interested in this election. They're very excited -- and should be – about all the things we have going on here at Trinity," Jacobs said.
WHO ARE THE CANDIDATES
Candidates for bishop include:
The Rev. Canon Gregory O. Brewer
Rector, Calvary-St. George's Church, New York, N.Y.
The Very Rev. Anthony P. Clark
dean, The Cathedral Church of St. Luke, Orlando.
The Rev. R. Jonathan Davis
vicar, Church of the Incarnation, and executive director, Canterbury Retreat and Conference Center, Oviedo.
The Very Rev. Charles L. Holt
rector, St. Peter's Episcopal Church and School, Lake Mary.
The Rev. Timothy C. Nunez
rector, Episcopal Church of St. Mary, Belleview.
The Rev. Mary A. Rosendahl
rector, Episcopal Church of the Nativity, Port St. Lucie.
The. Rev. James A. Sorvillo, Sr.
rector, Episcopal Church of the Ascension, Orlando.