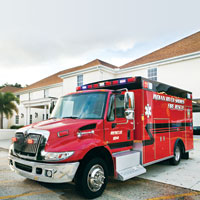 Free ambulance service comes to end in the Shores
STORY BY LISA ZAHNER, (Week of November 3, 2011)
Photo: Shores to bill Medicare and insurance for ambulance runs.
The Indian River Shores Public Safety Department, which for years has provided free ambulance transport to the hospital for residents of the barrier island community, is about to start billing for the service.
Shores Public Safety Director Chief Bill Schauman said the Shores has finally gained the necessary approval to bill Medicare, Medicaid and private insurance companies for patient trips to the hospital.
At this time, the town does not plan to bill residents for anything beyond what Medicare, Medicaid or private insurance will cover. Roughly 95 percent of the 300 or so patients per year using the ambulance services provided by the Shores Public Safety Department are Medicare eligible.
Due to the long waiting period while paperwork was being reviewed, the Shores will be permitted to bill Medicare retroactively for transporting patients since January 2010.
Medicare will reimburse the town at a rate of 80 percent of the $351 to $714 ambulance fee, depending upon the level of care and life support services provided during the trip.
The typical basic life support or advanced life support level 1 transport would bring in between $250 and $300 to the town. A mileage rate of $6.68 per mile is also allowed by Medicare. Ambulance transport is covered by Medicare Part B.
According to town officials, depending upon the severity of the situation and who might be on hand to help provide the paperwork, the patient will be asked for his or her Medicare, Medicaid or private insurance information at the time of the transport, or afterward.
The billing is being handled by a company called PST.  "The fee for PST is 7.75 percent of net collections and $13.50 per Medicaid account," said Nina Osphar, who handles finance for the Shores Public Safety Department.
Income from 2010 alone is expected to bring about $83,000 into the town's general fund. Nearly 75 percent of the town budget of $4.7 million goes to salaries, benefits and pensions for public safety workers and to equip the combined police, fire and paramedic services.
The town just bought a new ambulance for $215,000 to modernize its fleet.
The ambulance – a matching one to the Shores' "Big Red" unit --  was paid for with dollars that can only be used for capital improvements or vehicles.
Once the new ambulance transport billing program gets going, it should bring in up to $100,000 per year.