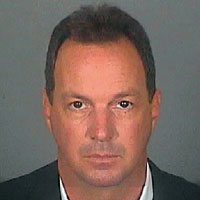 Feds: Accused art thief stashed funds in Bahamas
STORY BY EILEEN KELLEY, (Week of October 27, 2011)
Photo of Matthew Taylor.
Accused Vero Beach art thief and swindler Matthew Taylor told federal court officials he was broke. He claimed he had no money and no property. That prompted a federal judge in Ft. Pierce to declare Taylor indigent and give him a public defender at taxpayers' expense when he appeared in court following his Sept. 15 arrest on theft charges. 
But poverty is a big stretch of the truth, according to federal authorities, who say Taylor and his young girlfriend were involved in a rapid series of bank transfers last spring that emptied his U.S. accounts and stashed a $349,000 nest-egg in the Bahamas.
So when Taylor came up for a bond hearing last week in California, where he was transferred Oct. 13, prosecutors asked the federal judge to hold him without bond. They contended he was a flight risk, has a history of eluding authorities both in Vero Beach and in California.
"The defendant not only has an incentive to flee, but also has access to hundreds of thousands of dollars in an overseas account," according to documents signed by United States Attorneys  James Bowman and Heather Gorman.
But U.S. Magistrate Carla Woehrle set bond at $300,000. 
Woehrle did stipulate, however, that if Taylor posted bond, he must remain under home confinement in California until his December 6 trial starts.
The indigent Taylor subsequently came up with $100,000 in cash. A family member put up $100,000 in collateral and another family member pledged $100,000 as a promissory that Taylor would not flee.
On Friday, after being locked up for 37 days, Taylor was out.
While it's clear Taylor -- who cultivated an image of wealth and sophistication while living here in Vero Beach -- has access to money, he remains in serious trouble.
The Vero man potentially faces more than 100 years in prison on a litany of federal charges.
These include the theft of a $40,000 painting last believed to have been seen in Vero Beach, and bilking a California land magnate out of $2 million in bogus paintings he passed off as works by Claude Monet, Jackson Pollock, Vincent van Gogh and Mark Rothko. 
Other charges that Taylor is facing include wire fraud, money laundering and transporting stolen property across state lines.
In tracking Taylor's assets, what would normally be a paper trail is confusing maze of paperwork. 
Taylor jumped from one property to the next every few months, according to Indian River County property records. He formed numerous limited liability corporations over the years and routinely shuffled ownership of his properties between himself, his corporations and a trust account. 
Federal documents show Taylor opened an account last year at the HSBC Bank in the name of Microsoft Holdings, a limited liability corporation that purported to operate out of Washington state, the home of computer giant, Microsoft.
Taylor and his Vero Beach girlfriend, Rebecca Larkin, were the sole signatories on the account.
On March 11, there was $391,088.67 in the account. By mid-April, the account balance dropped to $9.81.
In one day alone, Taylor and Larkin booked a $2,600 trip to the Bahamas and transferred $385,000 out of the Microsoft account and into an account in Larkin's name at Chase Bank. 
The  following day, that money was transferred to a separate domestic account in Larkin's name. Documents say that between April 14 and April 19, a total of $349,880 was  transferred from that domestic account to an account in the Bahamas.  
An Internal Revenue Service agent told investigators that after reviewing Taylor's and Larkin's accounts, the transfers of cash left the couple with little to no money in the US.
When asked if feds were going to go after Larkin, Bowman said: "That is definitely going to draw a no comment from me."
The couple has been dating for a few years. 
Larkin is 20 years Taylor's junior and was also involved with him when he was on the run from California authorities in 2009. 
At one point, when police were searching for him two years ago, the couple tried to pass themselves off as brother and sister when hiding out at a Vero Beach hotel, according to court documents.
When Taylor was recently arrested, it was at an island apartment that Larkin had been renting on Ocean Drive since May.