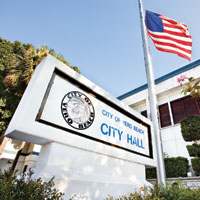 City employees are happy to work in Vero, but few want to live there
STORY BY LISA ZAHNER, (Week of October 6, 2011)
Eighty-five percent of City of Vero Beach government workers live outside the city limits and some city departments have no workers who are actual city residents.
Whenever the topic of the Vero Beach's bloated staffing level comes up at a City Council meeting – as was set to occur again this week – officials are hesitant to lay off workers and increase Vero's unemployment rate.
The staff always presents a warm, fuzzy picture of the 492 Vero Beach city employees as a group devoted to the city.
But not devoted enough to live there, according to information released last week. Eighty-five per cent of those who collect a paycheck from Vero Beach taxpayers leave the city when they leave work.  While most live somewhere else in the county, a good number reside in Brevard and St. Lucie counties.
• Not one employee of the Customer Service Department which handles billing and service questions for the electric, water, sewer and solid waste departments lives in the city.
• Just four employees of the city's 74-member police department live in the city.
• Only eight of the 113 employees of the Vero Beach Electric utility live in the city.
• One employee of the Solid Waste Department out of 36 is a city resident.
• Four Recreation Department employees out of 55 live in the city.
What's even more astounding is that two-thirds of the department heads do not live within the city limits.
When the quitting bell rings, only 15 per cent of employees drive home to houses, condos or a
partments on the city property tax roll.
Councilwoman Tracy Carroll brought the statistics out last week during the Indian River Tea Party candidate forum.
"The vast majority, a full 85 per cent of our employees, they're not paying taxes, they're not helping to fund the government, but their livelihood is tied to the old, status-quo way of doing things and way of staffing the city," Carroll said Monday.
"Now, we can't require employees to live in the City of Vero Beach, but in this instance, this council has a responsibility to the taxpayers of Vero Beach, not to the employees."
"I can see one way to save money," said Councilman Brian Heady. "If they don't live in the city, the police should not be allowed to take the police cars home."
Carroll also commented, separately, that there would be a savings on gas and vehicle maintenance if take-home use of police cruisers was limited to police officers who live in the city.
"We're paying for police vehicles to sit in driveways overnight under the supposition that it would help with safety in the City of Vero Beach, but we're putting our police vehicles all over the county and in other counties – who does that benefit?" she said.
Nearly all of the top-ranked city officials make well above six figures annually, but none of what 10 of the 15 earn in salary goes back to Vero Beach in the form of property taxes to support the staff and city services.
Police Chief Don Dappen, who has been with the department more than 30 years, doesn't live in the city. Neither does his assistant chief nor police captains.
Water-sewer Director Rob Bolton lives in Brevard County and therefore doesn't pay city electric, water or sewer bills. Customer Service Manager John Lee lives in Indian River County, but not in Vero Beach.
Of the 15 department heads, who lives the city? Only City Manager Jim O'Connor, Finance Director Cindy Lawson, Planning Director Tim McGarry, Marina Director Tim Grabenour and Acting City Attorney Wayne Coment. O'Connor and Lawson were hired last summer and just moved to the area.
When the residency statistics came up during the candidate forum last week, Heady took note for down the road.
"Though this and many other things concern me, I just only have the capacity to deal with so many issues at once and I feel that the issues we need to deal with as a council right now are ways to cut spending and how to get this sale to Florida Power and Light through," Heady said.
Heady conceded that it's inevitable the city will need to take decisive action on whether it will be able to maintain such a high level of staffing if the council successfully sells the electric utility and possibly finds a way to join forces with Indian River County on water-sewer services.
Vice Mayor Pilar Turner placed an item on this week's agenda to examine why Vero Beach's ratio of residents to employees – roughly 15,220 residents and 492 employees for a ratio of one employee to every 30.9 residents – is much higher than comparable communities.
Even if you don't count the 113 employees of the city's electric utility, as City Council members discuss selling it to Florida Power & Light, Vero Beach still comes in with more employees than other similar cities in the state.
Turner said she was prompted to look into the staffing levels and a major restructuring of city staff after a GAI Consultants in August confirmed what critics had been saying for years – the city employs too many people to do the required work.
The GAI study reported that the water-sewer department could be cut from 71 employees to about 40 employees to bring it in line with the staffing of other municipal utilities.
"I saw the vice mayor's item on the agenda as well as the item about the city attorney being on the chopping block again," Heady said. "I just don't think these are the things we need to concentrate on right now. I think this council as a tendency to take our eye off the ball and right now the priority is the sale to FP&L."