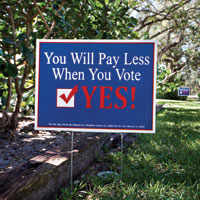 Tom Cadden takes lead in pushing 'Vote Yes' campaign
STORY BY LISA ZAHNER, (Week of October 27, 2011)
When utility activist Glenn Heran formed a political action committee to promote a "yes" vote on the City of Vero Beach electric land lease referendum, he wasn't quite sure what to do next.
With no experience running a political campaign or raising money, Heran, a CPA, said he was overjoyed when the first phone call offering help came from Indian River Shores Mayor Tom Cadden.
"I called Glenn as soon as I saw it in the newspaper," Cadden said. "I told him, 'I can get you some support and I can support you because the number one issue is getting Florida Power and Light to take over the whole county'."
Cadden said he knew the resources were out there because Heran wasn't the only person who had the idea of starting a PAC to work on the issue.
"I had a number of people, a whole bunch of businessmen contacting me that the electric rates are just killing them at their offices," Cadden said. "The only thing we could do was form a PAC and lo and behold I heard that Glenn had formed one."
"Mayor Cadden has been a tremendous help in coalescing his financial resources and connections," Heran said. "But it's not only financially; he's actually out there putting up signs and talking to people about the referendum."
Cadden – who, by the way, is already an FPL customer because he lives in the part of the Shores north of Old Winter Beach Road that is served by FPL – said he simply did what was needed. "Glenn gave me some forms with the PAC name on it and how to contribute and I got them out to people. I placed 10 signs at businesses in the city, but I had the permission from the owners before I did it."
"The signs and the PAC are not saying yes to sell it, it's saying don't put any roadblocks up," Cadden said. "I think it's very important to keep FPL going and to get a positive result on the referendum. When you hear (FPL Vice President of External Affairs) Pamela Rauch say they're really looking forward to a positive result, that's all I need to hear."
Cadden is not the only local elected official who has endorsed a "yes" vote on the referendum.
All five members of the Indian River Board of County Commissioners, four members of the Vero Beach City Council (all but Mayor Jay Kramer), two Indian River County School Board members and four Indian River Shores Town Council members have already written checks to Citizens for a Brighter Future. In addition, School Board member Jeff Pegler, state Rep. Debbie Mayfield and the only remaining Shores Councilman Dick Haverland have made pledges of financial support.
"Leadership in this community clearly understands that voting yes on the referendum sends the right message to FPL that they want to continue to negotiate the deal, and that deal will save this community $20 million per year and at long last will create smaller Vero Beach city government, which will hold property taxes down," Heran said.
Despite reticence in the past to get involved in what some have described as an issue to be addressed by a sovereign entity, the overwhelming support of the local leadership seems to indicate the electric issue has reached critical mass.
"I'm not surprised because I think it's the rational choice," said Heran. "I think it shows the leadership is rational minded and that they know what they're doing. They have to have heard about this issue from their constituents, it's the number one issue in this community."
Many Shores residents are getting a triple whammy from having City of Vero Beach electric rates which have fluctuated from 20 to nearly 60 percent higher than FPL over the past three years.
Not only do they pay high utility bills at home and for their businesses on Vero electric, but they pay high electric costs passed through to them in property tax bills from the county, the school board and the Indian River Hospital District.
Both the main hospital and the behavioral health residential facility across 37th Street from the hospital are on Vero electric.
"According to the numbers I got from Joe Baird, the county pays $574,000 extra in electric bills to Vero electric over the FPL rates," Cadden said.
"The schools, the hospital and the county are paying way too much for their electric bills."
The electric issue, and getting the November referendum over the fence is so important that it's one reason why Cadden notified Indian River County that he wanted to put the water-sewer issue on hold until the end of the year.
Cadden said that he's not finished fundraising. Any new influx of cash would help the PAC run ads during early voting, which begins Saturday, and in the critical last days before the election.
"It turned out to be an expensive campaign. We've done well, people are very supportive of this issue. This support, it's coming from the business community," Cadden said.
As of press time, Citizens for a Brighter Future had raised $7,190 and nearly $5,000 of that has come from supporters recruited by Cadden.