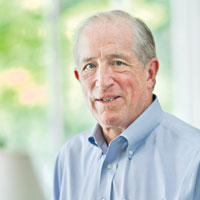 Dick Winger: A 'numbers guy' with wrong numbers
STORY BY MICHELLE GENZ, (Week of October 6, 2011)
Photo of Dick Winger.
Off the mangrove-shaded seawall edging Vero Beach City Council candidate Dick Winger's dock, an experiment lurks in the lagoon's mucky shallows. Seed clams nuzzled hopefully into place by Winger some months ago presumably will grow into gulp-able morsels by the time Winger wades in for the harvest.
If the clams aren't worthy of the some future first annual Castaway Cove clambake, Winger can always stage a honeyfest. Just beside the shoreline he keeps five hives, the bees hovering in the heat among the mangroves' tiny blossoms.
Winger wears an almost perpetual self-satisfied grin. The novel he is writing, the 1969 lemon-yellow Pontiac Firebird he is restoring, and the first-ever block party he is planning as president of his neighborhood association, all appear to bring him great satisfaction.  Considering his cerebral demeanor, the latter is perhaps the most incongruous of his undertakings,
At 73, that self-satisfaction – and a strong stomach – could be essential to get him through to November. He is one of four people running for two Vero Beach City Council seats currently held by Brian Heady and Tracy Carroll, both of whom are running again. Former City Council member Ken Daige is also vying for a seat.
Already things are heating up.
Winger got a ringing endorsement from a controversial source, former Mayor Warren Winchester, as well as considerable sympathy from Bea Gardner, a blogger and former candidate. She got into Winger's corner when civic activist and CPA Glenn Heran interrupted Winger at a City Council in June, as Winger was winding down the first half of a long presentation on behalf of the finance commission.

It was the most comprehensive report offered by the finance commission, said Mayor Jay Kramer. With endless Powerpoint pages of bullet points and charts, Winger presented spreadsheets, computations and estimates, urging caution in selling off Vero's water and sewer utility to the county.
Heran, a proponent of getting the city out of the utilities business, suddenly appeared at Winger's side, taking the microphone to contradict one key point: that in a similar scenario in Royal Palm Beach, the village scored a fabulous deal with the county.
Heran pointed out that while the county paid $70 million for a system comparable to Vero's, Royal Palm's residents got stuck paying rates then 75 per cent higher than the rest of the county's residents. That locked-in bonus was worth an extra $40 million to the county, he claimed, accounting the high price.  A good deal for Royal Palm's village coffers, Heran said, but not for ratepayers stuck with higher utility bills for 10 years.
Winger came back adamant that Heran was wrong. Backing up his initial assessment that Royal Palm residents were locked into rates lower – not higher – than the county's, he produced an e-mail he said was from the Palm Beach County legal department.
"Mr. Heran was totally wrong. Everything he, well, I won't, I want to be careful what I say…..what he said was wrong."
Heran wasn't wrong. Winger's information came from a source referred to him by Tom Cloud, the attorney for GAI Consultants, a firm that is regularly used by Vero Beach.  Further, Winger was wrong about the identity of the source: an attorney for the Village of Royal Palm Beach, not for Palm Beach County.
Offered as due diligence by the all-volunteer finance commission, the report's accuracy would seem to be of pivotal importance to a numbers guy like Winger. 
Winger also stumbled during a debate sponsored last week by the local Tea Party.
After first confusing the city's pension liability with the electric system's total debt, he missed the mark on the correct figure for the city's pension liability – by more than $18 million, according to recent estimates. He was also off on the electric utility's pension liability by $3 million; he had been off by the same amount in his finance commission report estimating the pension liability for water and sewer.
Where Winger might have stubbed his toe the worst with his Tea Party forum hosts was when he said he did not want to cut Vero Beach staff, and then talked about finding ways to increase revenues.
Tea Party tenets focus on lower taxes and smaller government.
"While I certainly agree that we need to have fewer employees, I think we should do it evolutionarily, not to put people out on the street," Winger said.

Winger started coming to Vero in 1971 to visit his parents; he moved here permanently 20 years ago.
With a degree in theoretical economics and a minor in accounting from Ohio Wesleyan University, he would seem well-suited to deal with the complex utility issues.
"He likes numbers," said his wife of 17 years, Bobbie Winger, adding with a mock smirk: "He's weird."
Winger insists that his presentation to the council wasn't necessarily aimed at quashing  a water-sewer utility sale to the county, but to point up what he called "hidden icebergs," and make sure Vero Beach made the best possible deal for itself.
"What I'd really favor is a joint partnership," he told council. At another point, he said he'd rather "keep it in our own hands" and move the existing wastewater treatment plant off the lagoon to an area near the airport.  "You pay down the debt; you have huge cash flow coming out of this thing. We have a cash cow here. The county is offering a very bad deal."
Even with regard to the electric plant, Winger says he supports selling. "I think it makes sense to sell it. But you have to get the best price."
"If you look at my opposition, none of them come from big business. None have been involved in a $100- or $200-million sale like I have been involved in," he said, referring to the food giants he worked for while acquiring brands or consolidating companies.  His resume points to roles on top-level teams charged with downsizing and streamlining, a role he seemed to relish, even when it included layoffs.
After starting out selling industrial paint for Glidden-Durkee, Winger segued into "edible oils" – cooking oils and margarine, a niche he remained in for much of his career, selling to the food service industry. At Durkee, he eventually rose to vice president of sales and marketing.
When the multinational Unilever acquired Durkee, then merged it with three other food companies into Vanden Bergh Foods, Winger was part of a two-person team that in two months' time reduced the combined workforce from 300 to 50, calling it "a lot of fun." He even patted himself on the back for helping nearly all of those laid off find jobs.
Unilever then lowered the boom: he himself was forced to retire at only age 55. 
At that point, he said, he decided to do a massive turn-around himself, and earn a Ph.D. in English literature. "Then, I met Bobbie," he said. The Alabama-born widow of one of Winger's employees, she had once trained as an interior decorator, a skill their home reflects. 
"I decided I couldn't afford Bobbie being an English professor," he cracked.
Nevertheless, he earned a master's degree in English from Cleveland State University, with a particular passion for Edmund Spenser, the 16th century English poet. But navigating through the language of 21th century commoners may be more daunting. The first line on Winger's resume includes this under "Objective": "To support City with accessment (sic) of Financial or Management."
Apart from Heran's interruption, Winger's June presentation to the Council had few rhetorical flourishes. An editorial authored by Winger concerning the Vero Beach utilities that ran in a local newspaper was head-scratchingly dense, hardly the stuff of talking points apart from his catch-phrase: "A Fair Price." 
That phrase refers to the proposed sale of the utilities.
Remarkably, the incumbents Winger is running against – Brian Heady and Tracy Carroll –  were voted into office based on their receptivity to selling the city-owned electric system and regionalizing water and sewer services.
After winning Council seats, Carroll and Heady supported the city staff recommendation to hire GAI Consultants for valuations of the utilities, even though some maintain GAI has a vested interest in keeping the city in the utility business so it can get more consulting gigs. Indeed, the appraisals came back far higher than expected.
Winger called GAI "competent people," and said he has no problem relying on its assessment. That fundamental trust in authority may stem from his corporate background.  He also strongly believes that if management hires competent people, it should back off and let them do their jobs.  "You have to protect them from interference," he said.  "Just tell them what you want done."
He said Vero isn't "getting things done through others," his way of saying the City Council isn't delegating to administrators.
"We just hired a city manager for $160,000," he said (City Manager Jim O'Connor's actual salary was $145,000 plus car allowance and benefits. It is now $137,500, after a 5 per cent cut Oct. 1.) "Yet I see my opposition when we have City Council meetings, going around the city manager and asking questions of staff directly. Really, they should ask Jim O'Connor, 'What's the answer to this?'
"The council is a legislative body. A mayor is a head of state. The executive officer is Jim O'Connor."
Winger is the sort of "solid citizen" who worked for 17 weeks as a census supervisor for $17 an hour – in John's Island, then in Gifford. "It was fantastically interesting learning the dichotomy in the city," he said, though he was only allowed to stand in doorways and ask a list of 11 questions.
He said he and his wife occasionally serve meals at The Source, a homeless service center.  In an aside to council, he also once said Vero has too many poor people.
He volunteered two years ago for the finance commission, a group that has had trouble finding new members.
Six months before he joined the commission, he began going regularly to City Council meetings. In so doing, he apparently has let himself in for a lot of aggravation. He can't bear the fact that the council lets people speak "even if they're wrong."
Yet the council has on numerous occasions allowed him free reign to present largely unsubstantiated information from the public podium.
"How long did the last meeting take? Five hours, because there was all this back and forth calling people up."
If he wins a City Council seat, he could be in for a very annoying time.
Bobbie Winger is concerned it will mean time taken away from their marriage.  She despairs of him ever retiring.  "He has a very brilliant mind and he's not happy unless he's using it," she said.
While Winger spent his early childhood in Illinois and Wisconsin, he feels the most influence from his teen years in the Pennsylvania Dutch farmlands around Reading. He holds up his hands to demonstrate his Swiss-German, Mennonite ancestry.
"I have the hands of a wheelwright," he said, splaying long fingers. "We're plain people. We built our barns out of stone."
They were also neighborly. "Harvesting was a community enterprise" he said of the years he spent working on neighboring farms, a job that "became something of a love."  He remembers 12 to 15 men and boys, most speaking Pennsylvania German, harvesting one farm's crops and going on to the next.
"To the degree we can make this more of a village, that's a good thing. In the short run, to the degree that we live like the Pennsylvania Dutch here, one with another, the better it is for everyone."
As for Bobbie Winger, she is adjusting to being peppered with questions herself as the campaign wife. "People want to know what I do," she said. "And I just say, Lord, I'm married to Dick Winger. I'm just trying to keep up."
Staff Writer Lisa Zahner contributed to this story.