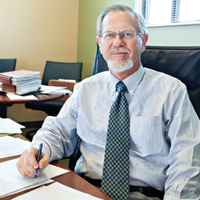 The county and impact fees: 'My head is spinning'
STORY BY STEVEN M. THOMAS, (Week of September 22, 2011)
Photo: Attorney Alan Polackwich
The county commission now is hoping to have clarification from Florida's attorney general by mid-November as to whether it can legally refund unspent impact fees collected from barrier island residents in the 1980s and 1990s.
"This is one of the most difficult matters that has ever come before us," said Commissioner Gary Wheeler at a recent county commission meeting.  "My head is spinning."
He is not the only one.
No fewer than four people, including Commissioner Wesley Davis and Charles Wilson, president of Asset Research and Recovery, said in the meeting that taking action of one kind or another on impact fee refunds would be "opening up a can of worms."
"There are a whole lot of different cans of worms in this," Davis said in an interview after the meeting. "My can of worms and Charlie's may not be the same, but we clearly have some difficult decisions to make. This is a very hard problem."
At stake in the short term is the fate of $1.2 million dollars in the now infamous Fund 101, impact fees collected between 1986 and 1999 from island property owners to upgrade roads and other infrastructure.
Longer term, many millions more in impact fees paid by developers of un-built subdivisions hang in the balance and commission action on Fund 101 could influence the eventual disposition of that money.
"What worries me is the precedent we set by how we disperse the 101 funds," Davis said. "The more you dig into this newer stuff, the more dangerous it gets."
One of the few areas of agreement between county staff, county commissioners and Wilson, whose push for refunds to island residents brought impact fees center stage this summer, is that Fund 101 contains approximately $150,000 in unspent fees along with another $1 million-plus in interest earned on the $150,000 and other impact fees collected and spent during the 1980s and 1990s.
Virtually everything else is in dispute, including whether the money should in fairness be refunded, how much should be refunded, who it should be refunded to and whether it is legal for the county to refund it.
The 1986 county ordinance that instituted impact fees said fees not used within six years for their stated purpose must be refunded, with interest, to the payers, but it limited the refund period to one year immediately following the six-year use window.
County Finance Director Jason Brown has steadfastly maintained that that no 101 refunds are due because the timeframe in which refunds can be applied for has passed. Wilson contends the county's refund mechanism was faulty and the refund process should be reopened.
Adding murkiness are the following: The impact fee ordinance originally said refunds go to whomever paid the fees but that was changed in 2005 to current property owners; county staff believe only the $150,000 should be refunded if refunds are decided on but Wilson contends the separation of principle and interest is an accounting trick and that all $1.2 million must be refunded; if the commission decides to refund only $150,000, there might not be enough to meet all the claims and the question of which claimants get money and which go begging becomes thorny.
During an August meeting in which they tried to sort out the problem, commissioners charged County Attorney Alan Polackwich with researching the legalities of the issue and giving them guidance.
After an exhaustive investigation, in which he looked at every ordinance, statute and legal decision touching on impact fees, a process Wilson said had made Polackwich "the world's greatest expert" on the fees, Polackwich told the commissioners on Sept. 13 there is no clear legal answer.
"We don't have a firm conclusion," Polackwich said. "There is no case law in Florida, or elsewhere in the United States which we have been able to find that considers the validity of this type of refund provision. Nor is there any statutory law on the issue."
Polackwich said that the accounting method used by county staff appears to be acceptable by industry standards and that many other counties have impact fee refund provisions similar or identical to Indian River County, with limited periods of time for fee use and refund applications.
At the same time, he came close to agreeing with Wilson that the refund mechanism may well be legally faulty based on the fact that not one of 400-600 people Wilson said are eligible for a refund tried to get their money back during the one-year period. 
"If you decide to refund, you have stepped into a very difficult question of what we refund and to whom," Polackwich told the commission. "The last thing we want to do is create a new set of claims and problems with your refund process."
Polackwich also called attention to a 2010 Florida Attorney General advisory legal opinion that barred the City of Wildwood from returning unspent impact fees even though its ordinance called for such a refund and the purpose for which the fees were collected had gone away.
"I have a question whether we can legally refund these fees," he said. "I think we can, but it makes me a little nervous having this AG opinion out there seeming to say the contrary."
Commission Chairman Bob Solari kept debate focused mainly on what to do about Fund 101 to avoid getting lost in the still larger thicket of uncertainties and ambiguities, but the discussion strayed occasionally to how 101 refunds might impact the bigger money claims of developers.
With Solari leading the way, most commissioners eventually agreed the 101 impact fees should in theory be refunded, handing Charlie Wilson at least a moral victory in his quest.
County staff has proposed using the money in fund 101 to rebuild the intersection of A1A and Causeway Blvd., which would sidestep the question of refunds. Wilson said the City of Vero Beach where the intersection is located does not want to pursue the project and that the time for spending the money has passed.
"We should have given people notice at the end of the six years and refunded the money at that time," Wheeler said. He suggested the county develop software to track future impact fees and let payers know when they are eligible for a refund.
"Everyone agrees that if the fees are unused they should be returned," said Davis. "That is a no brainer."
But that was as far as the commission got.
After a four hour discussion that included a lengthy presentation by Wilson in which he raised the specter of the U.S Bankruptcy Court entering the picture to claim millions in unspent impact fee funds paid by developers whose projects collapsed after the real estate boom went bust, commissioners handed the question back to Polackwich.
Solari asked him to seek clarification from the attorney general and to open a dialogue with Wilson, developers, real estate brokers and other interested parties.
Commissioners did pass a motion offered by Wheeler and seconded by Davis to find out if there is a project the money in Fund 101 can still be spent on; to make a decision at a future date if the money is going to be refunded; and to get clarification from the attorney general.
But the motion raised as many questions as it answered.
While it indicated the commission's general intention to refund unused money, it did not say whether only principle or both principle and interest would be refunded or whether the money would go to those who paid the fees or to current owners. It did not say how money will be distributed if only $150,000 is refunded and there is not enough to go around or what will happen to the balance if all $1.2 million is deemed refundable but claims don't add up to that much.
"I think what we're going to do from a staff point is present alternatives to the commission," Polackwich said after the meeting. "We will offer one proposal that only refunds what staff's accounting shows is unpaid fees plus interest on that $150,000, which would still leave a fair amount. A second proposal would be to refund everything."
Polackwich said he is inclined to stick with current county code and think in terms of refunding money to those who own impacting property now.
"That was one of those things left unresolved," Davis said after the meeting. "My push would be to refund everything back to zero to the current owners, but I didn't walk out of there feeling like everything was taken care of and settled."