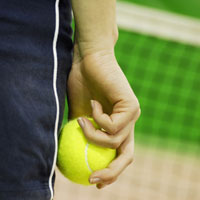 Fed Cup tennis not coming here
STORY BY LISA ZAHNER, (Week of September 29, 2011)
The United States Tennis Association won't announce for another few days which city will host an early round of the Fed Cup women's tennis matches in February, but it won't be Vero Beach.
Randy Walker, who organized the effort to submit a bid for the United States versus Belarus contest, said he got the word Saturday from Jeff Ryan, director of USA team events for the association.
"We had a good, long talk and he was very positive and liked our bid. It just wasn't the right fit this time," Walker said. "He was very impressed with the bid; he didn't give me any specific reasons. He just said it was not going to work out."
Walker said Ryan encouraged him to apply again for a potential April matchup if the United States draws Slovenia. That won't be known until February.
To host the Fed Cup in Vero Beach, the USTA would have to build a venue pretty much from scratch at the Vero Beach Sports Village or another location.
"The cost of constructing the stadium is a lot of money for the USTA to bear, so a lot of it was probably financial," Walker said. "But I think there's been a great vibe in the city and it awakened a lot of people to the possibility of an event like this coming to town."
Since news first broke, Walker said many businesses and individuals have contacted him wanting to get in on the action. Next month, he said he'll travel to Vero to explore some creative options for a future bid – including raising money to build an expandable tennis stadium somewhere in Vero using private dollars, or possibly a public-private partnership.
"It would be great if Vero Beach had a facility like that – it could also have concerts or beach volleyball or high school events," Walker said.