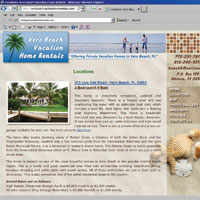 Short-term rentals thrive in residential areas
STORY BY STEVEN M. THOMAS, (Week of September 15, 2011)
Photo: Internet ad for short-term rental.
When Councilmember Tracy Carroll was cited for renting out a house on Seagrape for less than 30 days, she contended it was political harassment directed at her by city staff angry about her support for the sale of city utilities.
While city staff denied the charge, it turns out short-term rentals in residential areas are a thriving business in Vero Beach, on and off island, carried on by numerous individuals and entities, and there is no record of the city citing or contacting any of them other than Carroll in recent years.
At his website verobeachvacationhomernetals.com, island businessman Kevin Howell advertises four homes for rent "nightly, weekly, monthly." All of the homes are in the beachside residential area bounded by Live Oak Road, Beachland Boulevard and Ocean Drive.
Other island and mainland homeowners advertise Vero Beach houses for weekly rentals on homeawayrentals.com, vacationhomerentals.com and similar sites.
"I have never been contacted by the city," said the owner of a home on Fairway Drive in the residentially zoned area around the Vero Beach Country Club, and whose property has received a number of glowing reviews on homwawayrentals.com.
So what's going on here?
Vero Planning and Development Director Tim McGarry says renting a house in a residential area for less than 30 days clearly violates city code, even though the code does not explicitly prohibit short-term rentals in residential areas.
"If you allow that, you are creating commercial activity in a residential neighborhood and also competing with area motels," he says. "We are just trying to protect these neighborhoods."
McGarry acknowledged that a lot of this rental activity takes place, but said the city only cites homeowners when there is a complaint.
"That is the way we have always done it," he said. "We don't have the manpower to search the Internet to find these people and if they are not bothering anyone . . . we are not the Gestapo. We only enforce the ordinance if somebody complains and somebody complained about Tracy's house."
But other people besides the anonymous neighbor who turned in Carroll complain, according to an island real estate agent who prefers to be unnamed. "I get complaints all the time from Central Beach residents who are unhappy with owners renting out their private property to vacationers for weekly rentals," the agent said.
One owner mentioned by several complainers is Howell.  While he told Vero Beach he has stopped renting out the houses, his full-featured, professionally-designed website has been online since 2009 and is still visible as this paper goes to press. Yet, the city never reproached Howell.
He says he gave up on the business because it took too much time and yielded too little profit, not because he was worried about violating city code.
"We got a pretty decent response in terms of people renting out the houses," Howell said. "But there is a lot of work involved and you don't really make very much money. The vacation market coming down doesn't take very good care of your property and you have to clean up every time a tenant leaves."
City ordinances like the ill-defined one McGarry says prohibits short-term rentals are meant to protect quality of life and benefit residents. Many of those who have engaged in short-term rentals, including Howell and Carroll, did so to try and hang onto spec houses built during the boom that could not be sold for enough to recoup investments.
"It was a holding pattern," said Howell of his rental business. "The idea was to get some activity in there that would enable us to hold onto the houses until the market recovers and we can sell them."
"It was the same with us," said Carroll. "We have a construction company and we built the house on Seagrape at the end of the rise in property values. We paid the mortgage for two years and it was getting pretty high, so we put some furniture in there and started renting it out to cover a portion of the mortgage. We don't want to lose the house."
So why single out Carroll?
"If we get a complaint, we enforce the code," said McGarry.
Yet the last time it was enforced before Carroll's citation was years earlier.
The way the citation was handled also raises questions, according to Carroll.
"Instead of calling me, Tim sent code enforcement out to harass the renters," she said. "It was a family group in town for a reunion or some other type of gathering and Tim's people aggressively questioned them about who they were and where they were from and why they were in the house."
McGarry still insists he was not harassing Carroll, merely enforcing a part of the city code, but he admits the lack of regular enforcement is a weak point that undermines the case against Carroll.
According to McGarry, Florida statute defines a transient rental as less than 30 days and city code prohibits transient rentals in residential areas, but the code doesn't specifically say property owners can rent homes in residential areas only for a month or longer.
A statute passed in the last legislative session could have clarified the code. HB 883 sponsored by state Rep. Mike Horner, R-Kissimmee, and signed into law by Governor Scott prohibits cities and counties from regulating home rentals based on zoning. Since state law overrides local ordinance, the new statute would have made short-term rentals unambiguously legal – except for the fact that it doesn't apply to ordinances already in place when it was passed.
Since it does not supersede existing regulation, the law has no effect on the muddled situation in Vero Beach where city staff says code prohibits short-term rentals to protect residential neighborhoods while at the same time admitting the code is never enforced even though blatant violations abound.
McGarry said he would want guidance from the City Council before beginning to enforce the code prohibiting short-term rentals in a comprehensive way.
"It is a sensitive issue," he said.