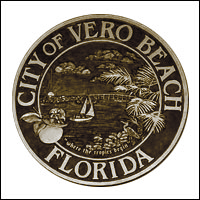 News analysis: Heady and Carroll foes put up weak field
STORY BY LISA ZAHNER, (Week of September 22, 2011)
Despite tough rhetoric from Vero Beach pundits such as Lynne Larkin, Charlie Vitunac and Warren Winchester, those who want Brian Heady and Tracy Carroll removed from the Vero Beach City Council have failed to put forth a strong field of opposition candidates.
Only former Councilman Ken Daige and finance commission member and Castaway Cove resident Richard "Dick" Winger qualified to run against Heady and Carroll on the November ballot.
Carroll and Heady said they see the challengers as an opportunity for voters to revert back to the way city government used to be run under former Mayors Tom White and Sabe Abell and the administration of City Manager Jim Gabbard and City Attorney Vitunac.
Daige carries plenty of baggage from the old regime because he served on the council twice – from 2007 to 2009. He lost a 2009 bid for re-election, but was later appointed to serve out 10 months of former Councilman Charlie Wilson's seat. He ran again in November 2010 and was again defeated.
"I'm surprised that there are such a small number of candidates," Carroll said.
Daige may be his own worst enemy this time around, as he's susceptible to voter fatigue. His frequent trips to the podium and his repetitive remarks about getting all options "on the table," and looking out for the "stakeholders" in the ongoing utility debates, have begun to sound like a broken record.
Heady, who has openly sparred with Daige during recent public meetings, said he was surprised Daige was the best candidate the very vocal opposition could come up with.
"I don't think that I'm very good at judging elections, but I don't think that I'm going to have a problem beating Daige," Heady said. "I think the two to beat are Tracy Carroll and Dick Winger."
Heady said he believes both Carroll and Winger will mount robust election bids and will be very visible.
Heady said he doesn't plan to run a traditional campaign and that voters won't see street corners littered with his signs. He said he'll run strictly on his record.
"If I've done anything over the past two years, it's to make sure that everybody has a voice. I've even fought for Ken Daige to have a voice," he said.
Daige declined to defend his own record. "I don't think I'll make any responses to your newspaper. They've been very clear over the last year concerning where they stand on the issues in the city of Vero Beach," he said.
South barrier island resident Winger gained some visibility in recent months through his role on the city finance commission.
Retired from the corporate world, Winger has been the only person to attempt to counter the financial models put forth by Dr. Stephen Faherty and CPA Glenn Heran.
Winger said he wants to make it clear that he's for selling both the electric and water-sewer utilities as long as the price is right. Although he has said the city shouldn't let the assets go for less than what GAI Consultants says they're worth, he also advocated the removal of the waste-water treatment plant from the river.
Unfortunately, it would take at least a decade for the plant to go away absent a takeover by Indian River County of the Vero water-sewer system.
What concerns Carroll about Winger is that he sources his statements and statistics back to staff and the city's consultants, GAI and its legal team of Gray Robinson.
"It's a return to the status quo of years past that this council has moved back from in terms of a check and balance on the part of the City Council," Carroll said. "Winger and Daige are both trying to return the city to the era of the staff running the city."
Carroll said she invites voters to watch both Daige and Winger's public statements at the past few City Council meetings, which can be seen on video at the city's website. "They've both been very vehement in their criticism of this council," she said.
Winger agreed he has criticized certain members of the sitting city council, especially Carroll and what he sees as her continued attempts to "micromanage" the city.
"If we have the right city manager, the way to manage the city, it's the role of the City Council to make policy and to let the city manager do his job and he'll either succeed or fail," Winger said. "That's the system we have and I think it's been extremely disruptive for the City Council to not go through the city manager. That's not appropriate; that's not the way the charter is set up."
Whether or not that approach amounts to a throwback to the old ways, Winger said, "If that's going back to something, I'm glad I'm going back to what's proper management."
In response to Carroll's statement that Winger relies too much on city staff and consultants for information, Winger applied the same logic – hire someone and let them do the job. Winger said GAI's valuations of city assets were "within shooting range" of what he'd calculated himself.
"The point is that the city hired the consultant, the work seems to be quality work," Winger said.  "I believe that the work that's been done is very good work."
What's yet to be seen is if Heady and Carroll will openly challenge each other at upcoming candidate forums, or more strategically both go after Winger and Daige.
Heady and Carroll, whose personalities grate on each other and prompt much bickering on the dais, share views on important issues. In the coming weeks, they need to decide whether to form an unlikely coalition to remain in office.
The first scheduled public candidate forum will be hosted by the Indian River County Tea Party at 6:30 p.m. Tuesday at the Vero Beach High School Performing Arts Center.