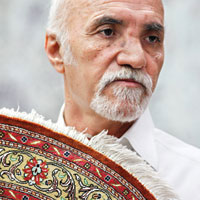 Falasiri pleads guilty to lesser drug charges
STORY BY EILEEN KELLEY, (Week of April 12, 2012)
Photo of Jafar Falasiri
A 62-year-old philanthropist and owner of a high-end imported rug store who could have faced the rest of his life behind bars on charges of violating a trade embargo by importing Iranian rugs and 6.5 pounds of opium pleaded guilty this week to lesser charges.
Jafar Falasiri of Falasiri Oriental Rugs on U.S. 1 now faces five years in prison and a $250,000 fine when he is sentenced in federal court in August.  He will remain free until his sentencing. 
He was scheduled to plead guilty to lesser drug and illegal importation charges last month but backed out when a U.S.  magistrate judge said that typical protocol in such cases was that he should be sent to jail until sentencing.
With that condition, Falasiri  changed his mind until a new deal could worked out, which apparently it was.  Falasiri's lawyer, Gregory Eisenmenger, refused comment on the deal with prosecutors.
U.S. Attorney Russell Killinger told the magistrate judge that Falasiri has been cooperating.
"Mr. Falasiri has obviously assisted the U.S. in this matter and continues to do so,"  Killinger said.
Court documents say Falasiri was caught importing about $300,000 worth of opium into the U.S. 
The cache of the drugs was discovered rolled up inside Iranian rugs that had been shipped from Turkey in an attempt to not raise suspicions about a violation of the embargo.
For 10 years ending in July 2010, certain Iranian merchandise, including rugs and textiles, could be brought into the U.S. under certain provisions despite a trade embargo.
Six months after that provision was lifted effectively making it unlawful to import Iranian rugs, an employee of Falasiri's tipped off authorities about the rugs and the opium.
The employee told agents he witnessed Falasiri tear into the binding of one of the rugs, pull out the opium and immediately smoke it in the store's warehouse.
Falasiri was arrested in July 2011 after another shipment of drugs and rugs from Iran came in from Turkey.  
The plea deal suggests that Falasiri will have to forfeit that last shipment of rugs as well as more than $100,000 in cash he made as a result of his illegal sales.
After making a bond of more than $1 million dollars when his wife put up real estate as collateral, Falasiri has been monitored by an electronic ankle bracelet and must submit to routine drug tests.