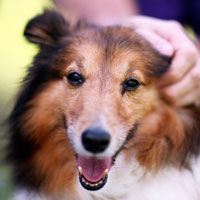 After hospice farewell, Laddie moves on
STORY BY EILEEN KELLEY, (Week of April 19, 2012)
Photo of Laddie
Bill Strauss, 86, walked out of his home for the last time April 1, and together with Winnie, his wife of 64 years, and Laddie, his faithful sheepdog, headed for Hospice House.
The old World War II pilot – who had been on oxygen around the clock for as long as people could remember – was nearing the end, and Winnie was going to get some much-needed rest.  But not long after their arrival at Hospice House, Winnie, also 86, suffered a seizure. Then another.
For a couple of days, 10-year-old Laddie, not in the best of shape himself, dutifully waddled from Bill's room to Winnie's room. Bill died on April 3, and when Winnie also died at 4 a.m. on April 5, Laddie let out a small howl, hospice workers said.
"They (pets) have such a keen, unbelievable sense of what is going on," said Karen Ritchey, the vice president of the Visiting Nurse Association Hospice of Indian River County, which runs Hospice House.
When it began to appear Winnie would not survive, Cornelia Perez, a Humane Society volunteer, sent out an e-mail to hundreds of people seeking a home for Laddie.  People all over the country volunteered.  And by 9  a.m. on April 5, a line of Hospice residents and staff formed around the old dog to say good-bye.
After a stop at the vet, where a medical fund had been set up for Laddie's needs, the old dog was introduced to his new owners, Joe and Judy Clark, who live in southwestern Indian River County.
"He's already touched my heart; I love him to tears," said Joe Clark, 56, a disabled Air Force veteran of the Vietnam War. "I'll do what I can for him whether it's for a year or if he lives another 10 years. He's got me."
Both Joe Clark and Laddie are now on diets. Both have bum right legs. Both take the same medication for pain, although Laddie takes his with peanut butter.
Ritchey and others like Perez, the woman who picked the Clarks as Laddie's new parents, know that stories like Laddie's – a story of unexpected changes in life – play out many times in Indian River County.
Hospice recently teamed with the Humane Society of Vero Beach and Indian River County to help aging and ill residents make plans for their pets when they face the end of their own lives. It's called the Pet Guardian Program.
"It happens regularly where animals come here because somebody has passed away or they are too old to care for their animal," said Janet Winikoff, the society's director of education. "There are tragedies that happen in families. That is why it is important that whenever people get animal companions they have a game plan,"
Under the Pet Guardian program, the society will provide temporary or permanent care to a family's pets if someone becomes incapacitated or dies.
"Ideally in a perfect world, should you not outlive (your pets) or become incapacitated, your pet will go to a friend or a family member," said Tim Swift, society development director.
"Our goal is to keep pets in houses, not shelters. We will make every effort to adopt out your pet, but unfortunately, that is not always possible."
In 2005, island resident Jennifer Peshke adopted a beagle named Trey from the Humane Society after his owner died. Trey is now 10.
As a lawyer, she offers services in estate planning and preparation for pets to ensure they are legally cared for when an owner passes on.
Not long ago, Florida passed legislation allowing pet owners to provide for their animals by establishing a pet trust. The trust works in much of the same way a trust works for humans,  leaving behind money to ensure a pet is cared for.