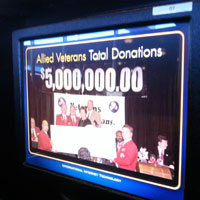 Sheriff's office wants gaming taxed, not banned
STORY BY MEG LAUGHLIN, (Week of April 12, 2012)
A response to a questionnaire in a state Senate office provides a telling – and somewhat perplexing – look at where Indian River County law enforcement stands on allowing internet cafes.
The position of the attorneys for the sheriff's office and the county, and several county commissioners in interviews with 32963, has been that the county is waiting for the state legislature to ban the simulated gambling houses because trying to prohibit them county by county with a local ordinance could lead to costly litigation with the well-heeled cafe owners.
But responses from the sheriff's office on a questionnaire from the Senate offer a different position. In that survey received by the Senate seven months ago, Indian River County law enforcement didn't say it wanted a state law banning internet cafes, but rather that it wanted them to be legal, regulated and a source for new taxes.
Where did this contradictory point of view come from?
Darin Jones, deputy division commander for the sheriff, filled out the questionnaire which was one of 47 from across the state received by the Florida Senate Committee on Regulated Industries last summer.  Of these, 35 law enforcement agencies clearly said they believed internet cafes were illegal gambling centers and should be prohibited – either by state law or local ordinance.
Fifteen agencies – including the Indian River County Sheriff's Office – said they should be allowed and regulated.
Two agencies – in Indian River County and St. Lucie County – explained that opinion:  Regulation could lead to new tax revenue.
"These cafes aren't causing a problem for us here," said Jones, "and since they make so many senior citizens happy and they seem harmless, the sheriff's office is not proactive about them."
Sheriff's attorney Jim Harpring said the questionnaire response is news to him. County Commissioner Wesley Davis agreed. 
Both previously told 32963, they believed the legislature should ban internet cafes in Florida.
"But I guess you not only get a difference of opinion from county to county on whether they should exist but within our own county government," said Davis.
Nevertheless, only one opinion from Indian River County is on file with the state Senate: "Regulate internet cafes and tax them."
The number of internet cafes – where seniors (mostly) pay cash to watch a slot machine screen on a computer and sometimes win money – has increased dramatically in recent years: Over 100 in Dade, Broward and Palm Beach. About 50 in Duval County. Manatee County has over 30. Charlotte and Leon counties each have over 20. Fifteen here, 10 there – 12 in Indian River County – adding up to over a thousand in Florida.
As their numbers increase, so have arrests and prosecutions of the people who frequent them, according to the Senate Committee on Regulated Industries.
According to statistics from a study by the Florida Council on Compulsive Gambling, 78 percent of the people with gambling problems at internet cafes are poor women, over 55-years-old.  The average household income of  problem players is $26,000 a year. Ten percent have claimed bankruptcy, losing an average of $34,000.
"Simply stated," says the state gambling council study,  "accessibility plus availability plus acceptability equals increased vulnerability to problem and compulsive gambling."
These factors make internet cafes "an extremely dangerous form of gambling usually luring a vulnerable population," said the 2010 study. 
Over and over, law enforcement leaders around the state complain about the cafes in their responses to the state Senate:
"A good faith argument can be made that they're contrary to current gambling laws….The public is being ripped-off," said the Brevard County State Attorney's Office.
"Either make them illegal or close that silly loophole that allows them to offer gambling under the guise of selling internet time…." said the West Melbourne Police Department.    
 "They are clearly gambling in the classic sense of the word," said the Martin County State Attorney's Office.
But the Indian River County Sheriff's Office sees things differently, saying the cafes fall in a gray area and should be allowed.
"They are not a burden on us," said Jones.
Sheriff Deryl Loar sided with Jones' Senate response instead of with county attorneys and commissioners.
 "Whatever the legislature decides, I would support," he said. "But that doesn't mean I want internet cafes banned because they're not an overwhelming problem here."