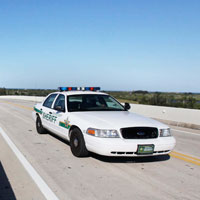 Sheriff's patrols often missing from barrier island
STORY BY EILEEN KELLEY, (Week of April 26, 2012)
Photo: A patrol car leaves the island.
Contrary to claims by Sheriff Deryl Loar, residents of the unincorporated county at the northern and southern ends of the barrier island do not get round-the-clock police protection, with a sheriff's car absent from these patrol zones almost 20 percent of the time, according to a review of patrol records for the month of February.
Loar on Friday said at no time of day is the island without deputies assigned to the north and south patrol zones, but a 32963 examination of the February patrol records indicates otherwise – and also raises questions about why a top sheriff's department commander altered patrol records while our review was underway to indicate that shifts were covered when they were not.
Before the alterations, the sheriff's office patrol records indicated that during February, no patrol car was assigned to the barrier island north of Indian River Shores 15 percent of the time, while south island residents fared even worse, with no patrol car assigned to the area south of Castaway Cove 21 percent of the time.
Debate over just how much of a law enforcement presence sheriff's deputies provide to the island became an issue in February when the Indian River Shores town manager said residents of Sea Oaks and the Island Club would get better police protection if the Shores annexed their communities.
In pushing for annexation, Town Manager Richard Jefferson said residents of the two communities would benefit because "the token law enforcement provided by the sheriff's department is almost non-existent" and his police would do a better job.
That didn't sit well with Loar, who as recently as a last month told residents of one island community that his deputies patrol the north barrier island around the clock.
Loar on Friday also criticized Jefferson's claim that his department would provide better protection. "I have no hard feelings for him," he said. "He might want to be a little bit more informed on his facts however."  Loar said at no time of day is the island without deputies assigned to a patrol zones.
But at the start of February, eight full days went by before the north barrier island patrol zone – a large swath of land that also includes portions of US 1 and Gifford – enjoyed 24-hour-a-day coverage as the sheriff maintains.
In the first 96 hours – or four days – of February, the sheriff's office had no patrols in the north barrier island zone for 40 hours, according to the sheriff's patrol records. 
In another case, when a deputy clocked out after the 6 a.m. to 4 p.m. shift on Feb. 26, no one was assigned to exclusively patrol that large zone again until the same deputy returned to work at 6 a.m. the following day.
In fact, patrol records indicate the north barrier island did not have a dedicated deputy assigned to patrol the zone exclusively during his or her 10-hour shift for 108 hours in February – or 15 percent of the total time.
The South Beach zone, which is exclusively on the barrier island from the city of Vero Beach limits to St. Lucie County, fared worse. 
A records review shows the South Beach zone did not have a deputy dedicated to patrols for 146 hours – or 21 percent of the time – during February. 
In fact, records indicate that the South Beach zone was never covered around the clock during February as Loar and Capt. Don Smith – one of the top ranking commanders in the sheriff's office – contend.
A review of the records for the South Beach zone suggest that no deputy was assigned to one of the over-night shifts – the 8 p.m. to 6 a.m. – on most nights in the month of February, and that the bulk of the time when there was no sheriff's car on the southern end of the island came when a deputy wasn't assigned exclusively to the South Beach zone in the 4 p.m. to 2 a.m. shift.
Because of overlaps with the 10-hour schedules worked by deputies, all four shifts don't have to be filled to have patrol coverage around the clock. It can be done with three shifts if slotted correctly.
Still,  32963's investigation found that in no case were more than two deputies assigned to shifts patrolling the South Beach area in any 24-hour period during the month of February.
Until the 32963 investigation, zone coverage – or the reality of 24/7 barrier island patrols – has never been examined. 
Our review also raised questions about how Smith, who oversees the patrol division for the sheriff's office, handles patrol records.
After patrol records for the month of February had been provided to 32963, Smith altered a replacement set of these records by adding the names of deputies who were not assigned to zones and placing them in spots on the daily line-up sheets. Those alterations appeared designed to suggest that the deputies were assigned to fill in for either the north or the south island patrol zones.
Days after 32963 picked up a computer disk at the sheriff's office with the patrol zone staffing assignments, Lucy Scheidt, an administrative assistant to the sheriff's general counsel, appeared in the 32963 office with another disk in hand. 
Scheidt explained she was sent over to the island with the correct records.  Within the records was a typed letter from Smith:
"Here is the updated copy of the February schedule.  The disk you have was sent out a little premature before all the information could be added. If you have any questions feel free to contact me…" Smith wrote.
The lineups on these staffing records are important because they are sent to public safety dispatchers and give them an accurate reflection of what zones deputies are scheduled to patrol at any time of the day.
Those lineups, the ones given to dispatchers that ultimately become public records, are dramatically different than the second disk given to 32963.
Smith admitted adding names to the patrol lineups shown on the second disk given to 32963. He said to not add the names would have not been what both he and Loar contend was an accurate reflection of the sheriff's office manpower.
When asked how he would advise people to judge whether patrol zones were actually covered, Smith said all officers on the sheet – including K-9 officers, community police officers, traffic deputies and sergeants – should be counted.
"See there are no open zones and open hours," said Smith, tapping his finger down the line-up sheet and counting the names he added.
"They patrol each and every day and they take calls," said Smith.
That's not true, say deputies, including three of those whose names were hand-written by Smith into the revised records.
One deputy whose name is handwritten on the lineups – suggesting that she was a patrol officer each Monday through Friday during the month of February  –  actually works at a desk in the sheriff's office during her shift.
At no point during February did Deputy Cynthia Voegtlin go out on a call for service or assist as a backup officer on patrol.  Her responsibility is to take calls from people who walk in off the street and ask to speak with an officer or file a report.
"I sit in an office Monday through Friday from 8 to 5," Voegtlin said.
Voegtlin said that until six months ago, she would rotate on Wednesdays with another deputy and take over the responsibility for patrolling a zone so she could gain more experience.
When told she was listed on the revised records provided to 32963 as patrolling for 21 of the 29 days in February – including two days when she was on vacation – Voegtlin was surprised.
"Technically yes, I could leave the office," she said, if she had been personally called out for an emergency. "But that hasn't happened yet."
Smith admitted he made a mistake by personally listing Voegtlin and two sergeants in spots that are reserved for deputies assigned specifically as backup for patrols.
"It didn't dawn on me until you pointed that out," Smith told a reporter.
That apparent error, as Smith called it, occurred  51 times in his revised February patrol records.
"My name is included where?" asked Sgt. Albert Iovino, who oversees the traffic unit. 
Smith added Iovino's name in 17 places on the revised records as being available as a backup.
"Excuse me?" said Iovino, when asked whether he worked as a patrol officer during the first four days of February. "I was in New York with my father. The lineups are not correct.  I am completely shocked."
Sgt. Pat White, who oversees the K-9 unit, appeared equally jolted to learn Smith added his name to the revised records.
"That's completely inaccurate," said White, whose name appears 13 times on the daily lineups for patrol zones including days he was leading SWAT training.
"It's very frustrating to see my name was utilized and put into a document when I wasn't even there," White said. "That is little bit disturbing."
Smith over the course of two days last week tried to defend his hand-written changes to the patrol schedules. He also suggested that the watch commanders and high ranking sheriff's office deputies who are charged with creating the lineups for dispatchers didn't do them correctly because the original and authentic documents do not list Sgt. Iovino, Voegtlin and another sergeant, Pat White.
"Maybe they find it (too) hard," Smith said.
Smith told 32963 that he felt he needed to change the documents – the public records listed within the department's computer system – and make adjustments to them after referring to the master sheet of all employee schedules during February.
When told that 32963 interviewed the deputies whose names were added to the lineups and it appeared the documents were changed to mislead the public, both Smith and Loar stood their ground last week.
"No one is trying to mislead you," Loar said.
Smith didn't just add names.  He also removed the word "OPEN" from the revised records.
At least two deputies charged with filing out the lineups write the word, "OPEN," when a patrol zone does not have a deputy assigned to a 10-hour shift. Nowhere in the revised documents is the word "OPEN" next to a vacant shift.
"Yes I did," said Smith when asked in the presence of Loar if he removed the word "OPEN" from the original public records.
"It wasn't my intent to mislead you," said Smith. "…It was all about showing correctly what manpower we had to answer calls."
Both Smith and Loar were adamant – Smith during three interviews, including one with Loar present – in insisting that just because a deputy is not specifically assigned to a zone doesn't mean that the zone is not patrolled.
"I don't believe we have any open hours," said Smith.
Again, that is not true, deputies say.
"They (zones) are open every day," said Deputy Scott Carmine, a patrol officer and a union representative.
Loar and Smith both contend that other patrol officers in neighboring zones are able to fill in if a zone is open for a shift.
Carmine said that is a stretch. He said it might be possible to make a single run out onto the barrier island, but patrolling two zones while showing up at crime scenes or going to homes when called by residents is next to impossible because of the way the shifts and zones are set up.
"There's no pro-active (patrolling) here," said Carmine.
"We just go from call to call.  I think what they are saying (Loar and Smith) is that a call will go out and sure a deputy will respond, but there is hardly a deputy over there (on the barrier island) patrolling."
Loar told 32963 that he does not review the lineups but gets reports every eight hours that say patrol officers are covering the beach. 
Like Smith, he was adamant in insisting that plenty of manpower was available if a crisis situation developed.
Loar used the Columbine school shooting in Colorado as an example of how the bulk of all law enforcement officers working could be called out to a scene.
Loar discounted 32963's findings multiple times and said it would be political suicide for him to not patrol the beachside community.
"It doesn't make sense for me to not have the beach covered," Loar said, implying the island's political clout and money are important for his campaign war-chest. "This boils down to politics.
"I know I am given a report that says the zones are covered and ultimately it is up to the watch commanders," Loar added.
Carmine, the union representative and patrol deputy, agreed it is not smart to not cover the beach.
"If I were a beach-side resident living in a gated-community, I'd like to think that I had protection, 24/7," Carmine said, "especially because (islanders) pay a (huge percentage) of the taxes."