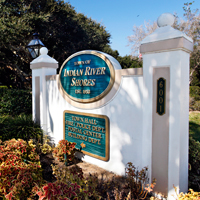 Shores public safety director gets retirement deal
STORY BY LISA ZAHNER, (Week of April 26, 2012)
The Indian River Shores public safety director has brokered a retirement buyout deal with the town for himself, his brother and potentially three other employees to retire June 1 – but they all may be hired back on a per diem basis June 2.
Chief Bill Schauman, Capt. Nick Schauman, Sgt. Louis Puchala and Officers Charles Justice and Anthony Dudley have been offered four months' salary to retire, but have all been told that they can come back to work for the town on a per diem basis for $18 per hour, in addition to their pensions.
The cost of the four months of salary for the four employees who have taken the deal is $123,000.  The town will subsidize each retiree's health benefits as part of the post-employment benefits promised every full-time employee eligible for retirement.
Salaries for the four include: William Schauman, $123,074; Nick Schauman, $95,757; Puchala, $80,171; and Justice, $71,195.
Town Manager Richard Jefferson "calculated the ballpark figure of the annualized budget impact to be $380,230 in total savings, including adding per diem staff as filling in," according to public records provided by the town clerk Monday.
Councilman Dick Haverland, who over the past year has played the role of the financial skeptic on the council, said he thought that estimate was a little on the high side and that he would want to see more detailed information back from the actuary on the pension plan to see if the $380,000 figure indeed reflects the expected annual savings.
The four, or potentially five officers if Dudley takes the deal, will begin receiving pension payments, but they will also cease to contribute to the pension plan, so the net effect of that is not yet known.
Shores public safety employees contribute 9 percent of their pay into the pension plan. The plan is currently underfunded by roughly $2.8 million, but the town recently increased its annual contributions into the plan to begin chipping away at that deficit.
"They are happy," Jefferson said of the offer for an early buyout.  "I think this works out to the town's benefit."
The retirements came as a bit of a surprise last week, since the idea had not been suggested by the town council or by its finance committee, which is working on next year's budget.
Nor had Jefferson indicated that he was in the process of devising such a money-saving strategy when the topic of budget deficits had come up at previous council meetings.
The town confirmed that Jefferson proposed a plan for the workers to get three months' salary and to leave Oct. 1. What was hammered out with Chief Schauman was four months' salary and an earlier June 1 departure.
After the deal was reached, Schauman reportedly took some credit for brokering the buyout and told members of another local fire department that it was a good deal for him, since he had intended to throw in the towel very soon anyway.
Haverland said he was not told who originated the buyout deal, but that he was pleased to see the town being proactive about reducing its budget.
The Town Council approved a budget of $4.7 million last summer, but due to increases in pension costs, it was expected to come in over budget this year by about $400,000.
The retirements will do nothing to alleviate the current year budget concerns, but will reduce the number of full-time employees in the department by 20 to 25 percent and will reduce the long-term cost of benefits.
More than 80 percent of the town expenditures go to provide $3.3 million in public safety personnel, equipment and services to the town's residents and without major changes, property owners had been told to expect an increase in taxes in the coming year.
A small tax increase still may be necessary, but that will be determined as the town staff and council navigate the budget process this summer.
Shores taxpayers are budgeted to fund $1,554,000 for public safety department salaries,
$56,000 for holiday pay, $82,000 for overtime pay and $115,000 for per diem workers' wages in the fiscal year ending Sept. 30.
Capt. Robert "Robbie" Stabe is set to take over as public safety director upon Bill Schauman's departure.
He will accept the position for $103,000 per year as compared to Schauman's $123,000, according to the town.
Stabe, who was promoted to the department's second-highest rank of captain in 2009, has worked for the town for 22 years and has lived in Vero Beach for more than 40 years. He holds a bachelor's degree in organizational management from Warner University, is a 2007 graduate of the FBI National Academy for law enforcement officers and is triple certified as a police officer, paramedic and firefighter.
Chief Schauman, who moved to Florida after graduating from the New Jersey State Police Academy in 1975, leaves the town with 26 years of service.
He worked his way up through the ranks of the department and was appointed chief in 2006.
His brother, Capt. Nick Schauman was in charge of overseeing operations for the department with police, fire and medical personnel reporting to him. He was promoted to this position in 2009 after his brother became chief.
Jefferson said last week that the retirements had been a "morale boost" to the force of 20 members.
Because all the shifts will be covered with per diem officers, Jefferson said the changes would not reduce coverage or the high level of service that residents currently enjoy and expect.
The town has a long-standing practice of employing per diem officers in its public safety department.
In fact, many of the part-time employees also work for other local agencies such as Indian River County Fire Rescue. They work a 24-hour shift for the county every third day and then work shifts on their days off for the Shores.
Per diem employees are not paid health or pension benefits and generally do not need them because they moonlight at the Shores and get benefits from their full-time jobs.
Changes in the public safety department are set to be discussed Thursday at the regular town council meeting.

Staff Writer Eileen Kelley contributed to this report.