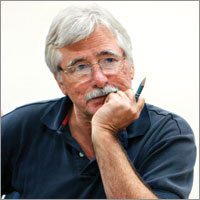 Wilson at center of new controversy over impact fee clients
STORY BY MICHELLE GENZ, (Week of April 12, 2012)
Photo of Charlie Wilson
The consulting firm of Charlie Wilson, the man who became something of a hometown hero by successfully lobbying the county to return $1.1 million in traffic impact fees, appears to have targeted those due the largest refunds and wrongly told the county some were his clients when he had not actually signed them.
After the County Commission on Feb. 21 passed an ordinance taking the burden off residents to identify refunds they were due, county development director Bob Keating provided spreadsheets of 350 property owners together with refund amounts to Wilson's firm and a competing consulting firm on Feb. 23, and asked them to indicate which names were their clients.
The purpose of that, according to Keating, was to try to protect any commissions the consulting firms might be due by delaying sending out refund notices to any of their clients.
When Wilson's firm, Impact Fee Consultants, returned its spreadsheet Feb. 24, it had marked X's under the column "assigned" beside three of the names destined to get some of the biggest refunds even though no contract at that point existed:  the Vero Beach Museum of Art, Riverside Theatre and St. Edward's School.
It also marked as "assigned" Dale Sorensen Sr., who was due to receive $80,000 in impact fees on the U.S. Trust- Bank of America building, and Dan Simmons and two trusts, who were due a $57,000 rebate on what is now the Northern Trust building.
Wilson's firm signed up Sorensen on Feb. 23 and Simmons on Feb. 24. 
The other consulting firm, Asset Research and Recovery, said it had halted signing any new clients after the county ordinance was passed on Feb. 21, because the refund process created by the county's actions was so simple.
 "You just had to sit and wait for a letter and an application form and fill it out and send it in," said Keating.
Those letters to all rebate recipients not identified by the two consulting firms as clients went out on Feb. 27, but letters to the recipients marked by the consultants as "assigned" to them – giving the consultants the right to collect on their behalf – did not go out until more than two weeks later.
As a result, the Vero Beach Museum of Art, Riverside Theatre and St. Edward's School – all marked as Wilson clients – during this period in early March were left in the dark about the size of their refunds and the ease of obtaining them. Though "it was all public record," said Keating, they would have had to initiate the effort to find out, unlike the rest of the property owners on the refund list. 
Wilson, who had been in touch with many of those on the lists for months, said it was not his practice to tell prospective clients how much they were owed. That meant they would not know how much it would cost them to recover the refund.
Fueled by the prospect of a 30 percent commission on each refund to a client, and now armed with knowledge of how much each was due, Wilson's firm appears to have put the pedal to the metal.
The Art Museum signed in mid-March with Wilson's associate, Tim Zorc.  But when executive director Lucinda Gideon later learned the size of the refund, $97,000 and the largest on the list, she complained loudly, and Keating said Wilson released her from her contract. 
Meanwhile, Riverside Theatre and St. Edward's School apparently never signed with Wilson and are going after refunds on their own, avoiding the 30 percent fee.
Riverside, which is due a $9,700 refund, is not a client of Wilson's company, according to managing director Jon Moses. Neither is St. Edwards, according to Ron Edwards, chairman of its board of trustees, though it too was flagged as a Wilson client for help applying for a refund of nearly $12,000.
Keating said the county did not verify that client contracts were in fact in place when it delayed notification.
Wilson disputed that the term "clients" in the e-mail exchanges with the county meant people under contract.
Keating, director of county community development, disagreed. "I don't think that there's any ambiguity between the terms 'client' and 'assigned,'" he said. "Both terms mean that a property owner has signed up with an asset recovery company."
Wilson is a longtime resident of the area, an ad man who dabbles in local politics. He was briefly a city council member until being ousted over residency issues, and an unsuccessful county commission candidate. Beyond owning Impact Fee Consultants, he retains a minority share in his first company, Asset Research and Recovery.
Simmons, a co-founder of the Regency Park retirement community and vice-chairman of St. Edward's board, said he asked a lot of questions of Zorc before signing on February 24.  Like Gedeon, who also worked through Zorc, Simmons was unaware Wilson owned Impact Fee Consultants.
The term "client" is used throughout a series of e-mails between the county and the companies, including by Zorc, who attached his version of the spreadsheet with names highlighted in yellow in an e-mail to Keating with this note: "Bob: attached is our clients marked in yellow. Please call if you have any questions."
The "clients marked in yellow" were under the county's heading "assigned." To "assign" is a widely accepted legal term meaning to give over rights or property.
Wilson said Zorc filled out the spreadsheet, not Wilson. "I didn't mark them, Tim marked them," he said.  "We were allowed to identify the clients that we were in talks with," said Wilson, adding "there was no requirement" that a signed contract be in place.
But Annabel Robertson, manager of Asset Research and Recovery, the other firm dealing with impact fees, strongly disagreed. "I don't think there was any way of mistaking that they asked us for clients under contract," she said. "We followed the rules. We only filed for contracted clients."
Robertson, who has been with ARR for a year, says the impact fee fund is only a "minor, minor part of what we do," and that "it's not very complicated." She said ARR works mostly with developers, not individuals. 
Wilson, who founded ARR and remains a minority shareholder, "is not involved in any way" in its operations, Robertson said.
 "I'm sitting here sort of stunned," Robertson said, when told of Impact Fee Consultant's actions, both in marking as clients people not under contract, and soliciting clients after the list was drawn up. "We wouldn't do business in that manner."
Robertson, following up on a suggestion at a county commission meeting, initiated the move to let the consultants notify individuals rather than the county. "The county was very helpful in allowing us to deal directly with the clients during a two-week window so that our clients didn't get overly confused with multiple mailings," she said.
ARR represents about 50 clients on the list, most getting refunds in the $1,500 to $2,500 range. All those clients were signed before the county passed the ordinance to grant the refunds. At that point, she said, ARR stopped pursuing contracts altogether.
 "We did not acquire clients after Feb. 21," she said, referring to the date the ordinance was passed. "We chose not to.
"My feeling was even people who came into my office and said, 'We want to sign up,' I would check the list and tell them where to go file for it. For me it's not worth the commission. I just wouldn't do that."
She said ARR even released five or six clients who changed their minds about the company representing them. "If people felt they didn't want to be under contract, I'm not going to argue with them. I don't think it's good business."
Robertson said she gives Wilson credit for having forced the issue of the unused and unrefunded south barrier island impact fees into the open. The county had hoped to spend the fees on public works projects even though by law the money was supposed to be returned if it wasn't used within six years.
 "I believe in giving kudos where kudos belong," said Robertson. "I don't think this issue would have been addressed but for Charlie being very active in pushing for it."
Wilson has claimed all along that the process of recovering the impact fees was complex and confusing. "It's more unique than it is complicated," said Robertson. 
The only hurdle Wilson crossed for the museum after the county's list was formed was averting the possibility the check might have gone to Vero Beach instead to the museum. The way the county ordinance reads, the current owner of the land gets the refund. While the museum paid the fee in 1998, it is built on city land.
According to City Manager Jim O'Connor, at no time did the city dig in its heels about keeping the money. A meeting with Wilson on March 16 was very straightforward, he said.
"He went over the ordinance and asked, 'What is your position?' It's pretty simple: whoever paid the bills is going to get the rebate."