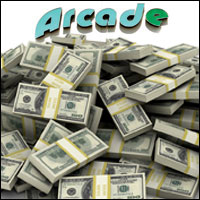 Arcade company funnels big money to state lawmakers
STORY BY EILEEN KELLEY, (Week of August 23, 2012)
A Minnesota company that provides the software for gambling terminals like the ones used by Goldmine Arcades in Vero Beach is funneling hundreds of thousands of dollars into the campaigns of Florida state lawmakers and political committees, looking to blunt any new attempt by the Legislature to shutter the adult internet gaming industry.
Arcola Systems, which gets a cut each month of the proceeds from dozens of internet cafes that use its systems, has funneled more than a quarter of a million dollars to lawmakers and committees – including a $500 contribution to Rep. Debbie Mayfield – through a front group named Save Our Internet Access.
While Mayfield sided with Rep. Scott Plakon, R-Longwood, the legislature's leading foe of internet cafés, and voted for legislation that would have shut them down, the bill did not make it through the Florida Senate. Mayfield could not be reached for comment on why she accepted money from this group.
The storefront-gaming industry exists because murky state laws do not specifically ban some 300 so-called adult arcades and 900 to 1,000 internet cafes that now operate in Florida, with a half dozen or more doing business in Indian River County. 
None operate within the Vero Beach city limits, but the Sheriff's Office has shown no interest in shutting down the illegal gambling taking place in county jurisdictions.
Arcola provides programming for the computer devices used by businesses like the Goldmine Arcade, which operates arcades and internet games under the Goldmine Arcade name in Indian River, St. Lucie and more recently Brevard counties.
Harold Dukes, owner of the Goldmine Arcades, introduced the area to the internet gaming systems after joining forces with Arcola.
His internet terminals are edging out his old arcade systems at his storefront locations.
A Vero Beach 32963 story in late May illustrated how Dukes, a resident  of South Carolina, flaunts state regulations by running three of four of his businesses in violation of state regulations.
The group Save Our Internet Access – which formed in February 2011 to promote internet gaming and support political candidates who likely won't try and shut down their operations – has raised more than half a million dollars toward the cause.
Most of that money, $264,420, came from Arcola.
Save Our Internet Access as well as the less funded – Floridians for Long Distance Access and the American People Committee – are billed as committees of continuous existence with the state.
They serve as accounts where unlimited amounts of cash can be collected and dispensed to savvy consultants or transferred to other committees that support candidates.  State records show The American People Committee has raised $193,350 and Floridians for Long Distance Access raised $53,729.
A query of the state's campaign database using the word internet as the occupation of the contributor reveals 192 contributions were made to candidates and the Republican and Democratic parties of the state to the tune of $339,612.
Politicians may accept more than the state mandate $500 contribution by setting up committees to accept unlimited donations.  
On July 13, Save our Internet Access got a $27,000 donation from Citizens for Housing and Urban Growth.  An Ohio-based committee, Innovative Entertainment of Ohio donated a whopping $150,000 to the Save our Internet Access cause. That company provides sweepstakes promotions, an enticement for internet cafes.
Sorting out the tangled web of donations various interest group can be mind-numbing, said Plakon. 
"They are very sophisticated and have lots of money,"  Plakon said. "They have been players in a big way in a lot of elections."
Plakon said the first thing he intends to do after the November election – should he survive the battle – is file another bill to outlaw internet cafes.
Plakon said he's heard the internet gaming industry plans to spend $250,000 to thwart his bid for a third term. He said doesn't think they would be foolish enough to give all that to his opponent but he think it will l be used in some manner to smear his name during the re-election campaign.
"To the internet café people, I am public enemy No. 1," Plakon said.