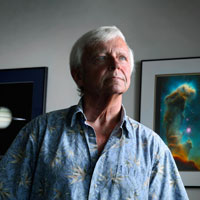 Former leader of Mars program remains close to NASA
STORY BY MEG LAUGHLIN, (Week of August 16, 2012)
Photo of scientist Ed Wieler.
Flying back to his home in Indian River Shores from Pasadena, where he watched the hugely successful landing of the rover Curiosity on Mars with former colleagues at the Jet Propulsion Laboratory, Ed Weiler had a lot of time to reflect on his career as top NASA scientist and administrator.
"I kept asking myself if I should have waited to retire," he said.
Little surprise Weiler, 63, would have such thoughts.  As director of the Goddard Space Flight Center and associate head of NASA's headquarters, he helped lead the agency through six successful Mars missions before retiring in late 2011.
Had he stayed for the most recent spectacular Mars landing, he most likely would have ended a long career on a much-deserved pinnacle. Or, perhaps Curiosity and the positive attention it received will prod Congress and the Administration into rethinking slashing the space budget, for Weiler a growing source of frustration as he watched "wins being turned into losses."
But whether Weiler retired before or after this momentous moment didn't impact his legacy, said Colleen Hartman, deputy director of the Goddard center.  "We know Ed's leadership role in Mars exploration. It is Ed who set the framework for how we move in the solar system and gain profound knowledge of it."
And at his new home in Marbrisa with his wife of four years, Barbara Thorne, Weiler is inclined to think he made the right decision: " When it comes down to it, I'm healthier and happier than I've been in years," he said.
"Besides, the air is so clear here I can see the Milky Way through the damn pool screen."
This comment is all the more fascinating, because it comes from the man who for 20 years was a leader of the Hubble telescope program.
As the face of the Hubble, he dealt with its initial near-sightedness and the widespread ridicule that a tiny flaw in the primary mirror generated.
In the early 1990s, cars across the U.S. sported a bumper sticker that said: "If you can read this, you're not looking through the Hubble telescope."
Colleagues recalled the pep-talk Weiler gave them at a meeting when many were so discouraged they thought about leaving NASA for the private sector.
"Try to look forward to your great grandchildren," he said. "Do you want your legacy to be that you reduced the weight of a cell phone by a tenth of an ounce? Or, do you want it to be that you were on the team that found a Mars fossil?"
When Hubble was repaired – "we put glasses on it," said Weiler  –  it began delivering spectacular results. Many colleagues thanked him for encouraging them to stay.
"We went from potential disaster to worldwide triumph, which taught Ed so much about dealing with the agency, politicians and the press," said Hartman, Weiler's long-time colleague.
Despite Hubble's spectacular success, however, as well as the success of the Mars missions he helped lead in the last decade, Weiler watched as the administration continually cut the budget for Mars exploration, and a polarized Congress sat frozen.
At a quiet moment in late 2011, he retired.  They moved here, he said, because of the climate and the clarity of the air.
On a sunny morning a few days ago, he got up early and did what he usually does. With coffee in hand, he walked past framed crystal clear photos taken from Hubble -- one of the Butterfly Nebula, a roiling gaseous butterfly-shaped mass trillions of miles from Earth, another of the multi-colored star cluster Omega Centauri, which is four times farther away -- and sat at his computer to check e-mails.
Several were from NASA pals and several more from university administrators who belong to a consortium of 100 colleges working on space research. He is a consortium advisor.
Decades before his retirement, Weiler set a goal of inspiring kids through space exploration. In the early 1990s, after Hubble's launch, he appeared in a CNN interview and challenged youth to become NASA scientists.
Weeks later, he received a letter from a 10-year-old girl in a poor village outside Mexico City telling him in broken English that she saw him on CNN and accepted the challenge.
He mailed her an encouraging letter and a thick packet of Hubble photographs.
"I never expected to hear back from him," said Carolina Gallardo. "When I did, I vowed to have a career in science."
Weiler identified with Gallardo because he had grown up on Chicago's Southside, the son of a meat cutter. Despite his family's financial struggles, he got a doctorate in astronomy from Northwestern and became a NASA researcher.
For the next decade, Gallardo and Weiler wrote regularly, and he brought her to Goddard Space Flight Center in Greenbelt, Md., for a VIP tour.
In college in Mexico, despite a terrible automobile accident that caused brain trauma so severe she lost her memory for a year, Gallardo returned to her studies with encouragement from Weiler. After getting two science master's degrees, she is now eligible for a doctoral program in the U.S.
At a NASA meeting before Weiler's retirement, Gallardo surprised him and spoke about his positive influence in her life. Fighting back tears, she stood in the front of the room and told his colleagues, "Without Dr. Weiler's belief in me and support I never would have continued." 
Most days, after looking at e-mails and replying, Weiler goes to the site of the Jet Propulsion Lab to see the latest photos from Curiosity.
"It starts roving 15 days after landing," he explained. "But even the stationary photos are  fascinating."
They show a river deep within the crater against a pink Martian sky and soil that resembles the scabrous red clay of the Mississippi delta. Next week, Curiosity will start  traveling over extremely rough terrain, digging, drilling and photographing in search of signs of organic material.
"Before the end of this century we will definitely prove there are organic compounds that tell us about the potential of life somewhere in the universe," Weiler predicted. "I can't say where we'll find them, but it will happen."
His day consists mostly of exercise -- walking six miles, running on a treadmill, working in the yard and swimming in the pool, which he cleans and gathers data on to chart the effect of air temperature on the chemical balance.
"My own little scientific experiment," he called it.
In the evening, Thorne, Weiler's wife, and he have long discussions about the application of the scientific method – even though her interests are looking down at the ground and his are looking up, at the great beyond. As a researcher and entomologist from the University of Maryland, concentrating on the evolution of termites and how the colony system fits Darwin's theory, she shares with him a great interest in early life forms.
"The essential elements of life – water, energy and carbon compounds – are all over the universe – and when we find a combination it should teach us a lot about early forms of life and the evolutionary process."
The couple talks, too, about, how to inspire children to become scientists.
"Science shouldn't be a scary subject," said Thorne. "It's all about having questions and letting your curiosity drive you."
Weiler has already agreed to a speaking engagement at Bent Pines Golf Club in Vero Beach on the topic and is open to accepting more.