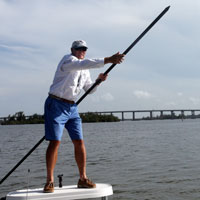 Lagoon in crisis
Seagrass vanishes; most game fish gone
STORY BY STEVEN M. THOMAS, (Week of August 16, 2012)
Photo of Capt. Paul Dritenbas.
In a sudden environmental shift that could have dire consequences for Indian River County, nearly all the seagrass that grew in the lagoon between Grant, north of Sebastian, and the 17th Street Bridge in Vero Beach has disappeared.
Since seagrass is the foundation of the lagoon's ecology, the loss threatens birdlife, bottlenose dolphins, manatees and green sea turtles, which mature in the estuary's sheltered waters before braving the Atlantic.
Most resident game fish are already gone, according to lagoon scientists and longtime fishermen.
"We caught an abundance of fish last year in that area. You can't catch a single fish there now, other than some migratory species like ladyfish and jack that are passing through," says fishing guide Captain Paul Dritenbas, operator of Reel Life Charters, who has fished in the lagoon for 55 years. "There are no spotted trout, no redfish, no resident fin fish of any kind. It is a wasteland out there."
"This is a crisis," says Grant Gilmore, Ph.D., senior scientist with Estuarine, Coastal and Ocean Science, Inc. "Everyone should be concerned." 
Gilmore, one of two founding scientists at Harbor Branch Oceanographic Institute, wrote his doctoral dissertation on sea grass areas between Sebastian and Jupiter and is a leading expert on lagoon ecology.
He and other Harbor Branch scientists conducted extensive ongoing surveys of seagrass in the 1970s and 1980s and discovered a new species, Halophila Johnsonii, named after Harbor Branch founder Seward Johnson and commonly called Johnson Seagrass.
Seven types of seagrass are found in the lagoon, the most species found in any estuary, according to Gilmore. He says the current seagrass loss is extraordinary, far outside normal seasonal fluctuations in grass acreage.
"I first heard about the grass beds disappearing last winter," Gilmore says. "A fisherman up in Sebastian called and told me the seagrass was gone."
Since then, Gilmore has conducted four surveys between Grant and Vero Beach, checking areas of the lagoon where he knows seagrass was abundant in the past, and found nothing but bare sand.
"There is no seagrass in that entire stretch, other than two tiny patches of shoal grass smaller than a desktop," Gilmore says. "We have created a desert out there and it has happened very quickly."
Other area scientists have found the same devastation.
"I did surveys for two clients in the narrows, south of the Wabasso Bridge," says environmental consultant David Cox. "There was lush seagrass in that area previously. Now, there is none."
One of the things most worrying to Gilmore is that he could not find any rhizomes where grass beds thrived just a year or two ago. Rhizomes are root-like subterranean stems that send up shoots in season. In the past, even when beds died back, rhizomes remained. Now, he says there is nothing but muck beneath the former meadows.
Gilmore says each acre of seagrass produces 10,000 fish annually, including sardines, anchovies and other small fry. "Submersed Plants of the Indian River Lagoon," a book published in 2008, puts the number even higher, at 100,000 fish per hectare, or 1.6 acres.
Either way, the loss of thousands of acres of grass in the stretch Gilmore surveyed means millions fewer fish in the lagoon and coastal waters, along with the loss hundreds of millions of other creatures ranging from tiny invertebrates to large mammals.
"The pigfish depend on sea grass," Gilmore says. "No sea grass, no pig fish. Pig fish is the favorite food of sea trout. And sea trout are the favorite food of bottlenose dolphins."
Manatee grass, formerly the most abundant species of grass in the lagoon, is the primary diet of the West Indian Manatee.
"If we lose that permanently, we lose our beloved manatees," Gilmore says. "Seagrass beds are where most of the biodiversity is. If you lose the seagrass, you lose most of the species in the lagoon."
The sudden disappearance of seagrass comes in the aftermath of what is now being called the "2011 Superbloom" of destructive, nutrient-fed algae that decimated the lagoon from its northern reaches all the way to Fort Pierce last year.
In June, St. Johns River Water Management District, Harbor Branch, Florida Fish and Wildlife Conservation Commission, Florida Institute of Technology, University of Florida, Smithsonian Marine Station at Fort Piece and others announced a coordinated crash study of the superbloom to try and determine its cause or causes.
The superbloom wiped out 31,000 acres of seagrass, which was 45 percent of the population in the affected area, according to study scientists. Gilmore says that means a loss of at least 300 million fish. Fish spawned in the lagoon populate fisheries not just in Florida but far up the East Coast.
It is known the thick soup of algae that cut off sunlight and smothered marine life in 2011 was fed by excess nutrients – mainly nitrogen and phosphorous – caused in part by fertilizer runoff, but study scientists hope to learn if there were other sources of nutrients besides fertilizer runoff and if other factors, such as cold snaps, played a part in the superbloom and loss of seagrass.
This years' disappearance of seagrass between Grant and the 17th Street Bridge was not caused by a new algae bloom. Lagoon water has remained clear this summer. The loss may be an after-effect of last year's bloom or it may result from secondary effects of nitrogen and phosphorous altering the composition of lagoon water.
"It is certainly possible those chemicals could have an effect on some organism or organisms, increasing or decreasing them, which in turn might  cause seagrass to die," says Cox
It is also possible poisons such as pesticides or fungicides are washing  off lawns into the lagoon and kill the seagrass, according to Gilmore.
In any case the economic impact is already being felt and will be severe in the long run if the loss is not reversed.
"People who go on fishing charters want to catch fish," says Dritenbas. "If they don't catch fish, they don't come back. The seagrass loss hasn't affected my business yet, because there are still lush grass beds south of the 17th Street Bridge.
"But I pity the guides up North. Gas is money and if you have to travel to almost to another county you start losing money on the charter."
Dritenbas and Gilmore believe the health of grass beds south of 17th Street is related to the clean water that enters the lagoon through the Fort Pierce Inlet. They speculate the fresh ocean water dilutes or washes away whatever contaminants are responsible for killing seagrass further north.
Gilmore says the Sebastian Inlet is not large enough to have a comparable effect on northern waters.
Vero Beach Mayor Pilar Turner has said the lagoon contributes $800 million annually to the county economy and according to St. John's River Water Management District the estuary provides a $3.7-billion annual economic benefit along its 150-mile length. Tourism and property values in The Moorings, Johns Island, Windsor and other communities along the waterway are dependent on a healthy lagoon.
"People don't pick Vero Beach and Indian River County," says Ann Taylor, director of development for the Indian River Land Trust. "This place picks people ... [and] the quality of life that draws people here is heavily dependent on the lagoon."
Vero Beach, Sebastian and Indian River Shores have passed fertilizer regulations to try and cut down on the amount of poisonous chemicals washing into the lagoon, but the county commission has refused to act.
 "What we are seeing here, is mind-blowing," says Gilmore. "It time for the government to come together with the scientists and work to solve this problem and restore the lagoon."