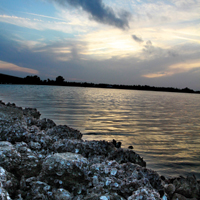 No county ordinance to protect lagoon seen likely
STORY BY STEVEN M. THOMAS, (Week of August 30, 2012)
The re-election of Commissioners Bob Solari and Wesley Davis seems to have shut the door to a countywide ordinance to regulate fertilizer runoff that is poisoning the Indian River Lagoon, killing seagrass, fish and dolphins.
Despite a well-reasoned and eloquent plea for commission action offered by Marine Resources Council Board member Brian Carman at the first post-election county commission meeting, Solari and Davis said they will not vote for fertilizer regulation to protect the lagoon.
Commissioners Gary Wheeler and Peter O'Bryan sided with them, although O'Bryan said he is open to persuasion if the effectiveness of regulation can be demonstrated to his satisfaction.
Commissioner Joe Flescher said he favors a county ordinance modeled on Florida Department of Environmental Protection guidelines.
Wheeler is retiring in November. Anthony Donadio and Tim Zorc are running to replace him. It remains to be seen if the winner of that contest will favor the type of regulation that has proven effective in Sarasota County and other locations, and is universally supported by scientists studying the decline in the Indian River Lagoon's health.
The issue of fertilizer regulation heated up in Indian River County last year after ORCA – the Ocean Research and Conservation Association – mapped high levels of nitrogen pollution between the Barber Bridge and 17th Street Causeway.
Fertilizer contains nitrates and phosphates that feed grass and help it grow. When it is over-applied and during rainstorms, dissolved nitrogen and phosphorous run off lawns and fields directly into the lagoon or into gutters, sewers and canals that lead to the lagoon.
The runoff causes something called nutrient overload in the waters where county residents and visitors boat, fish, swim and delight in wildlife. Instead of feeding lawns, the nitrogen and phosphorous feed the growth of algae that consumes oxygen and makes lagoon water murky and slimy, cutting off sunlight to sea grass and starting a domino effect of ecological degradation.
The results of the ORCA study set off alarm bells for residents and politicians across the county. Vero Beach, Sebastian and Indian River Shores passed regulations to help protect the estuary that Vero Mayor Pilar Turner said contributes $800 million annually to the county economy.
But county commissioners refused to act, citing a number of objections to fertilizer regulation. Commissioners have said a fertilizer ordinance would be unenforceable, that it would inconvenience lawn care professionals, that it might not work and that they think education is better than regulation.
At the most recent commission meeting, Carman presented a video made by Sarasota County Commissioner Jon Thaxton specifically for the Indian River County Commission that directly addressed all those objections. In the video, Thaxton told commissioners that neither the lawn-care industry nor the landscape in Sarasota has suffered since the county enacted an ordinance putting common-sense restrictions on fertilizer use.
"The landscape in Sarasota County is as green and verdant as anyplace in the state," he said, adding that a boutique industry sprang up to make fertilizer suitable for Florida conditions that is "actually creating jobs in Sarasota."
He said there are no problems with enforcement, and that the regulations are actually the county's best educational tool.
Thaxton, who is something of an expert on the subject, having served on the state taskforce that came up with the urban fertilizer  guidelines the IRC Commission continues to ignore, said because of the ordinance stores in Sarasota County have stopped selling the type of fertilizers that destroy bay ecology.
"Since adoption of our fertilizer ordinance the bay water qualities have improved tremendously," Thaxton said, adding that all other communities that have put regulations in place have seen similar improvements.
He said other factors besides fertilizer regulation have contributed to the restoration of Sarasota Bay but that "a fertilizer ordinance is an unavoidable component of an effective nutrient reduction plan."
Carman asked that Indian River county staff be instructed to craft an ordinance based on the state and Sarasota models and that public hearings be held to see if it makes sense and has public support.
"I implore the commission to allow this ordinance to be crafted, go through committee and public meetings. Let representatives of the fertilizer industry speak and hear from citizens and scientists who are experts on the lagoon. If you decide not to go ahead with it, OK, but please just consider it in the light of day."
Commissioners were not swayed. They reiterated all of their old objections, as if they had not heard Thaxton's presentation, and added a few new ones.
Solari said his re-election proved voters do not want an ordinance to protect the lagoon.
Other commissioners raised the specter of "Hatfield and McCoy" feuds erupting if an ordinance was passed and one neighbor informed on another for violating it.
Wheeler cited politicians ignoring sign ordinances during the primary election as evidence that ordinances do not work, and said fertilizer regulation would be unfair because some people would follow the rules and others would not.
Commissioners also noted the county's major water improvement projects as reasons not to have an ordinance.
"We have spent millions to clean up water before it goes into the lagoon," Solari said, referring to the Spoonbill and Egret Marshes that remove nitrogen and phosphorous from canal and lagoon water and the skimmer on the main relief canal that captures palm fronds and other organic matter before it enters the lagoon.
His logic seemed to be that that if fire hydrants are installed in front of a building, it is silly to put a sprinkler system inside.
"I am just asking you to give this thing a chance," Carman said. "This is serious. We can't afford to wait."
Commissioners promised to step up educational efforts to inform the public about proper fertilizer use, and Solari said he would meet with Thaxton "sometime in the next three or four months" to hear more about the how fertilizer regulation contributed to the dramatic restoration of Sarasota Bay.