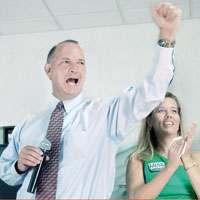 Sheriff wins big over foe backed by many deputies
STORY BY MEG LAUGHLIN, (Week of August 16, 2012)
Photo of Sheriff Deryl Loar claiming victory.
After a bitter and expensive race for Indian River County sheriff, incumbent Deryl Loar claimed a win over former Lt. Bill McMullen at the Vero Beach Elks Club on Tuesday at about 8 p.m.
In a room full of miniature American flags, sweet tea and pulled pork sandwiches – but hardly a deputy – Loar pumped a fist in victory in front of about 120 people and talked about why the voters of Indian River County wanted him, but his rank and file didn't.
"Our message to the people of Indian River County has been clean and consistent," he said. "I stood on my record and that was enough."
But what about the paltry support from deputies?
"Hard economic times, lots of frustration. But that's turning around and I hope to do something about it," said Loar, whose campaign had raised over $179,000 by election night.
Meanwhile, about 6 miles west, McMullen walked around a dimly lit, posh room at the Pointe West Country Club, thanking a cocktail-drinking crowd of about 250 people, twice the size of Loar's, made up of mostly deputies and their families.
A few weeks before the election, Vero Beach 32963 asked McMullen, who had taken early retirement from the sheriff's office to run for sheriff, what he planned to do if he lost the race. "We don't expect that to happen," he said.
With expectations dashed, he said: "I thought it was going to be a lot closer."
About future employment, though, he wasn't specific: "It'll all work out," he said. "It's all good." 
During the campaign, McMullen, who raised over $117,000, cast Loar as a slick administrator who didn't support his hard-working deputies and didn't deserve to remain in office.
Loar repeatedly countered that he backed his deputies, but budget constraints made it impossible to give the raises he would have liked.
Aside from no raises, during the race McMullen accused Loar of hurting morale by suspending or firing deputies who made mistakes, rather than retraining them.
Loar responded that when a deputy was  repeatedly out of line –  say, knocking around suspects – it was time to "police the police."
McMullen's criticism of Loar earned him union endorsements and union-paid advertising, as well as the support of most of the deputies and their families who staged over 50 honk-and-waves on corners with McMullen signs. 
But neither the in-house backing nor union support apparently aligned with the wishes of the voting public who obviously preferred Loar.
By Tuesday night, Loar had 55.48 percent of the vote with 15,290 votes cast and McMullen had 44.51 percent with 12,268 votes.
The differences between the two candidates were glaring – not only when it came to issues but also campaign style.
McMullen frequently wore a golf shirt and khakis and moved around a room when he spoke, gesturing frequently. He often used analogous descriptions to answer questions rather than responding to the basic issue.
Loar, on the other hand, usually wore a dark suit and tie, and stood in one place, limiting his gestures. He answered questions directly.
As a result, McMullen seemed more energized and focused on being a deputy's deputy, while Loar seemed calmer and more articulate.  Apparently, Loar's style most appealed to voters.
A major issue of the campaign was a disagreement over what road patrol shifts deputies should work.
McMullen supported 12-hour shifts that tend to give deputies more overtime pay, while Loar supported the 10-hour shifts he imposed during his first term, which cut overtime.
Related to the patrol shift disagreement was the most contentious issue of the race: Whether Loar administrators altered public records on patrol zones, while he turned a blind-eye.
After a Vero Beach 32963 investigation of deputy zone coverage strongly suggested records had been altered under Loar's watch, McMullen accused Loar of condoning fraud.
Loar first responded that there were errors made in duplicate sets of records but no intentional deceit.  But, he recently said he needed to learn more about what happened.
Shortly after he declared victory, a 32963 reporter asked him what he planned to do about the records debacle during his second term.
"I will definitely look more closely into it," said Loar.