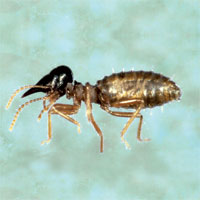 Shores scientist joins fight to stop ferociously hungry termite
STORY BY MEG LAUGHLIN, (Week of August 23, 2012)
Photo of a Conehead tree termite.
A ferociously hungry termite is slowly eating its way north from Dania – about 100 miles to our south – and efforts to stop it, so far, haven't worked.
The termite isn't thought to pose any immediate threat to Vero, but recent sightings in Jacksonville have alarmed pest control experts along the east coast – and state agencies have been painfully slow to act.
Help, however, is on the way in the form of entomologist Barbara Thorne, an Indian River Shores resident who is the world's leading expert on the formidable tree termite, which she calls the conehead for its dark tear-drop-shaped head.
Thorne's challenge is to find nests and eradicate colonies before the nasutitermes corniger spreads, leaving destroyed homes and businesses, as well as oaks, palms and mahoganies, in its wake.
"We need to move fast," she said.
A year ago, Terminix pest control agent Lance McDonald got a call from the Fishing Hall of Fame in Dania to check out mud tunnels a half-centimeter wide going up the exterior of the 60,000 square-foot building, made of concrete and steel with a wooden infrastructure. When he did, he smashed a small piece of tunnel, and a few termites scurried out that resembled some he had seen in Puerto Rico.
"I recognized them because of the dark, round, pointy head," he said.  "I knew they were a very destructive tree termite from the Caribbean basin."
McDonald then walked through the surrounding hardwood hammock and wetlands looking for more.
"I saw signs of them on palms, oaks, sea grapes, and bushes," he said.
He called University of Florida entomologist Rudy Scheffrahn whose class on termites he had taken. He asked if he could bring Scheffrahn some sample termites to identify.
For Scheffrahn, seeing the conehead was a very unpleasant deja vu dating back to 2001 when another pest control agent in Dania showed him the same formidable insect.
A decade before, the tree termite had suddenly appeared in a residential neighborhood.
No one knew how it had traveled over a thousand miles or more from the south – perhaps in a pallet on a cargo ship. But there it was, gnawing away.
It was two years, however, before anything was done about it because of a lack of money, lamented Scheffrahn, which gave it plenty of time to go into hiding and continue to colonize secretly.
"About 100 mature colonies were in the area by 2003," he said.
Eighteen structures sustained major damage – buildings, single-family homes, trailers and  boats. The termites also ate part of a wooden fence, a wooden bar on a patio and six live oak trees.
The problem, then and now, with getting state money for termite eradication is that termites don't have a ready-made constituency to throw a fit when they pose a threat.
"It's not like citrus farmers with a citrus pest," said the UF entomologist. "Medium-to-low income homeowners in Dania don't fund candidates or go en masse to Tallahassee to complain."
In 2003, the Florida Department of Agriculture and Consumer Services launched an eradication program, which seemed effective, and surveillance continued for three more years. But in early 2007, the vigilance stopped because of funding cuts.
When Scheffrahn visited the Fishing Hall of Fame in July 2011, after McDonald brought him the specimens, he was horrified to see the termites had entered the second floor of the building where rare volumes of Ernest Hemingway's "The Old Man and the Sea" are kept.
"Books are like dessert," he said.
The termites also had attacked dozens of homes, offices, hardwood trees, as well ate the slats off a ladder, tiki torches, part of a picnic table and the wooden handles of a rake and a hoe.
The bug scientist called Mike Page, chief of entomology and pest control in the division of agricultural and environmental services at the state agricultural department. Page agreed they needed to move quickly.
Despite Page's sense of urgency, it wasn't till almost a year later in May of this year that spraying took place because of a lack of interest in funding the project.
"It was very frustrating," said Page. "We feared the termite was getting a foothold in Florida."
Two months ago, in late June, Page made a desperate call to Thorne who had recently moved to Vero Beach from Maryland, where she was an entomology professor. Thorne quickly agreed to go to Dania with him and others in July to assess how well the spraying had worked. 
"I hoped to see only dead nests," she said. "But the pesticide effort wasn't totally effective, and the termites were still active."
With her well-trained eye – Thorne did her Ph.D dissertation at Harvard on the nasutitermes corniger termite, studied it in the field in Central America for two years and  published about 10 journal articles on it – she spotted tiny channels and baby colonies throughout the area, as well as in contiguous residential neighborhoods.
"Seeing it here was eerie," she said. "We weren't in Central America."
A  sprayed nest near the Fishing Hall of Fame had grown to the size of a big watermelon, suggesting it was the source of hundreds of thousands of conehead termites, who had gone on to create new colonies.
What makes the conehead particularly formidable, said Steve Dwinell, assistant director of entomology and pest control at the state agricultural agency, is that no protocol for eradication currently exists in the U.S.
For other termites, sprayers treat the soil under a house, but the conehead travels upward on anything – from a tall palm to a concrete and steel building – and enters the interior through a tiny crack. Also, it isn't stopped by termite-resistant wood, and is great at hiding deep inside trees.
"It's a whole new paradigm," said Dwinell. "We suspect there are hundreds of little baseball-sized nests out there we haven't found, and we're hearing about little pockets in Jacksonville and Miami."
Dwinell estimates it would take about $200,000 a year to keep the voracious insects under control. "That is, unless we don't act for a while and there are more colonies," he said.
Thorne warned that this is not just a Florida issue but a national issue. She recommends "an aggressive, multi-faceted plan, which includes public education."
While the conehead is a superstar decomposer in its native habitat – the rain forests of the tropics – where its cycle returns nutrients to the soil,  she calls it "a beast here that cannot be underestimated."
Not only will it destroy structures, hardwoods and landscapes, but groves and orchards too, she said.
"We need to shoot to kill immediately, while there is still hope," she warned.
"I can't bear to think of what we'll be facing 10 years from now if we don't."